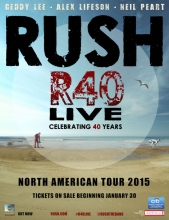 Rush is currently back in their hometown of Toronto this week to film back-to-back shows at the Air Canada Centre for a future R40 Live tour DVD release. The first of the 2 shows took place Wednesday night and the 2nd will occur this evening. The filming is once again being handled by Fadoo Productions, who are also putting together a feature-length documentary about the lives of Rush fans to accompany the DVD. They've been interviewing fans on the last several tour stops (you may have spotted a few guys with cameras talking to fans) and will continue to do so tonight. They will also be on hand for the RushCon mini-con that kicks off later today at the Hard Rock Cafe in Toronto. The Hard Rock pre-party will begin at 4PM and if you aren't pre-registered, you can still pay $20 at the door if you just want to hang out at the party. They will have vendors, a silent auction, and a cool contest! For all the details visit RushCon.org. The RushCon folks are also asking fans to download/install this Zippo lighter app to hold up during the band's performance of one of the songs in the 2nd set (see here for the specific song). Neil Peart's Commemorative Hockey Drum Kit will also be on display tonight and at all the other Canadian dates on the tour. Fans will have the opportunity to sit behind the kit with a $10 donation to the Princess Margaret Cancer Foundation. For Wednesday night's show, Rush played their standard A setlist without any additions or updates. That means that tonight's show will likely be some variation of their B set, hopefully with the inclusion of an extra special treat for fans. For more on that check out the spoilers in the Toronto show open thread, and for complete tour coverage for each show, visit the tour page.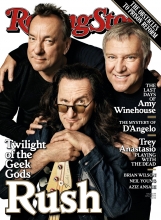 Outside of all the tour coverage, the other big Rush news story of the past week was the band FINALLY making the cover of Rolling Stone magazine; the trio will be featured in the July 2, 2015 issue which hits newsstands today. Rush announced the news this past Monday and the extensive feature article/interview appeared online a couple of days later. The cover story is titled From Rush with Love and Rolling Stone's Brian Hiatt gives a history of Rush interspersed with several interview snippets from all 3 members of the band that were conducted in the few weeks leading up to the R40 Live tour. The interview is chock full of tour spoilers, so be warned. You can read the entire feature online here. Rush's first ever Rolling Stone cover appearance garnered a lot of attention in the press, including this great article from Cleveland-based writer Annie Zaleski titled I'm a woman and I love Rush where she takes issue with the stereotype of Rush being a dude's band, and speaks with a number of other female Rush fans about how they got turned on to Rush (thanks Eric B):
... How and when these women arrived at Rush fandom differ. Several got into the band because men in their lives were fans: boyfriends, guys their mom dated, a "dreamy lifeguard." Some came to Rush on their own, in particular via the radio. These women first became aware of the band when they were teenagers; others became fervent appreciators in their 20s (and even later). The common thread to most of their responses, however, was the deeply personal relationship they had with Rush's music and lyrics: Long after the circumstances that piqued their interest about the trio had faded away, the band continued to resonate on a deep, thoughtful level. These women claimed (or reclaimed) the idea and experience of Rush and made it completely their own. ...
One of the sidebar pieces in the Rolling Stone Rush feature is a list of the 50 Greatest Prog Rock Albums of All Time. Not surprisingly, a few Rush albums appeared on the list including 2112 at #22, Hemispheres at #11, and Moving Pictures at #3.
In addition to the Rolling Stone interview, a few other interviews with Geddy Lee and Alex Lifeson popped up over the last week. The Toronto Sun spoke to Alex Lifeson just prior to the start of the R40 Live tour for an interview and Alex reiterates much of what he said in his recent Classic Rock interview, including his and Neil Peart's health issues and Rush's future plans. Alex also took some time out from his busy tour schedule to appear on Montreal radio station CHOM 97.7 earlier this week to chat with Terry DiMonte for about 15 minutes about the R40 Live tour, Rush's future, his grandkids, his appearance in the 1973 Allan King documentary Come on Children and more. Rush plays the Bell Centre in Montreal this coming Sunday, June 21st. You can listen to the entire interview online at this location. Geddy Lee spoke to the Montreal Gazette's Jordan Zivitz for an interview earlier this week where Geddy talks about the band's R40 Live tour, along with Rush's future plans.
... I can certainly see us writing together and putting a musical project together. I cannot really tell you how that would present itself in a live situation. I don't know that there is the will from my two partners to do any kind of tour. But I wouldn't exclude the possibility of doing a set of dates, or some one-off things. I don't mean to be evasive, but I can't really answer the question about any future touring, because I don't really know. And the other guys - it's an ongoing conversation, and I would say that it's a decision that's in flux. ...
Neil Peart didn't do any additional interviews this past week, but he did update the news page on his website with a new post titled Backstage Byways, where he discusses his travels on the first leg of the R40 Live tour. He also talks a good bit about the tour itself and how the band planned and prepared for it. It's full of plenty of tour SPOILERS so be warned. Neil's wife and daughter met up with him for the band's show in New Orleans, and Neil recounts Olivia's first Rush show experience:
... It was also Olivia's first Rush concert, and she loved it. I had thought she might last a song or two, but she danced and air-drummed right to the end. Manager Ray arranged a "box" for them, high up over everything, and Olivia couldn't get over all the people. "There must be two-thousand-and-eighteen people," she said. Ray laughed and told her, "Actually there are about eleven thousand!" Olivia looked puzzled, "Are they all here to see my dad and Uncle Alex and Uncle Geddy?" When Ray assured her they were, she said, "That's too silly." Then she wondered, "Do they know he's my dad?" Ray laughed and said, "They probably do." During intermission she came backstage and ran up to me, arms raised for me to pick her up. Still wearing her big red "ear defenders," she was so excited that she bounced in my arms. "Daddy! It was great! ...
You can read the whole thing online at this location. And speaking of Neil Peart, earlier this week Modern Drummer magazine announced the publication of an interactive Neil Peart Artist Pack digital download which contains all of the magazine's Neil Peart articles and advertisements from his first appearance in 1980 up through Peart's 2011 cover feature. You can watch a short video showcasing the pack here and purchase the download here.
Rush's 12 Months of Rush vinyl reissue campaign continued this past Tuesday with the release of Permanent Waves. Next up after that is the band's most commercially successful album, Moving Pictures, which is slated for release on July 24th. The Moving Pictures reissue will include an LP plus vintage t-shirt combo option, where you'll get the vinyl reissue along with a vintage t-shirt as seen here (thanks Lerxstcire). The LP plus vintage t-shirt combo is now available for pre-order with either a Large or Extra-Large t-shirt, and you can also just pre-order the LP itself here. Rush is releasing all of the Mercury-era Rush albums on vinyl along with a few select titles on Blu-ray audio throughout 2015. The 12 Months of Rush will see the band releasing one or two titles a month throughout the year. They started with Fly By Night in January (Vinyl, Blu-ray Audio), Caress of Steel in February, both 2112 and All the World's a Stage in March, A Farewell to Kings in April (Vinyl, Blu-ray Audio), and Hemispheres last month. You can watch a 15-second promotional video for the 12 Months of Rush on the Rush YouTube channel here. All titles are reissued on high-quality vinyl with a 320kbps MP4 Digital Audio download code, with Fly By Night, A Farewell to Kings and Signals also having a Blu-ray Audio release. The rest of the reissue titles will be released throughout the remainder of the year and can be ordered/pre-ordered at the links below:
AVAILABLE FOR PURCHASE

Fly By Night (01/27/15) - Vinyl | Blu-ray Audio
Caress of Steel (02/17/15) - Vinyl
2112: Hologram Edition (03/17/15) - Vinyl
All the World's a Stage (03/17/15) - Vinyl
A Farewell to Kings (04/21/15) - Vinyl | Blu-ray Audio
Hemispheres (05/19/15) - Vinyl
Permanent Waves (06/16/15) - Vinyl

AVAILABLE FOR PRE-ORDER

Moving Pictures (07/24/15) - Vinyl | Vinyl + Large t-shirt | Vinyl + XL t-shirt
Exit ... Stage Left (07/24/15) - Vinyl
Signals (08/18/15) - Vinyl | Blu-ray Audio
Grace Under Pressure (09/15/15) - Vinyl
Power Windows (10/20/15) - Vinyl
Hold Your Fire (11/17/15) - Vinyl
A Show of Hands (12/1/15) - Vinyl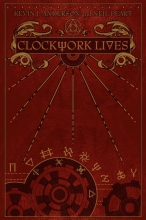 Kevin J. Anderson and Neil Peart's follow-up to their best-selling Clockwork Angels novel is titled Clockwork Lives and is due to release via ECW Press on September 15th. The book will feature minor characters from Clockwork Angels and expand on their stories. A limited edition, signed hardcover edition of the book is now available for pre-order via the Rush Backstage Club:
The Clockwork Lives Limited Edition Hardcover is placed within a black linen slipcase that has a gold foil stamp of the alchemical symbols, and includes a ribbon bookmark inside the book. Each book will be hand numbered and have a bookplate signed by Neil Peart and Kevin J Anderson. This release is limited to 500 copies.
You can also pre-order the standard hardcover edition here. An ebook preview of a portion of the book is also available. You can order the Kindle edition of Clockwork Lives: The Bookseller's Tale for $2.99 on Amazon at this location, and it is also available in other ebook formats. The ebook also includes an afterword on the writing of the project with Neil Peart. Back in February Anderson released a video of himself discussing the origins of the novel which you can view on YouTube at this location. He also discussed the novel at length in his Rushcast podcast interview from back in March. And Eric at the Power Windows site posted a short interview with Anderson yesterday where he answers some questions about his various Rush-related projects including Clockwork Lives, 2113 and more. You can read that interview online here.
Last month Rush released a 272 page coffee table book titled Art of Rush, which celebrates the 40 year relationship of Rush and their longtime artist and illustrator Hugh Syme. Syme recently sat down with The Daily Tribune to talk about the book and his relationship with Rush, including some speculation on what the future may hold for the band:
... "If you think about it, that (scaling back) is already in place," Syme says. "They used to do nine months and then take three months off, you know? So I think in fairness they have scaled back consistently over the years. I just think they may have so much fun and they may get the invitation to do the Hammersmith (in England) or do nine venues in Europe. They may just do it because, what the hell. And, y'know, they always have such a great response when they go down to Rio; I wouldn't discount that either. It's just me thinking out loud. It's not anything I know about, just a feeling." ...
You can read the entire interview online here and purchase the Art of Rush at
this location.
Saved by Technology's Jim Burgess and his involvement with Rush's R40 Live tour was recently featured on the company's website. Jim was heavily involved in getting the tour's synth and sampling system set up as Geddy Lee describes:
Jim Burgess of Saved By Technology has been an invaluable member of the Rush team for many years and once again he has been in charge of prepping the synthesizer and sampling set up for our current R40 tour. He has been involved in everything from choosing the right MIDI instruments, hardware and software systems, to programming, arranging, editing and final sound design for this entire aspect of the show. He has done an incredible job for us once again. Thank you Jim!"
On a related note, Rochester, NY musician Scott Dasson appeared on Fox's Good Day Rochester news show recently to talk about his Badbird Bridge invention that Rush is currently using on their R40 Live tour. Dasson was invited to attend the band's show in Buffalo and bring along some of his Badbird Bridges for the band to use. You can watch the video of Scott's appearance on the show here. And earlier this week Sabian Cymbals announced the release of four new Paragon models to commemorate Rush's 40th anniversary R40 and the 10th anniversary of the Paragon line. For all the details visit sabian.com (thanks Eric at Power Windows).

The Apple Worldwide Developers Conference (WWDC) 2015 recently took place out in San Francisco, and - as in years past - Apple senior vice president of Software Engineering Craig Federighi managed to slip in a Rush reference in his keynote presentation. When demonstrating the new features of Safari in the El Capitan OS, he shows how easily you can pin sites (so that they remain at the top of the page, load instantly, etc.). One of the sites he uses is Pinterest and Rush is one of the top pins on his Pinterest page. You can see the reference at about the 13:30 mark of the presentation (thanks John H).

SRO/Anthem (Rush's management) Vice President Pegi Cecconi was honored with the inaugural Brian Chater Leadership Award by the Canadian Independent Music Association (CIMA) at their Gala at Toronto's Great Hall this past Monday, June 15th. Former Rush producer Terry Brown was also at the ceremony to receive one of the eleven founders awards (thanks John L). These eleven got together in December 1970 at the Inn on the Park hotel to discuss the idea of creating a trade association to represent the independent music community in Canada, and one month later The Canadian Independent Record Producers Association (renamed CIMA in 2009) was established. Paul from the Canadian Music Scene was at the ceremony and snapped this photo of Terry and Pegi. Congrats to the both of them!
Zane Caplansky is the owner of Toronto's Caplansky's Deli, where Geddy Lee is a regular customer and even has a sandwich named after him. Caplansky was recently interviewed by the Toronto Globe and Mail and had the following to say about Geddy (thanks RushFanForever):
... Geddy Lee is on our menu. Geddy, when he comes into the restaurant, would always ask me to make him the same dish his father would make for him when he was a little boy, which is fried salami with eggs, with some salmon on top. I named it The Geddy. ... Growing up in North York in the eighties, you couldn't go to a party or bar mitzvah without hearing an album like Moving Pictures. And now to have Geddy walk in and say "hey Zane" to me it's a mind-blowing experience. ...
Speaking of Geddy, OC Weekly posted their list of the 10 Best High-Pitched Metal Singers last week and coming in at #6 was Rush's Geddy Lee.
Last week Uproxx.com, CBC News and a few other news outlets featured a story on the iconic Le Studio in Morin Heights, Quebec where Rush recorded several albums including Permanent Waves and Moving Pictures. The story focused on the studio possibly going up for sale in the near future for as little as $18,000. It turns out the stories were short on facts and long on hype as Kevin from the Le Studio channel explained in this very informative video over the weekend. The bottom line is that the studio is not for sale, and never was (especially not for $18,000 as Uproxx.com claimed). You can watch the video for the full explanation.
That's all for this week. Rush continues their stint in YYZ tonight with show #2 at the Air Canada Centre in Toronto, which will also be filmed for later DVD release. Have a great weekend!