UPDATE - 6/12@6:31PM: Kevin from the Le Studio channel breaks down the facts behind all of the recent press that Le Studio has received over the last week (including the CBC article highlighted below) in this very informative video. The bottom line is that the studio is not for sale, and never was (especially not for $18,000 as Uproxx.com claimed). Watch the video for the full explanation.
----- snip -----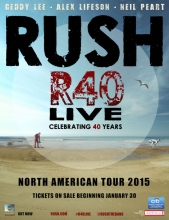 Rush kicked off the 2nd leg of their R40 Live tour this past Monday night at Nationwide Arena in Columbus, Ohio. From there they headed north to Buffalo to play a packed house at the First Niagara Center Wednesday night, and will be hitting the United Center in Chicago tonight. This 2nd leg will see the band visiting 10 cities around the Great Lakes and Northeastern US throughout the month of June, including 2 shows in the band's hometown of Toronto next week, both of which will be filmed for later DVD release. It's expected that the band will do something special for the filming in front of the hometown crowd. For more on that, check the spoilers in the Buffalo show open thread, and for complete tour coverage for each show, visit the tour page. Drum Workshop announced earlier this week that Neil Peart's Commemorative Hockey Drum Kit will be on display at all 5 Canadian dates on Rush's tour this summer, and fans will have the opportunity to sit behind the kit with a $10+ donation to the Princess Margaret Cancer Foundation. There will also be an associated eBay auction later next month. For all the details check out the press release. Rush's rights management company Ole (Ole aquired the Rush catalog last year) is running a contest with Indaba Music for a Rush cover song contest where the winner will get $5,000, 2 tickets and a meet & greet for Rush's August 1st show in LA, and more. The deadline for submissions passed last week and voting is open through June 16th with the winner being announced on July 7th. I've already shared a number of submissions on Facebook and Twitter, so if you have a submission you'd like me to share, just let me know. Toronto's Q107 is running a contest billed as See Rush with a Girl where you can win front row tickets to see Rush's June 19th show in Toronto with DJ Joanne Wilder. To enter, you need to submit a 30-second video saying why they should pick you. For all the details, and to view the current entries go here. Speaking of which, Wilder interviewed RushCon creative director Jillian Maryonovich yesterday to talk about the upcoming RushCon events, which will include a mini-con next weekend in Toronto along with the main convention next month in Los Angeles. For all the details check out the RushCon website, and be sure to follow RushCon on Facebook and on Twitter for all the latest news and info. And don't forget that the Rush Backstage Club's meet & greet contest is also still going on.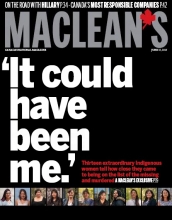 The latest edition of Canada's Maclean's magazine contains a large feature on Rush (*SPOILERS*) and their R40 Live tour in the Arts section. The article includes several new interview segments with Alex Lifeson as well as Rush manager Ray Danniels, RushCon creative director Jillian Maryonovich, author Chris McDonald and author/biographer Martin Popoff. The article addresses Alex Lifeson and Neil Peart's various health issues and their implications regarding the future of Rush:
... Rush won't be able to play like this forever, or even for very long. Peart is suffering from tendonitis-he has downsized his epic drum solos-and Lifeson has psoriatic arthritis. "I'm starting to feel it in my index finger and my thumb on my left hand, which is kind of critical," he says, "so I get cortisone shots and try to keep it as loose as I can. I'll be 62 soon, and it's getting a little more challenging to stay on top of it."

The band's future, beyond the end of this tour in Los Angeles on Aug. 1, is a question mark: "We've talked quite openly about this possibly being the last major tour that we're going to do," says Lifeson. "There's no point in going out and being the ghost of yourself just to make a few bucks." What's more, having sacrificed family time for Rush's career, he plans to be around for his grandchildren: "I want to be the custodian of great experiences for them-that's a pretty important job."

Still, with Lee living five minutes away in Toronto, Lifeson is always tempted to write music; "I know Neil would be up for it too," he says. And with Danniels "cautiously optimistic" about adding tour dates, Rush's ever-expanding cult needn't wish for time to stand still. ...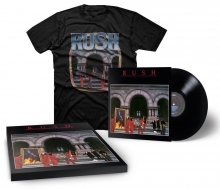 Rush's 12 Months of Rush vinyl reissue campaign will continue this coming Tuesday, June 16th with the release of Permanent Waves. Next up after that is the band's most commercially successful album, Moving Pictures, which is slated for release on July 24th. The Moving Pictures reissue will include an LP plus vintage t-shirt combo option, where you'll get the vinyl reissue along with a vintage t-shirt as seen here (thanks Lerxstcire). The LP plus vintage t-shirt combo is now available for pre-order with either a Large or Extra-Large t-shirt, and you can also just pre-order the LP itself here. Rush is releasing all of the Mercury-era Rush albums on vinyl along with a few select titles on Blu-ray audio throughout 2015. The 12 Months of Rush will see the band releasing one or two titles a month throughout the year. They started with Fly By Night in January (Vinyl, Blu-ray Audio), Caress of Steel in February, both 2112 and All the World's a Stage in March, A Farewell to Kings in April (Vinyl, Blu-ray Audio), and Hemispheres last month. You can watch a 15-second promotional video for the 12 Months of Rush on the Rush YouTube channel here. All titles are reissued on high-quality vinyl with a 320kbps MP4 Digital Audio download code, with Fly By Night, A Farewell to Kings and Signals also having a Blu-ray Audio release. The rest of the reissue titles will be released throughout the remainder of the year and can be ordered/pre-ordered at the links below:
AVAILABLE FOR PURCHASE

Fly By Night (01/27/15) - Vinyl | Blu-ray Audio
Caress of Steel (02/17/15) - Vinyl
2112: Hologram Edition (03/17/15) - Vinyl
All the World's a Stage (03/17/15) - Vinyl
A Farewell to Kings (04/21/15) - Vinyl | Blu-ray Audio
Hemispheres (05/19/15) - Vinyl

AVAILABLE FOR PRE-ORDER

Permanent Waves (06/16/15) - Vinyl
Moving Pictures (07/24/15) - Vinyl | Vinyl + Large t-shirt | Vinyl + XL t-shirt
Exit ... Stage Left (07/24/15) - Vinyl
Signals (08/18/15) - Vinyl | Blu-ray Audio
Grace Under Pressure (09/15/15) - Vinyl
Power Windows (10/20/15) - Vinyl
Hold Your Fire (11/17/15) - Vinyl
A Show of Hands (12/1/15) - Vinyl
Yesterday Classic Rock magazine posted their list of the The 50 greatest Rush songs ever as voted on by readers and the results were a little unexpected. Rounding out the top 5 were Limelight at 5, The Spirit of Radio at number 4, Tom Sawyer in the number 3 spot, La Villa Strangiato came in second, and Xanadu topped the list. You can check out the full results here. Red Barchetta came in at #10, and the song was the subject of an article in the Halifax Chronicle-Herald's Wheels section yesterday which you can check out here.
Sixx:A.M. (Motley Crue's Nikki Sixx's band) singer James Michael was recently interviewed for Goldnmine Magazine and listed off 10 albums that changed his life, including Rush's Moving Pictures which was #7 on his list (thanks RushFanForever):
I would be remiss to not have Rush on my Top-10 list. Because, to me, lyrically, Rush was such an amazing band. But musically, it was three guys that were so far advanced musically. Even when you go back to "2112" and some of the early Rush records, there were things going on there musically that were genius, incredibly smart. And yes it was a rock band with heavy rock guitars but it was also this voice that was so unusual and an instrument in and of itself. It was when I learned that the voice was really an instrument. If used properly, it really does have a place in rock music as an instrument. To me, when I would listen to Rush records I was in a stadium. I love "Moving Pictures" because they started working in synthesizers and electronics and keyboards, and because of my love for European pop and rock music I always loved that.
Anthem/SRO's Pegi Cecconi was one of the panelists at a 1-day music seminar this past Wednesday at the Old Crow Bar & Bistro in Niagara Falls (thanks RushFanForever). The event was sponsored by MusicOntario and Planet3 Communications, in association with CIMA and the Ontario Media Development Association.
Upscale Toronto eyewear retailer Josephson Opticians is celebrating its 80th anniversary this year and was the subject of an article in the Toronto Globe and Mail yesterday. The article mentions that one of the store's regular clients is Rush's Geddy Lee.
VH1 posted their list of the Top 10 Les Paul Guitar Players in Hard Rock and Heavy Metal earlier this week and coming in at #8 was Rush's Alex Lifeson (thanks RushFanForever):
Prog metal guitar's supreme cosmic explorer, Alex Lifeson of Rush has piloted his Gibson Les Paul to every expanse of the musical universe-and beyond. Lifeson utilizes the Les Paul's incomparable fret action to fuel feats of imagination and tap into torrents of rocket power like no other player, further proving that the Gibson Les Paul is like no other guitar.
CBC News featured a story earlier this week on the iconic Le Studio in Morin Heights, Quebec where Rush recorded several albums including Permanent Waves and Moving Pictures. The article and associated video news story highlight the studio's history and how it ended up in its current abandoned and dilapidated state. They also speak with well-known Montreal street musician Richard Baxter, who recently launched an ambitious Kickstarter campaign to revive the studio and turn it into a non-profit studio and museum:
... "I always dreamed of getting that place," he said. " I always say, 'If I won the (Lotto) 6/49, that's the place I'm going to buy." ... "For me, it's not a money thing. I won't make money with this, [maybe] a little bit, but I don't want to charge the bands a lot. I want to help them," he said. "I've been drumming for 35 years and it would be the biggest achievement I can think of." ...
But Andre Perry, the legendary recording engineer and producer who built the studio over 40 years ago is skeptical:
... He says several groups and individuals have tried to purchase and resurrect the studio in the past, none successfully. He also doubts it will make it as far as the auction. It has come close before and the owners have paid off the debt before losing the property. Besides, Perry says, the essence of the studio - of that time and that place in musical history - has passed and the tipping point on the building's viability may have passed as well. When he initially sold it, he was hopeful that eventually it could be tied to a university with a music program that could have preserved it and used it for educational purposes. But now, given its current state, Perry said it may be time to bury the past, tear down Le Studio and finally let it rest in peace. "You can't save that. It's a dream. It's gone. You cannot put it back together," he said. "It's very sad that it did not have the continuity, but the point is, when it's over, you've got to walk away." ...
Last year Neil Peart paid a visit to Le Studio and described the experience in a blog post on his website. There's also this fan-made, 2-part documentary on Le Studio that premiered on YouTube last year. You can read the entire CBC News article here and watch the associated video news story below.
That's all for this week. The R40 Live tour continues tonight in Chicago. Have a great weekend!