UPDATE - 6/5@10:20AM: Rush has fixed the release (see below), and decided not to mention Massey Hall at all. :)
UPDATE - 6/5@8:46AM: As a few fans have pointed out, the Rush.com announcement incorrectly states that Exit ... Stage Left was filmed at Massey Hall in 1980. Oops!! I think they meant to say All the World's a Stage, which was recorded (but not filmed) at Massey Hall in 1976. Hopefully they will correct that error!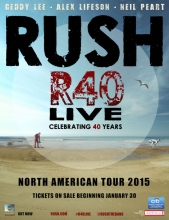 Rush has finally made official what we've already known for the past month - that they will be filming both Toronto shows on the R40 Live tour for future DVD release. From Rush.com:
Rush announced today that both hometown Toronto performances will be filmed. It is the first time the band will have filmed in their hometown in almost 20 years with the recording in 1997 at the Molson Canadian Amphitheatre on the Test for Echo tour. Prior to that, the band filmed a concert video and later released an accompanying album for the Grace Under Pressure tour in 1984 at Maple Leaf Gardens. ... Fans who have their coveted tickets to the sold out shows in Toronto are encouraged to represent and wear Rush shirts, bring signs and come ready with their 'outside' voices.