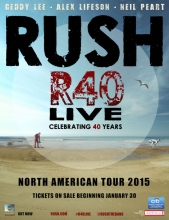 The first of 3 legs of Rush's R40 Live 2015 tour will wrap up tomorrow night when the band plays the Jiffy Lube Live in Bristow for show #12. The first leg saw the band playing to capacity crowds from Tulsa up into Minnesota, back down to Texas and across the southeastern US. After tomorrow night's show, Rush will take a well-deserved, 9-day break before picking things back up again in Columbus on June 8th for the 2nd leg. The band has been playing their standard 3-hour evening with Rush show format with 2 sets separated by an intermission, pulling out about 25 (depending on how you count them) songs from their 40-year catalog, and alternating between three A-B-C setlist versions (the 3 setlists were confirmed by Alex Lifeson in his recent Classic Rock interview). Each setlist maintains a core of about 20 songs common to every show, with the remaining 5 or so slots changing from night to night and the encore remaining unchanged. They will likely continue this pattern when they start up the 2nd leg next month in Columbus, but there's always that outside chance that they will decide to mix things up a bit. There is still one track that the band has been consistently playing in soundchecks that has yet to make an appearance. For more on that, check the spoilers in the Greensboro show open thread, and for complete tour coverage for each show, visit the tour page. There has been a lot of anecdotal evidence that the crowds on all of the tour stops thus far have been either sold out or close to capacity. We received our first concrete evidence of this when the latest Billboard Boxscore numbers came out this past week showing the Houston show as sold out with a crowd of 11,434 and gross sales of $1,046,297. Numbers for the rest of the dates should start to trickle in in the coming weeks, and I'd expect most of those to be sold out or close to it as well. Although it hasn't been officially confirmed yet, rumors (independently confirmed by several sources) began circulating after opening night that Rush will be filming both Toronto shows for a future DVD release; Rush plays 2 back-to-back shows at the Air Canada Centre in Toronto on Wednesday, June 17th and on Friday, June 19th. There are currently a few Rush meet-n-greet and ticket giveaway contests going on. Live Nation launched an #R40Memories Sweepstakes a few weeks ago where the grand prize winner will get a trip for two to Las Vegas to see Rush, complete with a meet-n-greet, air fare, hotel accommodations, merch pack and $200 spending money. They are asking entrants to submit photos of their favorite Rush memories as seen here, although its not a requirement for entry. The contest runs through June 12th and you can get all the details and enter the Sweepstakes at this location. Rush's rights management company Ole (Ole aquired the Rush catalog last year) is also running a contest with Indaba Music for a Rush cover song contest where the winner will get $5,000, 2 tickets and a meet & greet for Rush's August 1st show in LA, and more. There are already dozens of entries submitted which you can check out and vote for here; submissions are due by this coming Tuesday, June 2nd. Rush and MLB have also teamed up to sponsor a Rush Off to Chicago VIP Contest where the winner will get 2 tickets to Rush's June 12th show in Chicago, a meet-n-greet with Rush and Randy Johnson, 2 tickets to a Cubs game, hotel and airfare, and $200 spending money. For all the details and to enter, visit MLB.com. And you can still enter the Rush Backstage Club's meet & greet contest too. The Columbus Blue Jackets NHL hockey team are also running a contest (thanks Dean S) where they are giving away four premium terrace table tickets to see Rush's June 8th show in Columbus.

The first major organized Rush fan gathering centered around the band's R40 Live tour will take place this weekend when Rush rats from across the country gather outside Baltimore for Rush RatCon East. RatCon East will take place today and tomorrow at Club Xanadu in Severna Park, MD, culminating with Rush's show in Bristow tomorrow evening. The event begins later this afternoon at Club Xanadu, and the evening will finish off with a show later tonight at the Fish Head Cantina with Rush tribute band kRUSH. The festivities will then continue at Club Xanadu tomorrow before everyone heads off to the venue in the afternoon for a huge preshow tailgate party. There will also be a Rush RatCon West that will take place July 18-19th in Seattle, culminating with the Rush show at the Key Arena on Sunday night. You can read the entire press release here, and be sure to keep up on all the latest news by following RatCon on Facebook and Twitter. RushCon will also be holding their annual convention July 31st to August 2nd in Los Angeles along with a mini-con in Toronto on June 19-20 and several other RushCon-sponsored pre-show parties throughout the tour. For all the details check out the RushCon website, and be sure to follow RushCon on Facebook and on Twitter for all the latest news and info.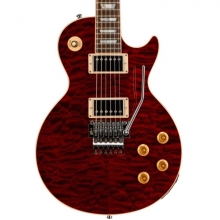 Gibson has made available a Limited Edition Alex Lifeson R40 Les Paul Axcess in celebration of Rush's 40th anniversary. For all the details, check out the Guitar Center website, and there's also this video of Alex Lifeson talking about the guitar.
The long-running BBC radio program Desert Island Discs had Wikipedia founder Jimmy Wales on as a guest this past week. The 4th track he chose for his desert island disc was Rush's Tom Sawyer and here's what he had to say about it:
... For me it's a great song with great spirit. My favorite line in the song is, "No, his mind is not for rent to any god or government". And it's about intellectual independence - it goes on to say, "always hopeful, yet discontent". That definitely describes - sort of - me in certain aspects. And then this one's quite interesting - "He knows changes aren't permanent, but change is". And that really resonates to me about the nature of Wikipedia; the individual changes people make to this knowledge base aren't permanent themselves but the change itself is permanent. ...
You can listen to the podcast at this location, and the Tom Sawyer portion comes in at about the 19:30 mark. Thanks to Martin D for the heads up.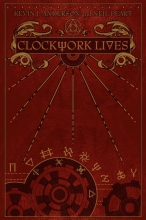 Kevin J. Anderson and Neil Peart's follow-up to their best-selling Clockwork Angels novel is titled Clockwork Lives and is due to release via ECW Press on September 15th. The book will feature minor characters from Clockwork Angels and expand on their stories. Back in April a portion of the book was made available for sale as an ebook complete with an afterword on the writing of the project by Neil Peart. You can order the Kindle edition of Clockwork Lives: The Bookseller's Tale for $2.99 on Amazon at this location, and it is also available in other ebook formats. You can also get the ebook via StoryBundle, who is currently running a special fantasy bundle that includes The Bookseller's Tale. The way it works is that you pay what you want for the bundle, and if you pay at least $15 you'll get a total of 12 books, and The Bookseller's Tale if you sign up for the free newsletter. You can also opt to have a portion of your purchase go to charity with the rest getting divvied up among the various authors. You can get all the details at Anderson's blog here. Back in February Anderson posted a portion of the first chapter of Clockwork Lives to his blog here, and released a video of himself discussing the origins of the novel which you can view on YouTube at this location. He also discussed the novel at length in his Rushcast podcast interview from back in March. You can pre-order your copy of Clockwork Lives at this location, and order Clockwork Lives: The Bookseller's Tale here.

Rush's 2112 is included in a sidebar list accompanying the Muse cover feature in the July, 2015 issue of Q Magazine. According to Muse frontman Matt Bellamy, the band's latest album Drones is a conceptual album which explores the journey of a human, from his abandonment and loss of hope, to his indoctrination by the system to be a human drone and eventually defection from his oppressors. So the sidebar list explores other albums with similar themes, and 2112 comes in at #2 (thanks Bimal H):
Rush matched up sci-fi and prog rock to ridiculous effect on this dystopian tale (aren't they all?) that became the hairy Canadian rockers' big breakthrough.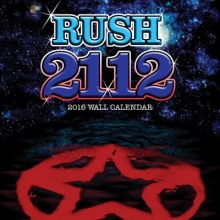 The cover art for the official Rush 2016 wall calendar has been revealed by NMR Distribution via this product listing on their website. The calendar's cover depicts the 2112 album cover with the words 2016 Wall Calendar under the title. Although the overall theme of the calendar isn't clear, it's a good bet to assume it will feature other iconic Rush album covers in the interior. This 12"x12", 16-month calendar will officially release sometime this summer and is actually already listed at Amazon.com, although it can't be pre-ordered as of yet.
The NY Daily News ran a poll of their readers to determine the top bassists of all time, and Geddy Lee made the cut at #6.
Back in 2013, author and Rush fan Charlie Gibbons released a book titled Ellison & Amos which was inspired by events in Neil Peart's life following the tragic deaths of his daughter and wife in the late '90s. Gibbons was recently a guest on KTVA's Daybreak Thursday in Alaska to talk about the book. From the interview:
... "[Neil Peart] is a big mentor, inspiration for me and my writing over the years," ... "When the opportunity came to come to Alaska and experience Alaska and all of its wonder, everything just kind of sprouted from there." Gibbons came up with the idea for the book after going through a personal turmoil similar to Peart. "I want it to be celebration of life and to be able to write a story and have this inspiration come where you have this legend who collides with a fan, such as me or any fan of any other rock band or musician," he said. "It was just a fun, exciting way to express my own feelings about life and those that we grow up being inspired by." ...
In celebration of their recent Rush cover feature, Classic Rock magazine is running a poll to determine the best Rush song ever. You can place your vote at this location (registration required).
MLB.com posted an interview with pitcher-turned-photographer Randy Johnson and Rush's Geddy Lee earlier this week where the pair discuss their 20-year friendship and mutual admiration. Johnson recently photographed Rush's show in Austin, which was the location of the interview, and will be doing so for several other shows on the R40 Live tour. Here's Geddy Lee on Johnson:
... "One of the things I've always admired about Randy is the thoughtful and intelligent approach he always took to his game," he said. "Always looking for an edge, always looking for a way to be better at what he did on the mound. The way he talked about being accountable. You don't hear a lot of athletes talk about being accountable. I found that inspiring. I took away from that something that I could apply to my own profession."...
And Here's Johnson talking about Geddy:
... "When I was young, I was kind of a free-willed person," Johnson said. "I just kind of got the ball and went out and pitched. There was more to it than that. I enjoyed hearing [Lee's] stories about when they were coming up, and they were warming up for some of the bands that are still out there performing to this day." ... "I'm a friend first, but also a big fan," Johnson said. "I was a huge Rush fan before I met Geddy. To have known and become friends with them for over 20-some years and photograph them on various tours is a huge thrill for me." ...
You can watch the entire interview below or at the MLB.com website here (*SPOILERS*), and also check out Johnson's gallery of photos from the Austin show.
That's all for this week. Have a great weekend everybody! For those going to RatCon and/or the Bristow show tomorrow, have a blast!