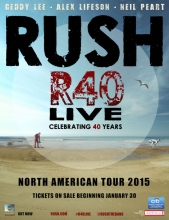 Rush kicked off their R40 Live tour in epic fashion last Friday evening in Tulsa, OK. The band played their standard 3-hour evening with Rush show format with 2 sets separated by an intermission, pulling out about 25 (depending on how you count them) songs from their 40-year catalog for the capacity crowd at the BOK Center. For a complete rundown of opening night, including the setlist, photos, videos, reviews and more, check out this post. The band then made their way north to Lincoln on Sunday night, St. Paul on Tuesday, and St. Louis last night. After alternating between different setlists for the first 3 shows, they repeated the opening night setlist last night in St. Louis (other than flipping the order of the 1st 2 songs). This seems to suggest that the band will be alternating between those 3 setlists from this point onwards, although it's still very possible they'll throw something new in at some point (check the spoilers on the St. Louis show thread for more on that). Each setlist maintains a core list of about 20 songs common to every show, with the remaining 5 or so slots changing from night to night. Rush hasn't mixed up the setlist like this in a very long time, so it's been quite a treat for the fans. Rush will next make their way across Texas in the upcoming week, playing shows in Austin tomorrow night, then Dallas and Houston next week. Although it hasn't been officially confirmed yet, rumors (now independently confirmed by several sources) began circulating after opening night that Rush will be filming both Toronto shows for a future DVD release; Rush plays 2 back-to-back shows at the Air Canada Centre in Toronto on Wednesday, June 17th and on Friday, June 19th. It comes as no surprise that the band plans on filming shows for a DVD release, since they've done that with every tour since Vapor Trails, but this is the first information to come out regarding the whereabouts of the filming. It's expected that the Toronto filming will be officially announced soon. There are currently a few Rush meet-n-greet and ticket giveaway contests going on. Live Nation launched an #R40Memories Sweepstakes last week where the grand prize winner will get a trip for two to Las Vegas to see Rush, complete with a meet-n-greet, air fare, hotel accommodations, merch pack and $200 spending money. They are asking entrants to submit photos of their favorite Rush memories as seen here, although its not a requirement for entry. The contest runs through June 12th and you can get all the details and enter the Sweepstakes at this location. Rush's rights management company Ole (Ole aquired the Rush catalog last year) is also running a contest with Indaba Music for a Rush cover song contest where the winner will get $5,000, 2 tickets and a meet & greet for Rush's August 1st show in LA, and more. And you can still enter the Rush Backstage Club's meet & greet contest too.


Now that the tour is underway, I thought I'd remind everyone about the 2 major Rush fan gatherings that will be taking place this summer: RushCon 15 and Rush RatCon 2015. Both of these Rush fan gatherings will take place in multiple locations over the summer to coincide with dates on the R40 Live tour, and focus on celebrating Rush fandom and the band's 40th anniversary. The 15th annual RushCon will take place July 31st to August 2nd in Los Angeles along with a mini-con held in Toronto on June 19-20. For all the details check out the RushCon website, and be sure to follow RushCon on Facebook and on Twitter for all the latest news and info. Rush RatCon 2015 will be celebrated on multiple dates and in multiple locations around the US and Canada. RatCon 2015 East will take place May 29-30th at Club Xanadu in Severna Park, MD, culminating with Rush's show in Bristow on May 30th. RatCon 2015 West will take place July 18-19th in Seattle, culminating with the Rush show at the Key Arena on Sunday night. In addition to the two main events, several smaller RatCon on the Road parties will be held around the country, with details coming at a later date. You can read the entire press release here, and be sure to keep up on all the latest news by following RatCon on Facebook and Twitter. Speaking of RushCon and the tour, Jillian from the RushCon team, myself and Donna Halper were guests on WAPJ's Vinyl to Cassette radio show Wednesday night for a special, 2-hour program devoted to Rush. Jillian gave the rundown on all the various RushCon events this summer, Donna spoke about her history with the band, and yours truly spoke for a few minutes on the background of the rushisaband.com site. You can download the entire show at this location.
Fender.com posted a new interview with Geddy Lee a couple of weeks ago where Geddy talks about Rush's 2013 Rock Hall induction, the band's longevity, his relationship with the bass guitar, his new grandson and the R40 Live tour:
... "I owe our fans so much as they have helped float us support us for over 40 years now," said Lee. "They're growing devotion to us is not something that I take lightly. I really do appreciate it, and you know, you can never make them all happy- it's not possible, but we try. I think that the best way for us to try is just to be ourselves. I think our real fans understand that if we disappear for a couple years, it's because we really need to. If we do things a particular way or if we don't play that album on a particular tour, that's just not where we are at the moment and that also comes as part of being a Rush fan." ...
You can read the entire interview online here. There's also a 7-minute video that Fender posted last month where Geddy discusses his new Fender USA signature jazz bass which you can watch here. The May 7th episode of the Eddie Trunk podcast also includes a short interview with Geddy Lee which was recorded before his appearance on the season premiere of That Metal Show back in February. Eddie starts talking about Rush and his history of interviewing the band at about the 30-minute mark. Geddy then comes on at about the 38:15 mark and chats with Eddie for 7 minutes or so about the R40 Live tour. You can listen to the podcast at this location.
Rush will continue their 12 Months of Rush vinyl reissue campaign this coming Tuesday with the release of Hemispheres. Rush is releasing all of the Mercury-era Rush albums on vinyl along with a few select titles on Blu-ray audio throughout 2015. The 12 Months of Rush will see the band releasing one or two titles a month throughout the year. They started with Fly By Night in January (Vinyl, Blu-ray Audio), Caress of Steel in February, both 2112 and All the World's a Stage in March, and A Farewell to Kings last month on both vinyl and Blu-ray Audio. You can watch a 15-second promotional video for the 12 Months of Rush on the Rush YouTube channel here. All titles are reissued on high-quality vinyl with a 320kbps MP4 Digital Audio download code, with Fly By Night, A Farewell to Kings and Signals also having a Blu-ray Audio release. The rest of the reissue titles will be released throughout the remainder of the year and can be ordered/pre-ordered at the links below:
AVAILABLE FOR PURCHASE

Fly By Night (01/27/15) - Vinyl | Blu-ray Audio
Caress of Steel (02/17/15) - Vinyl
2112: Hologram Edition (03/17/15) - Vinyl
All the World's a Stage (03/17/15) - Vinyl
A Farewell to Kings (04/21/15) - Vinyl | Blu-ray Audio

AVAILABLE FOR PRE-ORDER

Hemispheres (05/19/15) - Vinyl
Permanent Waves (06/16/15) - Vinyl
Moving Pictures (07/21/15) - Vinyl
Exit ... Stage Left (07/21/15) - Vinyl
Signals (08/18/15) - Vinyl | Blu-ray Audio
Grace Under Pressure (09/15/15) - Vinyl
Power Windows (10/20/15) - Vinyl
Hold Your Fire (11/17/15) - Vinyl
A Show of Hands (12/1/15) - Vinyl
Drum Talk TV interviewed DW's John Good at the 2015 NAMM show earlier this year about Neil Peart's new R40 kit, including the discovery and acquisition of the 1,500-year-old Romanian River Oak which was used to make it. The interview had to be taken down because Good mistakenly revealed some spoilers regarding Neil Peart's drum setup for the R40 Live tour. But now that the tour is underway, they were allowed to repost it. You can check out the interview on the Drum Talk TV Facebook page (** SPOILERS **). Speaking of Neil Peart and DW Drums, DW is running a Not Tom Sawyer contest where an entrant needs to submit a video of themself playing their favorite Rush song - except Tom Sawyer. The winner of the contest will get a Neil Peart Performance Series Time Machine Snare drum. You can get all the details and information on how to enter at this location.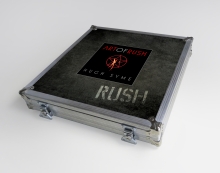 Back in March Rush announced the release of a 272 page coffee table book titled Art of Rush, and began taking pre-orders via the Rush Backstage Club. The book celebrates the 40 year relationship of Rush and their longtime artist and illustrator Hugh Syme, and includes a foreword from Neil Peart. All of the special, limited edition copies sold out the first day of the pre-order, but there are still copies of the regular edition available. The release date was originally planned for May 1st but later pushed to May 22nd because of production delays (the website still says it will release May 22nd). However, a few readers have reported that they have already received their copies. Good news! You can order your copy of the Art of Rush here, and view a few scans from inside the book here (thanks Adam B).
SRO/Anthem (Rush's management) Vice President Pegi Cecconi was honored with the Brian Chater Pioneer Award at the Music Managers Forum back on May 5th for her accomplished career in the Canadian music industry. From the CMRRA website:
... Taking her award in characteristic stride, she laughs that she's "glad I'm still alive to be recognized." She's also honoured to be recognized in the name of Brian Chater, who spearheaded numerous developments of the Canadian music industry during his 40-year career, including the establishment of Neighbouring Rights. "He was a true pioneer ... I learned more through him than anyone else I worked with, so the honour is being given an award named after him." ...
Cecconi will also be honored with the inaugural Brian Chater Leadership Award by the Canadian Independent Music Association (CIMA) at their Gala in Toronto on June 15th, and Rush producer Terry Brown will be receiving The Founders Award at the CIMA Gala. Speaking of Pegi and SRO/Anthem, Rush's management company has recently taken to social media and are now on Facebook, Twitter and Instagram.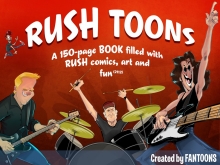 If you follow rushisaband on Facebook and/or Twitter, you've likely run across some of the amazing Rush-themed comic art from FANTOONS that I've shared over the last couple of years. FANTOONS is an on-going comic strip based on Rush and some other great bands that was created by David Calcano back in 2012. You can check out some samples of their work on Facebook and at fantoons.tv. They've released a couple of books already, but their next one is their most ambitious project to date and will be a 150-page book all about our favorite band Rush with a working title of Comicspheres: A retrospective of Rush Toons by FANTOONS. A couple of weeks ago they launched a Kickstarter project in order to cover printing costs for the book which is otherwise all finished, with a planned release at this summer's San Diego Comic Con. The project has already far surpassed its goal and is still going strong, with 1 week left to go. Be sure to check out the Kickstarter page for all the details, sample art, a great video and to see how you can help out. Based on your level of support you can recieve a copy of the book, signed prints, t-shirts and more. I should also mention that I'll be writing the book's foreword. GeekDad's Dave Banks wrote an article this past week highlighting the project which you can check out here.
Drummer Mike Portnoy (Winery Dogs, Dream Theater) recently sat in for a live performance of Rush's The Spirit of Radio with Detroit-based prog rockers Tiles. Tiles along with Next to None (Portnoy's son Max's band) were the opening acts for the Haken show at the Token Lounge in Detroit on April 25th. You can watch the impromptu performance on YouTube here. Tiles was Dream Theater's opening act on the Scenes from a Memory tour 15 years ago. Portnoy along with Ian Anderson (Jethro Tull), Kim Mitchell (Max Webster) and others will also be making guest appearances on Tiles' upcoming double album Pretending to Run which will be produced by former Rush producer Terry Brown, who also produced their last 2 studio albums (Window Dressing and Fly Paper). Rush album artist Hugh Syme also does all the album artwork for Tiles (he also played piano and keyboard on a few tracks), and Alex Lifeson performed on one of the tracks from the band's last studio album.
The Slapshot Diaries is a new website project from filmmaker Mike Downie and musician/author Dave Bidini in partnership with Toronto-based FUSE Marketing. The project was launched last month with the goal being to publish and preserve hockey stories as told by some of the game's greatest players. One of the stories featured on the site comes from former Canadian hockey player Steve Shutt, who was an integral part of the Montreal Canadiens team that won five Stanley Cups in the 1970s. Shutt also happened to go to Fisherville Junior High in Willowdale with Geddy Lee and Alex Lifeson, and tells a story about when he and Geddy went to their first really big rock show at North York Centennial Arena featuring the Toronto bands The Mandala and The Paupers when they were 14.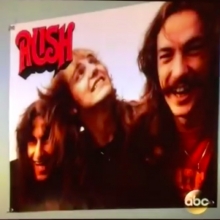 There was a Rush poster reference on the May 5th episode of the ABC sitcom The Goldbergs (Season 2, Episode 23 - Bill/Murray). Erica Goldberg (Hayley Orrantia) was in Mr. Glascot's (Tim Meadows) office at school and he described the posters on his wall, one of which was a poster of Rush:
... and that's the band Rush. That's because I'm the cool guidance counselor who shows up at the school basketball games in a casual polo ...
You can watch a video of the scene on YouTube here.
A new book titled The History of Canadian Rock 'N' Roll by CBC producer and music writer Bob Mersereau was released back in March. Any book about Canadian music wouldn't be complete without mentioning Rush, and the band does get a lot of coverage in it. The book's foreword was written by Neil Peart and is available to read online at this location, and there's also this review from Something Else! Reviews. You can order your copy of The History of Canadian Rock 'N' Roll at this location. Thanks to RushFanForever for the heads up.
In the latest episode of the Rushcast podcast, Brandon Hotaling joins host Jay Mantis in the studio to rank all 20 Rush albums and talk about the R40 Live tour. You can listen to the podcast at this location, and check out all of the other great Rushcasts here.
Primus frontman and bassist extraordinaire Les Claypool was recently interviewed by MusicRadar.com to talk about his bass heroes. Number one on his list was Geddy Lee:
... Geddy was the one, he was my first big hero. The way he phrases his runs when he's improvising, I'll hit a run every now and then and go, yep, that's Geddy. ...
Reader and geocacher Ron R wanted me to let everyone know about his Rush-themed puzzle cache which you can check out here. A puzzle cache requires that the cacher first unlock the final hide location by using clues to find each digit of the coordinates. A Rush fan should have no problem with this one.
Rush's Red Barchetta made this list of Seven Anti-Earth Day Songs compiled by the Houston Press:
... Inspired by Richard Foster's short story "A Nice Morning Drive," [Red Barchetta] follows a man who inherits a forbidden sports car from his uncle. Such gas-guzzling monstrosities are forbidden after the Motor Law that gives birth to cleaner machines, but the song's undeterred protagonist secretly drives it by night in defiance of the law. No better anti-Earth Day song exists or better sums up why we have the holiday in the first place: Because what we want is apparently way more important that a silly planet.
The 2nd annual RushFest Scotland took place back on April 18th at the Dreadnought Rock in Bathgate, with around 150 fans from all over the UK, Ireland, Italy and the USA attending. Last year's inaugural event raised £3,284.58 for MacMillan Cancer Support, and this year's event more than doubled that total by raising £7,638.09 as described in this Highland Times article. Well done and congrats!
LA Weekly recently posted a list of 15 Isolated Tracks From Famous Songs Will Blow Your Mind and one of the featured items is the drum track from Rush's YYZ:
Did you really think we were going to omit this virtuosic Canadian power-trio? Prepare to enter sensei Neil Peart's drum dojo. To avoid receiving angry corrective emails from tsawyer2112@hotmail.com, we're going to steer clear of any technical descriptions of Peart's playing on this instrumental tune from Rush's breakthrough 1981 LP Moving Pictures. But in nontechnical terms, the "YYZ" drums evoke trigonometry, jazz, boxing and Keith Moon being hybridized in centrifuge.
Here's the 40-second recap video of opening night in Tulsa from the official Rush YouTube channel. It shows some brief footage from the show along with some shots of fans, and includes at least one major SPOILER, so consider yourself warned:
R40 Live continues tomorrow night in Austin. Have a great weekend everyone!!