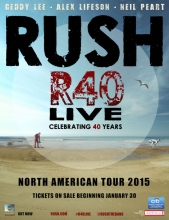 Rush have wrapped up band rehearsals for the R40 Live tour out in Los Angeles and have shifted operations to the BOK Center in Tulsa for full production rehearsals. The crew started shipping out earlier this week and the band had a few days of downtime before heading out to Tulsa themselves. Geddy and Alex are already in town and were spotted at the Tulsa airport baggage claim. The BOK Center has no other events planned from now up until Rush's tour kick off next Friday, so it gives the band plenty of time to set things up and work out all of the kinks. It's expected that they'll be in full production rehearsals all of next week. Alex Lifeson sat down with Nick Patch of the Canadian Press for an interview just prior to Rush entering band rehearsals back in March, and the interview was posted earlier this week. Alex talked about the upcoming tour and how it will likely be the last Rush tour of significant magnitude:
... I have such mixed feelings about it. In one way, I feel relief. I think that 40 years is a long time to be touring the way we tour. I really like being home with my grandkids. At 61, I don't feel there's anything we need to prove. I still love playing. But in (drummer) Neil (Peart)'s case, for example, his job is really tough. Playing the way he does is very, very difficult on his body. He has chronic tendonitis in his arms and he's had problems with his shoulders.It's just getting to the point, no matter how much we love doing it, that it's much more demanding and much more difficult. I've always hated the idea of being one of those guys who's just up there, old and barely able to move - just doing it for fear of not doing it, or not making an extra buck or whatever. If this is the last major tour that we do, (I want to) go out with flying colours, where everybody remembers the show they went to as the best Rush (show) they've (seen). That's a nice legacy to leave behind - rather than the worn-out shadow of something you once were. ...
Alex went on to discuss what the future may hold for Rush:
... Well, we're not finished as a band. We still talk about recording. Who knows, there may be an opportunity in the future to do not a big tour, but a series of concerts ... like a week in Massey Hall or Radio City Music Hall. Ged and I are just itching to get back into writing. He just revamped his studio, and he's not a tech kind of studio guy. He doesn't know how probably even one per cent of that stuff works. But he's had this renaissance of being a musician and wanting to play and study more - it's really inspiring to see. When things slow down we'll start to do some writing, for whatever purpose. We've always talked about doing some soundtrack work. With Neil, he really wants to take some time off and spend more time with his daughter. His daughter's very young. After what he's been through, he'd like to be more connected to his home life. I don't blame the guy.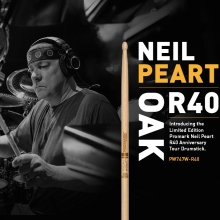 So this makes it sound very unlikely that Rush will be adding any further dates or legs to the tour, and also gives us an idea of what form any future touring and/or recording may take. Rush's R40 Live tour will kick off in just 1 week at the BOK Center in Tulsa, then head to Lincoln, St. Paul, St. Louis, down through Texas and make its way through the southeastern US before taking an 8-day break. If anyone is going to opening night in Tulsa and is willing to send along setlist/show updates, please let me know. In lieu of my regular Friday Rush updates post next week, I'll be posting an opening night open thread which will contain up-to-the-minute updates/photos/video from opening night. I promise not to post any spoilers to the site's home page itself, and will give plenty of SPOILER ALERT warnings where applicable - you'll have to click through the main article itself and then go below the fold to see the actual spoilers. Speaking of the setlist, Eric over at the Power Windows site is running a setlist guessing contest where you can win a copy of the Rush Chronicles DVD set if you correctly guess the first 2 songs of the setlist. As he usually does, Neil Peart will be traveling from show to show via motorcycle with the West Side Beemer Boyz - the moniker given to Neil and his crew of BMW motorcycle riding partners, including his friend and member of the Rush tour security team, Michael. On the Clockwork Angels tour we were able to follow their adventures on the road via the West Side Beemer Boyz Twitter feed at @praetorianx1. Earlier this week Michael also set up an official Instagram page for the West Side Beemer Boyz at this location, and he and Neil will be using this page along with the Twitter feed to post photos and updates as they travel across the country on the upcoming tour. There are already several great photos posted so go check it out. Speaking of Neil and the R40 Live tour, earlier this week Promark announced the release of the limited edition Promark Oak 747 Neil Peart Wood Tip R40 Anniversary Tour drumsticks as described here. The drumsticks are now available for purchase via Amazon.

Fender introduced their new Geddy Lee USA signature Jazz bass at the 2015 NAMM show back in January. Yesterday Fender posted a 7-minute video to their YouTube channel where Geddy Lee talks about his history with the Fender jazz bass, and breaks down the new USA model. You can watch the video on YouTube here.
Yesterday Guitar World posted a short interview with Alex Lifeson where he discusses the writing of Closer to the Heart:
"All of our early albums were written on acoustic guitar. When Geddy [Lee, bass and vocals] and I would write the music, we'd sit down with a cassette recorder and two acoustic guitars, in spite of the fact that we were a hard rock band.

"'Closer to the Heart' is a sweet, ballady type of song, but we mix it up. It takes an interesting course as the arrangement builds. Once we got the basic arrangement down, we knew that the intro would be acoustic, and then we took it up a notch dynamically and brought the whole band in.

"The 12-string intro gives it the illusion of being an acoustic piece, and then the rhythm section comes in and the song changes into a kickin' rock tune."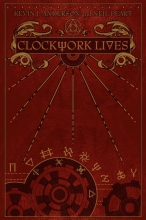 Kevin J. Anderson and Neil Peart's follow-up to their best-selling Clockwork Angels novel is titled Clockwork Lives and is due to release via ECW Press on September 15th. The book will feature minor characters from Clockwork Angels and expand on their stories. Earlier this week a portion of the book was made available for sale as an ebook. You can order the Kindle edition of Clockwork Lives: The Bookseller's Tale for $2.99 on Amazon at this location, and it is also available in other ebook formats. The ebook also includes an afterword on the writing of the project with Neil Peart, and a cameo from Vertical Horizon's Matt Scannell. Back in February Anderson posted a portion of the first chapter of Clockwork Lives to his blog here, and released a video of himself discussing the origins of the novel which you can view on YouTube at this location. He also discussed the novel at length in his Rushcast podcast interview from back in March. You can pre-order your copy of Clockwork Lives at this location, and order Clockwork Lives: The Bookseller's Tale here. And keeping on the subject of Neil Peart books, several years before he was a published author, back in 1988 Neil Peart privately published 100 copies of a book titled The African Drum wherein he details some of his adventures bicycling through Africa in the mid 1980s. John over at Cygnus-X1.net recently obtained a copy and transcribed part one of The African Drum, which you can read online at this location.
Rush continued their 12 Months of Rush vinyl reissue campaign last Tuesday with the release of A Farewell to Kings on vinyl and Blu-ray Audio. Rush is releasing all of the Mercury-era Rush albums on vinyl along with a few select titles on Blu-ray audio throughout 2015. The 12 Months of Rush will see the band releasing one or two titles a month throughout the year. They started with Fly By Night in January (Vinyl, Blu-ray Audio), Caress of Steel in February, both 2112 and All the World's a Stage in March, and A Farewell to Kings last month on both vinyl and Blu-ray Audio. Next up is the Hemispheres reissue, which will release in a few weeks on May 19th. You can watch a 15-second promotional video for the 12 Months of Rush on the Rush YouTube channel here. All titles are reissued on high-quality vinyl with a 320kbps MP4 Digital Audio download code, with Fly By Night, A Farewell to Kings and Signals also having a Blu-ray Audio release. The rest of the reissue titles will be released throughout the remainder of the year and can be ordered/pre-ordered at the links below:
AVAILABLE FOR PURCHASE

Fly By Night (01/27/15) - Vinyl | Blu-ray Audio
Caress of Steel (02/17/15) - Vinyl
2112: Hologram Edition (03/17/15) - Vinyl
All the World's a Stage (03/17/15) - Vinyl
A Farewell to Kings (04/21/15) - Vinyl | Blu-ray Audio

AVAILABLE FOR PRE-ORDER

Hemispheres (05/19/15) - Vinyl
Permanent Waves (06/16/15) - Vinyl
Moving Pictures (07/21/15) - Vinyl
Exit ... Stage Left (07/21/15) - Vinyl
Signals (08/18/15) - Vinyl | Blu-ray Audio
Grace Under Pressure (09/15/15) - Vinyl
Power Windows (10/20/15) - Vinyl
Hold Your Fire (11/17/15) - Vinyl
A Show of Hands (12/1/15) - Vinyl
Speaking of the vinyl reissues, former Skid Row frontman and mega Rush fan Sebastian Bach recently mentioned purchasing Rush's Fly By Night vinyl reissue in an interview with Loudwire:
... I go to Amoeba Records and I buy a 180 gram vinyl Rush Fly By Night and it is the greatest feeling. I am so excited that they put out these albums and I can go there and get a new copy with all the packaging and the stickers and the downloads. The Rush Sector 1 box set with the first album - I took it out and put the poster on the wall of our garage. It's so fun. Skid Row fans do not get that opportunity. I would like to say, it's out of my control. It makes me heartbroken that the first Skid Row album came out 25 years ago and there is not a 180 gram vinyl addition with a poster and a - It makes me nuts. It makes me crazy, if you want to know the truth. ...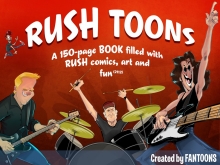 If you follow rushisaband on Facebook and/or Twitter, you've likely run across some of the amazing Rush-themed comic art from FANTOONS that I've shared over the last couple of years. FANTOONS is an on-going comic strip based on Rush and some other great bands that was created by David Calcano back in 2012. You can check out some samples of their work on Facebook and at fantoons.tv. They've released a couple of books already, but their next one is their most ambitious project to date and will be a 150-page book all about our favorite band Rush with a working title of Comicspheres: A retrospective of Rush Toons by FANTOONS. Earlier this week they launched a Kickstarter project in order to cover printing costs for the book which is otherwise all finished, with a planned release at this summer's San Diego Comic Con. The project has already far surpassed its goal and is still going strong. Be sure to check out the Kickstarter page for all the details, sample art, a great video and to see how you can help out. Based on your level of support you can recieve a copy of the book, signed prints, t-shirts and more. I should also mention that I'll be writing the book's foreword, so I'd better get to work!
Speaking of Rush-related book projects, a couple of years ago a book project with the working title Rush Fan Stories kicked off with the launch of a website at RushFanStories.com and a Rush fan survey. The project aims to publish a Rush book with the primary focus being on Rush fans and their stories. Since the project first launched they have collected hundreds of surveys from Rush fans the world over. They've also launched a Facebook page, Twitter feed and lined up Donna Halper to write the foreword. Earlier this week they posted an update as to the current status of the project which you can check out here.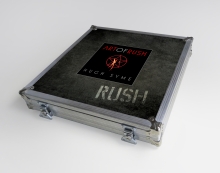 Back in March Rush announced the release of a 272 page coffee table book titled Art of Rush, and began taking pre-orders via the Rush Backstage Club. The book celebrates the 40 year relationship of Rush and their longtime artist and illustrator Hugh Syme, and includes a foreword from Neil Peart. All of the special, limited edition copies sold out the first day of the pre-order, but there are still copies of the regular edition available. The release date was originally planned for May 1st but was pushed to May 22nd for the following reasons as explained on the Rush Backstage Club website:
Please note that the release date for The Art of Rush has changed to May 22, 2015. While we apologize for this delay, customers who have purchased the book will be happy to know that the reason for this was to add extra features to the book itself. Some of these features include debossing and foil stamping on the covers, special UV spot printing, inclusion of semi-translucent vellum pages within the book, and a soft-touch printing technique for the cover itself. All of these features take considerable time in production, and it was decided that a project as important as this warranted the extra time and expense.

Comedy writer Rob Cohen's new documentary Being Canadian premiered last weekend at the Toronto's Hot Docs Film Festival. The film follows Cohen as he travels across Canada interviewing several famous (and not so famous) Canadians - including Rush - along the way about what being Canadian means to them. You can check out the film's trailer at this location, and learn more about the documentary at the official website. It's also available for purchase on iTunes.

Reader Ron A recently came across some old photos of Rush from their 1980 summer rehearsal holiday at Ronnie Hawkins' farm outside Toronto, where Tom Sawyer was written. You can check out a collage of the 4 photos here.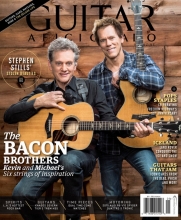 The May/June issue of Guitar Aficianado Magazine contains an article titled From Rush To More where Fox News senior national correspondent John Roberts is interviewed. Roberts discusses his favorite guitars, his friendship with Alex Lifeson and his experience interviewing Rush for CNN's American Morning during the Time Machine Tour:
... Alex Lifeson is also among the guitarists Roberts counts as a close friend. Roberts is actually featured in the acclaimed documentary, Rush: Beyond The Lighted Stage. "Rush and I grew up in the same city," he explains. "Rush was the big Canadian band, along with the Guess Who, but our circles never really crossed until I started working for the music channel in Toronto. I remember wanting to do a piece on Rush, but they weren't doing a lot of television. I finally talked them into doing a TV interview. What really cemented the relationship was when I went back to Canada in 1990 to co-host the morning talk show Canada AM. I was looking for a place to play golf and was checking out this country club north of Toronto, and I recognized this guy on the driving range. I walked over, and it was Alex. We played a round of golf that day and became friends."

In 2010, when Rush played in Atlanta, Roberts got to interview the band for CNN's American Morning. "The band's manager said they might be able to get me on stage to perform with the band during soundcheck," Roberts says. "Sure enough, they brought me on stage, strapped one of Lifeson's guitars on me, and we played 'Limelight.' That was such a kick. It was like living a dream. I hadn't played with anybody since 1985, and I've certainly never played with anybody of Rush's caliber.

"The time I spent with Rush in Atlanta morphed into something very special," he continues. "Kyra (Robert's spouse) knows how much I'm crazy about guitars, so she called Alex and asked if he'd give me a guitar lesson. In 2011, Kyra and I went to his home outside Toronto. After Alex and I played a round of golf, we had dinner, then Alex gave me a guitar lesson, and we sat around drinking wine all evening. Playing with Rush onstage and getting a guitar lesson from Alex are among the memories that I will never forget." ...
Thanks to RushFanForever for the heads up and transcription.
Yesterday John at Cygnus-X1.net shared a great story and accompanying photo on the Cygnus-X1 Facebook group page from Rush fan Joe Augustine, who was lucky enough to have met original Rush drummer John Rutsey shortly before his death in 2008. The photo shows Joe with John Rutsey (on the right) at a restaurant in Yorkville back in 2007. Here's Joe's story to go with the photo:
I was just sitting at the bar at a restaurant in Yorkville, while in Toronto to catch the Mapleleafs' home opener, and starting talking to this guy at the bar... zero clue who he was, just a nice guy who was happy to chat with an American stranger... and after about an hour of sitting and talking with him about the city of Toronto and Mapleleafs hockey, he stepped outside to take a call; when he did, the bartender was like "You know who that is, right?" and I was like "Um, no" and he was like "That guy is the drummer in the band Rush" and I was like "Dude, I am the world's biggest Rush fan, and that is NOT Neil Peart" and the bartender was like "No, he's the original drummer, only cut one album with them"... so when he came back, I was like "Um, hey... the bartender just told me that you were in the band Rush, he's pulling my leg, right?" and Rutsey just grinned "That was me" and I was like NO WAY, "Dude, you're freaking kidding me, let me see your driver's license!" and he did. We had dinner together at the bar and I asked him a few questions about his early days with the band, and if they kept in touch, etc, etc... but I could tell he really didn't care to talk about all that so I quit asking after a few minutes. An hour later, I excused myself to go to the bathroom, and when I came back asked the bartender to give me the tab, and he said "Mr. Rutsey has already taken care of it"

The following summer, after the show at the Molson Amphitheater, I had the great fortune and privilege (thank you, Joey Parro!) to meet Geddy and Alex, and although I was star-struck and tongue-tied when introduced to them (as "the biggest Rush and Mapleleafs fan ever produced from Memphis, TN"!), what I DID manage to get out was that I had just met JR the previous year, and that I was sorry to hear of his passing... when I told them that he had paid for my dinner after sitting and talking with me (ME, a complete stranger) for two hours, they both said, "Yep, that's John" and you could CLEARLY see the affection in both their eyes when they said that they'd miss him.
In case you missed it, here's Alex Lifeson's complete interview from his appearance on Steve Rennie's Renman Live web show last Wednesday.
Today is the 8th (can you believe it's been 8 years!?) anniversary of the 2007 release of Rush's Snakes & Arrows album. Have a great weekend everyone! Only 1 week to go until R40 Live!!!