UPDATE - 4/24@4:01PM: The entire Alex Lifeson interview from his Renman Live appearance is now available on YouTube in full here (thank Thomas P).
----- snip -----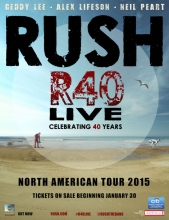 Rush is 4 weeks into band rehearsals out in Los Angeles, readying themselves for the R40 Live tour which kicks off just 2 weeks from today on Friday, May 8th at the BOK Center in Tulsa. Foo Fighters drummer and Rush friend Taylor Hawkins paid a visit to Rush's rehearsal studio earlier this week and was able to test drive Neil Peart's R40 kit as seen in this photo from the Hudson Music Facebook page (EDIT: The photo actually shows the CA kit and is likely from the 2013 Rock Hall induction rehearsal. Looks like a mislabel/mistake from Hudson Music). Alex Lifeson took some time out from rehearsals this past Wednesday evening and appeared on Steve Rennie's Renman Live web show. The interview lasted a little over an hour and was streamed live on YouTube. Alex touched on several subjects, answering many questions from fans (via phone and the chatroom) and from Rennie himself. He was fairly tight-lipped on the subject of the upcoming tour, but did reiterate that the band will be taking an old school approach, and that they dug deep for material. He mentioned that they'll be playing a good number of older songs that they haven't played in a while that will include a comprehensive cross-section of material spanning their 40-year career. He also mentioned that since they covered a lot of the '80s material on the last tour, they won't focus on that as much for R40. He didn't mention any specific songs or any other details though. He also confirmed that the band plans on filming a couple shows, as we expected, although he didn't mention which ones. As of right now, there is no archive of the interview available, but hopefully it will be posted to the Renman Live YouTube channel soon. The Rush Backstage Club announced a contest a couple of weeks ago where they are giving away one pair of meet and greet passes for each show on the tour. You can get all the details and enter the contest here if you haven't already. And for those of you who like to try and guess the set list, Paul at the Canadian Music Scene has created a neat little Rush setlist tool which allows you to create and print your ultimate Rush setlist.
Rush continued their 12 Months of Rush vinyl reissue campaign this past Tuesday with the release of A Farewell to Kings on vinyl and Blu-ray Audio. Rush is releasing all of the Mercury-era Rush albums on vinyl along with a few select titles on Blu-ray audio throughout 2015. The 12 Months of Rush will see the band releasing one or two titles a month throughout the year. They started with Fly By Night in January (Vinyl, Blu-ray Audio), Caress of Steel in February, and both 2112 and All the World's a Stage last month on vinyl. You can watch a 15-second promotional video for the 12 Months of Rush on the Rush YouTube channel here. The 2112 vinyl reissue is a special Hologram Edition as described in this Rush.com press release and seen in this 1-minute demo video. Sales from the vinyl edition of 2112 ended up propelling the album back into the Billboard 200 in its first week of release at #149; it was also #2 on the Vinyl Albums chart. All titles are reissued on high-quality vinyl with a 320kbps MP4 Digital Audio download code, with Fly By Night, A Farewell to Kings and Signals also having a Blu-ray Audio release. The rest of the reissue titles will be released throughout the remainder of the year and can be ordered/pre-ordered at the links below:
AVAILABLE FOR PURCHASE

Fly By Night (01/27/15) - Vinyl | Blu-ray Audio
Caress of Steel (02/17/15) - Vinyl
2112: Hologram Edition (03/17/15) - Vinyl
All the World's a Stage (03/17/15) - Vinyl
A Farewell to Kings (04/21/15) - Vinyl | Blu-ray Audio

AVAILABLE FOR PRE-ORDER

Hemispheres (05/19/15) - Vinyl
Permanent Waves (06/16/15) - Vinyl
Moving Pictures (07/21/15) - Vinyl
Exit ... Stage Left (07/21/15) - Vinyl
Signals (08/18/15) - Vinyl | Blu-ray Audio
Grace Under Pressure (09/15/15) - Vinyl
Power Windows (10/20/15) - Vinyl
Hold Your Fire (11/17/15) - Vinyl
A Show of Hands (12/1/15) - Vinyl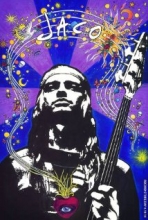 Jaco is a documentary film on legendary bassist Jaco Pastorius produced by Metallica bassist Robert Trujillo and directed by Paul Marchand and Stephan Kijak. Geddy Lee is one of the many musicians interviewed for the film and a short snippet of Geddy discussing fusion music from the documentary can be seen on YouTube here. The film was first screened last year at the Mill Valley Film Festival on October 6th and at the Grammy Museum on December 8th. It also headlined the first annual Asbury Park Music in Film Festival this past weekend where it was awarded the Foundation Award (Presented to the Asbury Park Music Foundation's selection for the APMFF premier film). The documentary is being partially funded through a crowdsourcing project at Pledge Music. Follow the film on Facebook and on Twitter for all the latest news.
Esquire posted an article this past week on 8 Massive Musicians Who Were Influenced By The Who, and taking the six and seven spots were Rush's Geddy Lee and Alex Lifeson:
Rush, celebrating their 40th anniversary this year, were inspired by the Who as well. Bassist and vocalist Geddy Lee called the Who "a band that changed my life" and guitarist Alex Lifeson listed "My Generation" as one of the songs that inspired him most in Guitar World magazine. "Pete Townshend is one of my greatest influences," Lifeson said. "More than any other guitarist, he taught me how to play rhythm guitar and demonstrated its importance, particularly in a three-piece band."

IFLScience.com posted an article last week titled 10 Things You Didn't Know About Black Holes and one of the featured items was in reference to Rush's Cygnus-X1 as seen here.
Cracked.com posted an article earlier this week on 8 Weird Ways Celebrities Were Friends Before Fame. One of the featured items is about how actor/comedian Rick Moranis and Geddy Lee knew each other growing up (thanks RushFanForever):
Canada has contributed at least two things to the world of popular culture: the comedy of Ghostbusters and Honey, I Shrunk The Kids star Rick Moranis, and the ponderous songs of the progressive rock band Rush. And, at this point in the article, you know what's coming next: As a kid, Moranis went to grade school with Geddy Lee, the future frontman of Rush and a member of the Rick Astley Pantheon Of Singers Who Look Nothing Like You Imagined. Moranis and Lee were friends at school until the latter moved away, presumably to be with his fabled American girlfriend. Time passed, and eventually Moranis hit it big on Second City TV as half of comedic duo the McKenzie Brothers. The characters became so popular that they eventually made a movie and a comedy album, which was to be released on Anthem Records, Rush's label. So, Moranis invited his childhood friend Geddy Lee to sing backup vocals on the album, because the idea of a prog-rock superstar contributing ridiculous vocals to a song about Canadian dialect was simply too good to pass up. Ironically, the song "Take Off" remains the most successful single Geddy Lee has ever recorded, charting higher than any Rush song despite the fact that he banged it out in half an hour with an old friend for a payment of $10 (that's in Canadian dollars, which we're assuming is the real-world equivalent of magic beans).

The BBC News website ran an article this past week profiling several of the infographics from designer and data-journalist David McCandless's recent book Knowledge is Beautiful. One of the featured infographics graphically depicts the top 500 English language passwords, and prominently displayed on the graph is the password rush2112 (thanks Gornhay).
In the latest edition of the Chicago Music Exchange's Tone Clone YouTube series, guitarist Joel Bauman demonstrates how to achieve Alex Lifeson's signature electric guitar tone on Rush's Freewill. You an check out the video on YouTube here.
One of the contributors to the immersive video site vrvideo.com recently posted an interactive, immersive video celebrating Rush's 40th anniversary. The video places you inside a virtual room full of Rush imagery while Rush music plays in the background. You can check it out below or at this location.
Today marks the 5th anniversary of the April 24, 2010 premiere of the Rush documentary Rush: Beyond the Lighted Stage. Check out photos, videos, and all the coverage from that night in this post. That's all for this week. Have a great weekend!! Only 2 weeks until R40 Live!!!