UPDATE - 4/24@4:00PM: The entire interview is now available on YouTube here (thank Thomas P).
----- snip -----


UPDATE - 4/22@9:18PM: The interview is now over. It lasted a little over an hour and Alex touched on several subjects, answering many questions from fans (via phone and the chatroom) and from Rennie himself. On the subject of the upcoming tour, he didn't reveal much but did reiterate that the setlist will be comprehensive and that they dug deep for material. They'll be playing a good bit of older material that they haven't played in a while that will include a good cross-section of songs spanning their 40-year career. He also mentioned that since they covered a lot of the 80s material on the last tour, they won't focus on that as much for R40. Alex also confirmed that the band plans on filming a couple shows, as we expected, although he didn't mention which ones.
UPDATE - 4/22@8:10PM: The show has started and Alex was just introduced live in the studio!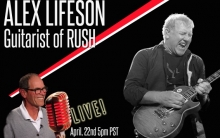 Alex Lifeson will be the guest on Steve Rennie's Renman Live web show this evening in just a few hours from now. The show will stream live at 8PM EST (5PM PST) on the Renman Music & Business YouTube channel, and you can watch it below or at this location. For all the details and to submit a question in advance, visit the Renman Music & Business here:
Legendary Rush guitarist Alex Lifeson joins Renman Live! to talk about his career and the bands upcoming 40th anniversay tour! Let us know if you want to ask Alex a question by posting it below and we will set you up to call in and speak to the legend yourself!
Viewers will also be able to ask questions live on the air by calling the Renman Live hotline at 310-469-9067 during the show.