UPDATE - 1/31@8:32PM: Here's a Live Nation promo spot for the R40 Live tour 7/23 San Jose show (thanks Sean).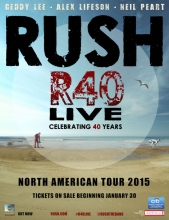 Because of the second round of Rush's R40 Live tour pre-sale that kicked off yesterday, I had to delay my usual Friday Rush updates post just like I did last week. Things should be back to their normal schedule after next week, and we can turn our attention away from pre-sales and onto the tour itself, which Rush officially announced Last Thursday. The 2015 R40 Live North American Tour will hit 34 cities across the US and Canada from May through August. Tickets for 14 of the shows went on sale to the public yesterday along with FAN and VIP pre-sales for the remaining 21 shows, which will run through 5PM Monday or until supplies last. FAN pre-sales are purchased through the Rush Tickets Today website with NO PASSWORD REQUIRED. VIP pre-sales are purchased through Ticketmaster (for venues that use Ticketmaster) or directly from VIP Nation for venues that do not use Ticketmaster (just Montreal and Kansas City for the 2nd round of pre-sales). VIP pre-sales REQUIRE A PASSWORD of RUSH2015. You can find all the direct links for the pre-sales for any particular date in the tour section, and get detailed information about how the 2 pre-sales work in my Rush Ticket Sales and Pre-sales Guide. As of this post, Tickets Today FAN pre-sales for Austin, Tampa, the 2nd Toronto show, Calgary, Vancouver, Seattle and Los Angeles have SOLD OUT. All of the VIP GOLD ticket packages sold through VIP Nation for Montreal are SOLD OUT but SILVER packages remain. It's not as easy to tell about the status of VIP packages sold through Ticketmaster (they seems to always give the option of selecting GOLD or SILVER packages whether there are any available or not), although fan reports indicate there's not much left at this point. If you miss out on the FAN and VIP pre-sales, CITI Card pre-sales along with a VIP public sale (no password) will begin on Tuesday at 10AM, along with various Live Nation, venue and radio pre-sales on Thursday. There will be a new supply of VIP GOLD and SILVER packages made available for the public VIP on-sale Tuesday. Once the pre-sales are finished, the public on-sale for the remaining 21 dates will kick-off on Friday (Saturday for Montreal). After that point we'll be all done with pre-sales and we can go back to focusing on the tour itself. Speaking of which, Alex Lifeson was a guest on Toronto radio station Q107's Derringer in the Morning this past Monday to chat about the upcoming tour, his involvement in the 1972 Allan King documentary Come on Children, the snubbing of Cleveland and other cities/regions on the tour, and more. The entire interview is available for listening online at this location. When asked about the format and setlist for the R40 Live tour Alex had the following to say:
... That's always a tough one. We've already gone through a couple of different setlist scenarios. We've been doing some editing. Dropping some stuff. We have an idea about how we want to approach it in terms of the whole show from front to back. We're working on these production ideas. It's gonna be really, really cool. We're gonna have a lot of fun with it, and I think our fans are gonna really, really like this little musical trip that we're planning. ...
Sirius XM announced earlier in the week that Neil Peart will be Jim Ladd's guest on his Sirius XM Deep Tracks radio show (Sirius XM Channel 27) this coming Tuesday, February 3rd at 9PM EST to chat about Neil's new book Far and Near: On Days Like These and the upcoming R40 tour. Speaking of which, Neil Peart's new R40 drum kit was unveiled this past weekend at the 2015 NAMM Show in Anaheim, CA. There are some photos of the kit available here and here, along with this video walkthrough of DW's booth at NAMM including Neil's kit at about the 1:10 mark. And earlier this week DW released a 4-minute video of Neil Peart discussing the kit which you can check out at this location. Drum Workshop also announced at NAMM that the Neil Peart R40 14x6.5 snare drum will be available for purchase this spring.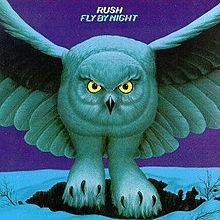 Rush announced last month that they will be releasing all of the Mercury-era Rush albums on vinyl along with a few select titles on Blu-ray audio throughout 2015. They are calling it the 12 Months of Rush, as they will be releasing one or two titles a month each month beginning with Fly By Night which released this past Tuesday (Vinyl, Blu-ray Audio). All titles will be reissued on high-quality vinyl with a download card for a digital audio version, with Fly By Night, A Farewell to Kings and Signals also getting a Blu-ray Audio release. Here are some more details from the Rush.com press release:
All titles will be reissued on high-quality VINYL with a download card for Digital Audio version, high resolution Digital Audio releases, while three titles will also be released on Blu-ray Pure Audio. ... [Fly By Night] will be available in high-quality vinyl with a download code for a 320kbps MP4 vinyl ripped Digital Audio album download; high resolution Digital Audio editions in DSD (2.8mHz), 192khz / 24-bit, 96kHz / 24-bit; and an additional Blu-Ray Pure Audio version with 96kHz / 24-bit 5.1 surround sound and stereo. A Farewell to Kings and Signals are the other two albums which will be reissued in Blu-Ray Pure Audio. The remaining 13 titles will be released one or two a month through the end of the year. ...
You can order Fly By Night on vinyl and/or Blu-ray Audio, and pre-order several of the rest of the titles at these links:
Caress of Steel (02/17/15) - Vinyl
2112 (03/17/15) - Vinyl
All the World's a Stage (03/17/15) - Vinyl
A Farewell to Kings (04/21/15) - Vinyl | Blu-ray Audio
Hemispheres (05/19/15) - Vinyl
Permanent Waves (06/16/15) - Vinyl
Moving Pictures (07/21/15) - Vinyl
Exit ... Stage Left (07/21/15) - Vinyl
Signals (08/18/15) - Vinyl | Blu-ray Audio
Grace Under Pressure (09/15/15) - Vinyl
Earlier this week VH1 announced a new series titled Rock Icons which will air its premiere episode featuring Geddy Lee on Saturday, February 21st at 10PM:
From Banger Films, the people that brought you the Rush: Beyond The Lighted Stage documentary and the TV show Metal Evolutions, comes an all-new docu-series profiling the biggest icons in hard rock, heavy metal and classic rock. Rock Icons premieres Saturday February 21st at 10/9C, immediately following the That Metal Show's season 14 kick-off, and takes you backstage with in-depth, intimate portraits revealing who these rock stars really are. Each 30-minute episode is jam-packed with exclusive interviews and never-before-seen footage with featured artists and the key people who helped shape their careers.

The series premiere goes beyond the limelight with Geddy Lee, lead singer and bassist extraordinaire of Canadian progressive hard rock legends Rush. Find out how his remarkable musical talent and drive was influenced by the early passing of his father and why he is determined to live every bit of his life to the fullest. ...
Here's a 30-second teaser trailer, including a few shots of Geddy.
Speaking of Geddy Lee TV appearances, Back on November 7th Geddy taped an episode of the new PBS series Speakeasy and was interviewed by his friend, author Michael Chabon at the McKittrick Hotel in New York City. The first of the five episodes in season 1 of Speakeasy began airing on PBS earlier this month, and Geddy's episode (episode 5, the season 1 finale) apparently began airing this past Thursday, January 29th, although I haven't been able to locate any station that has actually played it yet. You can get a full list of participating stations here, and you'll need to check your local TV listings for specific air dates/times. It looks like some stations only started airing the series very recently, or are planning on airing it at a future date. So Geddy's episode may not play on your local station until a few weeks (or months!) from now. The show is also not currently available for viewing online either. The Speakeasy YouTube channel posted a couple of preview clips from Geddy's episode earlier this month. The first is a short clip giving an overview of the many topics discussed during the interview, while the second is a more in-depth clip about 3 minutes long where Geddy talks about how he and Alex Lifeson typically go about writing music.
The Canadian Academy of Recording Arts and Sciences (CARAS) announced this week that longtime Rush manager Ray Danniels will be the recipient of the 2015 Walt Grealis Special Achievement Award recognizing individuals who have made an impact on the Canadian music industry. Danniels will be honored at the 2015 Juno Gala Dinner & Awards on Saturday, March 14 in Hamilton, ON. From the press release (thanks Scott S):
... "I am grateful to be recognized by my peers for doing something I've loved and been passionate about since I was a teenager," said Ray Danniels. "I share this honour with those that have been with me since the beginning - the members of Rush - Geddy, Alex and Neil." ...
A couple of weeks ago we learned that Rush will also be the recipient of an award at the 2015 Junos. The 3 members of Rush will receive the 2015 Allan Waters Humanitarian Award recognizing outstanding Canadian artists whose contributions have positively enhanced the social fabric of Canada. On a related note, the Juno Photography Exhibition and the Juno Tour of Canadian Art are 2 new exhibits that opened at The Art Gallery of Hamilton this past weekend (thanks RushFanForever). The photo exhibit showcases more than 50 shots from the 40-year history of the Juno Awards including some photos of Rush.
Rush's Permanent Waves is the subject of an In The Studio with Redbeard rockumentary radio show airing this week to celebrate the album's 35th anniversary. The hour-long radio show consists of past In the Studio interviews with the band where they discuss Permanent Waves, interspersed with some tracks from the album. The interview portion of the special is available for streaming online at this location. For a list of stations and air times go here.
The Foo Fighters played Maracana stadium in Rio de Janeiro, Brazil earlier this week as part of their Sonic Highways Tour and performed a cover of Rush's Tom Sawyer at one point. You can check out some pro-shot video of the entire concert on YouTube here. The Rush cover comes in at the 1:48:22 mark. They also performed covers of KISS's Detroit Rock City, The Faces' Stay with Me and Queen/David Bowie's Under Pressure (full setlist here).
Metal Hammer posted the results of their recent poll to determine the World's Greatest Bassist and Geddy Lee came in at #3.
Reader RushFanForever noticed a short video snippet of Alex Lifeson congratulating fellow Canadian Tom Cochrane on his induction into the Canadian Music Industry Hall of Fame last year. You can check out the video at this location and Alex comes in for a few seconds at about the 5:55 mark.
VH1.com posted their list of 15 Future Metal Superstars That Opened For Kiss, and topping the list was Rush who opened for KISS back in the mid-70s:
1975 was a crucial year for both Kiss and Rush, so it was fortuitous for the two decidedly unique entities to come together. ... Rush transformed as drummer Neil Peart took the lyrical reigns and the group issued the two albums that set the boilerplate for their superstardom to come: Fly by Night and Caress of Steel. ... Both groups still affectionately remember Kiss exploding into full superstar bacchanal mode while Rush would quietly slink off back to the hotel, maybe smoke a little weed, and watch TV. "It was always a crazy scene," Alex Lifeson said. "They'd plaster us with cream pies, there was always some sort of surprise lurking around a corner! And certainly, there were some fun nights - parties and things like that. They lived a little more of a 'rock 'n' roll lifestyle' than we did.
MetalSucks.net posted their list of The Four Best Metal Bands That Have Been Touring for More Than Ten Years this past week, and topping the list was Rush:
Despite the large number of bands that have been touring together for more than 10 years there are close to none that can say they have been touring for FORTY SIX years. Rush have been touring together since 1968 and are easily be one of the longest touring bands of all time not just in metal but in any genre. They've had the same members since 1974, they have 24 gold, 14 platinum, and 3 multi-platinum records, and they've been inducted into the Rock and Roll Hall of Fame. Even though they haven't confirmed a 2015 tour there are some noteworthy rumors and speculation that they will hit the road this year. Keep your eyes peeled for this announcement; it's not often you see dudes in their 60s rockin out quite like this.
In celebration of the Superbowl this weekend, Ultimate Classic Rock is running a poll to determine Who Should Perform at the Super Bowl Instead of Katy Perry with Rush as one of the options. So go vote for Rush!
Togetherness is a new HBO drama series that premiered a few weeks ago. In the latest episode (Season 1, Episode 3 - Insanity) which aired this past Sunday night, there is a great Rush reference where Tom Sawyer is played as described in this Entertainment Weekly recap:
... Brett's just had an epiphany (more below), but we don't know what, and Alex has just had his own. Alex says, "I don't know, man. I didn't even realize it was happening, you know?" Brett tells him, "I kinda saw it." They don't even have to say it out loud. It's a fantastic scene for these best friends, especially the otherwise pretty boring Brett, and the visuals crystallize the episode. Brett's driving, and Alex is in the passenger seat. Headlights are shining down and leftward over Brett, and the reflections on the windshield are moving up and rightward over Alex. Everyone's moving in his own direction. Suddenly Brett pulls over to cheer up his bud. He tells Alex that he inspires and delights everyone around him, just like the hero of Rush's "Tom Sawyer." [as the song plays in the background] Alex smiles, and they play us out with an infectious air-drum and vocals performance. ...
Ross Bonaime at Paste magazine called this scene one of the best TV moments so far this year in his review of the show. The episode is available on demand and on HBO Go to HBO subscribers, and you check out the scene on YouTube below or at this location.

This past week has been very crazy due to the Rush pre-sale madness, and I'd like to take a moment to thank all of my readers for visiting the site, spreading the word and sending in Rush tour news tidbits and information. I couldn't do it without your help. I'd also like to thank everyone who has donated to the site, purchased items through my Amazon links, or clicked on my sponsor ads. Every bit helps and I really appreciate it. If you'd like to make a donation yourself, you can do so at this link. Any donation of 3 bucks or more will get you a free RUSH IS A BAND bumper sticker. Also don't forget to follow RIAB on Facebook and Twitter, and keep sending in any Rush news tidbits you might come across. That's all for this week. Have a great weekend and good luck with pre-sales everybody!