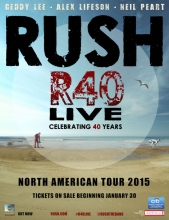 Because of Rush's Thursday tour announcement and the Friday kick-off of pre-sales, I've delayed my usual Friday Rush updates post a couple of days this week, and I'll likely continuing doing that until pre-sales are over. This past Thursday Rush used their newly-designed website to announce that they would be embarking on a 34-city, R40 Live North American tour from May until August, beginning on May 8th at the BOK Center in Tulsa. From the Rush.com press release:
... These not to be missed concerts will highlight four decades of the band's music. ... Rush is ready to celebrate with the most loyal fans in the world by embarking on their 21st tour, one which will most likely be their last major tour of this magnitude. Celebrate four decades of music with three incredible musicians - all in 1 night. ...
The portion highlighted in the above quote is what has most of the music press in an uproar. Saying "last major tour of this magnitude" is about as close as you can get to saying farewell tour without actually saying it. You can tell that the band is hedging a bit, and leaving room for the possibility of future touring, albeit on a more limited basis than what we fans have become accustomed to. My feeling is that Rush will continuing playing live in some capacity as long as they are physically able to do so, and will never box themselves in by announcing a farewell tour like so many other bands do. The release also doesn't mention plans for a European tour, and - unfortunately for our friends across the pond - the rumor is that there won't be any European leg for this tour, although nothing has been confirmed yet. The press release doesn't say much about the format of the tour other than that it will be another retrospective R30-like tour. Since the release doesn't mention any new music or albums played in their entirety, then there likely won't be any of that either.
FAN and VIP pre-sales for 14 of the dates on the tour kicked off this past Friday and will run through 5PM tomorrow or while supplies last. FAN pre-sales are purchased through the Rush Tickets Today website with NO PASSWORD REQUIRED. VIP pre-sales are purchased through Ticketmaster (for venues that use Ticketmaster) or directly from VIP Nation for venues that do not use Ticketmaster (Houston, Buffalo, Philadelphia, Denver). VIP pre-sales REQUIRE A PASSWORD of RUSH2015. You can find all the direct links for the pre-sales for any particular date in the tour section, and get detailed information about how the 2 pre-sales work in my Rush Ticket Sales and Pre-sales Guide. As of this post, FAN pre-sale tickets remain for Tulsa, Houston, Atlanta, Buffalo and Philly with the other 9 cities SOLD OUT. All of the VIP GOLD ticket packages sold through VIP Nation (Houston, Buffalo, Philadelphia, Denver) are SOLD OUT but SILVER packages remain. It's not as easy to tell about the status of VIP packages sold through Ticketmaster (they seems to always give the option of selecting GOLD or SILVER packages whether there are any available or not), although fan reports indicate there's not much left at this point. Public sale of VIP tickets through VIP Nation will commence on Tuesday at 10AM, and those sold through Ticketmaster will begin on Friday at 10AM. It's also not yet clear whether there will be a new supply of VIP packages available for the public on-sale, or if the public sale will just consist of whatever is left over from the pre-sale. If you missed out on the FAN and VIP pre-sales, CITI Card pre-sales will begin on Tuesday at 10AM, along with various Live Nation, venue and radio pre-sales on Thursday. Then the public on-sale for these 14 dates will kick-off on Friday. There will also be pre-sales for the second round shows beginning on Friday, January 30th as well. Although these haven't been announced officially, you can tell which cities will be included by knowing their on-sale dates; the pre-sales ALWAYS occur the week before the general on-sale. As of right now we know the on-sale dates for all of the Canadian shows (Toronto, Montreal, Calgary, Vancouver) is Friday, Feburary 6th (7th for Montreal), so the FAN and VIP pre-sales for these should kick off the Friday before on January 30th (this coming Friday). They may also include some US shows in this batch, although we can't say that for certain yet. Just stay tuned to the site for all the latest info. On a related note, Q107's Derringer in the Morning will have Alex Lifeson on as a guest tomorrow morning to talk about the tour. You can listen live to the interview at q107.com. This likely means that Alex and Geddy will be hitting the radio interview circuit next week, so keep an ear out to your local rock radio stations.

On another tour-related note, the 2015 NAMM Show is underway this weekend in Anaheim, CA, and the big news from the show for Rush fans was Drum Workshop's unveiling of Neil Peart's new R40 drum kit as seen in this photo, and also here. Drum Workshop also announced that the Neil Peart R40 14x6.5 snare drum will be available for purchase this spring; it's currently listed at All Pro Percussion for $1,499.55. Urbann Boards also unveiled their signature Neil Peart drum shoes over the weekend as seen here. Neil Peart isn't the only member of Rush getting some attention at NAMM. Lerxst Omega Amps also unveiled their new Alex Lifeson Lerxst Chi combo amplifier, which will ship mid-February and retail of $1,795. And as I'd mentioned last week, Fender featured their new Geddy Lee signature Jazz bass at NAMM this weekend.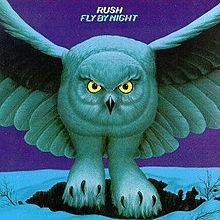 Rush announced last month that they will be releasing all of the Mercury-era Rush albums on vinyl along with a few select titles on Blu-ray audio this year. They are calling it the 12 Months of Rush, as they will be releasing one or two titles a month each month beginning with Fly By Night this coming Tuesday, January 27th. All titles will be reissued on high-quality vinyl with a download card for a digital audio version, with Fly By Night, A Farewell to Kings and Signals also getting a Blu-ray Audio release. For all the details, check out the Rush.com press release. Here are the pre-order links along with the release dates for most of the titles:
Fly By Night (01/27/15) - Vinyl | Blu-ray audio
Caress of Steel (02/17/15) - Vinyl
2112 (03/17/15) - Vinyl
All the World's a Stage (03/17/15) - Vinyl
A Farewell to Kings (04/21/15) - Vinyl | Blu-ray Audio
Hemispheres (05/19/15) - Vinyl
Permanent Waves (06/16/15) - Vinyl
Moving Pictures (07/21/15) - Vinyl
Exit ... Stage Left (07/21/15) - Vinyl
Signals (08/18/15) - Vinyl | Blu-ray Audio
Grace Under Pressure (09/15/15) - Vinyl
Clockwork Angels author Kevin J. Anderson announced this past summer at RushCon that he and Neil Peart were working on a companion novel to their 2012 bestselling Clockwork Angels novel for ECW Press titled Clockwork Lives (as in the plural of life) which would feature minor characters from Clockwork Angels and expand on their stories. The 304-page book is now available for pre-order from Amazon with a listed release date of September 8, 2015.
Chris Lane of the Houston Press posted his list of Five Bands Whose Fans Freak Outsiders Out and Rush makes the cut at #3 (thanks LanceTheShred):
... Rush is one of the most polarizing major bands in the world. People seem to either love Rush or hate them, with very little middle ground. Explaining the appeal to a non-fan is almost as futile as trying to convince someone that water isn't wet. People seem to universally agree that Rush are great musicians, but the folks who like them tend to love them, and everyone else tends to dislike them a lot. Rush is often characterized as the world's biggest cult band, and hardcore fans even have their own convention they can attend. ...
Original Kiss Krew roadies Peter "Moose" Oreckinto, J.R. Smalling, Rick Munroe, and Mick Campise have released a new book titled Out on the Streets where they share their stories about working for KISS during its rise to fame in the 1970s and some of the bands they toured with, including Rush. From Ultimate Classic Rock:
... They have especially fond memories of working with Rush, partly because the band went out of its way to thank the Krew in the liner notes of the 1975 album 'Caress of Steel.' "That was just pure respect for us," noted Campise. "For who and what we were."

It also happened because, as Munroe pointed out, "we helped them whenever we could" - up to and including indulging Alex Lifeson's routine as "The Bag." Recalled Campise, "He'd take one of those huge paper bags that hotels provided for dirty laundry, draw some ridiculous face on it and wear it over his head and upper body. He looked kinda like SpongeBob SquarePants, now that I think of it."

The foursome recall that Rush were eventually "thrown off our tours" because Paul Stanley felt threatened by Lifeson's stage antics ("he would go from the corner of the stage and run to the microphone") ...
Music Times recently posted their list of 10 Artists Whose Debut Singles Were Covers including Rush and their debut single - a cover of Buddy Holly's Not Fade Away (thanks GoesOnTheRUSH).
Metal Hammer is running a poll to determine the greatest bassist of all time and Geddy Lee is one of the options. So go vote for Geddy!
George Hrab is a drummer, guitarist, composer and podcaster known for performing rock, funk and jazz. He's released six albums in his solo career including his 2013 album 21812 (a nod to Rush?) which includes a jazzed up cover of Rush's Subdivisions as seen in this video. You can purchase 21812 on Amazon here. Thanks to Dan B for the heads up.
Assassin's Creed Rogueis a new video game from Ubisoft that was released this past November. Reader snoscootr has the game and let me know that several mission levels in the game are named after Rush songs including The Way the Wind Blows, One Little Victory, Freewill, The Colour of Right, Circumstances and more. You can check out a full list of the mission levels in this walkthrough.
To get us geared up for the R40 Live tour, here's the opening track from Rush's Clockwork Angels Tour:
That's all for this week. Be sure to stay tuned to the site for all the latest tour sales and pre-sales information. Rush on!!!