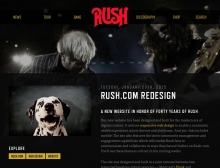 In honor of their 40th anniversary, Rush has just launched a newly redesigned website at Rush.com. From the new website:
... Our new website has been designed and built for the modern era of digital content. It utilizes responsive web design to enable a consistent, usable experience across devices and platforms. And yes, that includes mobile! The site also features the latest community management and engagement capabilities which will enable Rush fans to communicate and collaborate in ways they haven't before on Rush.com. You'll see these features roll out in the coming weeks. ...
Be sure to take a few minutes and take a look around the redesigned site. It's very well done and a big improvement over the old site. Yours truly even gets a mention in the credits. Hopefully they are doing this as a precursor to an impending tour announcement?! Thanks to David M for the heads up.