UPDATE - 1/11@11:29AM: Recent tweet from Donna Halper hints at Rush touring in 2015, but only for a short stint:
Rush will tour but perhaps in short segments. After all, the guys are getting older; plus Neil doesn't wanna be away from his kid too long.
----- snip -----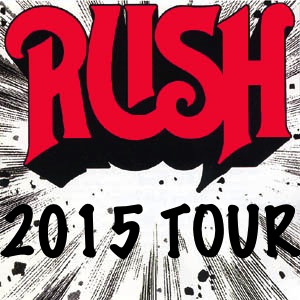 The first full week of 2015 has passed and there's still no official word of a 2015 tour from the Rush camp. Rush fans became hopeful there would be an official announcement soon after some 2015 tour rumors began surfacing last week beginning when Ticketmaster and Live Nation briefly listed 2 tour stops for Rush - a June 23rd concert at the TD Garden in Boston, and a June 29th show at Madison Square Garden in New York City (both listings have since been removed). These listings lent support to other rumors regarding Rush shows being planned for June in Columbus, Buffalo, Chicago, Detroit and St. Louis, along with an early August show in Las Vegas. No new information has surfaced since then though, and Rush fans are anxiously awaiting some kind of official word from the band. However, another good sign that there will be a tour was given to us by soon-to-be Hall of Fame baseball pitcher and photographer Randy Johnson. He tweeted out the following last night when a fan asked if Rush had asked him to photograph the band's next tour (thanks David C):
Already am RT @SuzakutwoLee: @RJ51Photos if @rushtheband asked you to do photos on their next tour (hope) would under you do it?
Related to a potential 2015 tour, several new Neil Peart interviews surfaced this past week including Neil's Prog magazine interview with Phil Wildling titled New World Man. Neil spends most of the interview discussing his latest book Far and Near: On Days Like These although he does also touch on his stance regarding a potential 2015 Rush tour:
... It's a true dilemma, there's no right answer. People say to me, 'Are you still excited when you go out on tour?' Should I be excited about leaving my family? No, and no one should. It's as simple as that: if you put aside the fantasy of it, it is what it is and has to be done, and that's fine and I pour my entire energy and enthusiasm into it, but, of course, I'm of two minds about the whole idea. ... Me, Ged and Alex all met together about a month ago now I was in Toronto and we all got together and discussed things and playing was the activity that we all most wanted to do, though we've made no real decisions yet. We're all in our sixties and we did feel that with Clockwork Angels live we reached a prime that we're all very proud of and pleased with, but that is the hardest thing by far, performing. You can fiddle around in the studio until your dotage, but as far as going out there and playing, especially drumming, for me it's such an athletic undertaking, we really want to utilise that while we still have it.
The Peart interview was part of a cover feature in the latest issue of Prog which also included an article titled R40 where 40 well-known Rush fans such as Terry Brown, Taylor Hawkins, Steven Wilson, and Mike Portnoy talk about their favorite Rush songs.
Neil also made appearances on CBC Radio and NPR this past week. This past Tuesday Peart was a guest on NPR's Morning Edition as part of their Beat Week series. Neil spoke about his early drum influences - specifically Gene Krupa and Keith Moon, his various writing projects, and how intense and physically demanding drumming is for him:
... "I tend to define it as grim determination, because it is very physical and painful," Peart says. "The exertion level is very much of an athlete level, so when I see myself, I see a stone face. But it is that kind of immersion. I'll be looking out in between the immersion; I might pop my head out of the water for a second like an alligator, and see people in the audience reacting or holding up a sign or whatever. And that does delight me because, in a larger sense, I'm very much an audience kind of person more than a performer." Often, Peart says he dreams of being in the audience of his own Rush show. "I'd love to observe what we're a part of," he says. "Our band has been together for 40 years, so I sense sometimes when magic is happening. And also, if I was in the audience, I wouldn't have to be working so hard." ...
You can read excerpts from the interview and listen to the entire 7-minute news segment online at this location. Neil was also a guest on CBC Radio One's The Next Chapter with Shelagh Rogers this past Monday. Neil discussed his latest book Far and Near: On Days Like These among other topics. The interview is available online for Canadian listeners at this location. You can order your copy of Neil Peart's Far and Near at this location. The book is a follow-up to Peart's 2011 book Far and Away: A Prize Every Time and is another collection of his NeilPeart.net blog posts since that last book was released.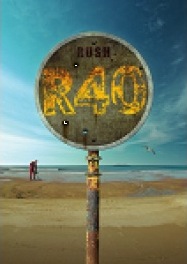 Rush released their R40 40th Anniversary Collectors Box Set (6 Blu-ray discs or 10 DVDs) a couple of months ago. The set includes Rush's 5 most recent live videos (Rush in Rio, R30, Snakes & Arrows Live, Time Machine, Clockwork Angels Tour) along with an R40 bonus disc, all contained in a 52 page hardback book measuring 305mm x 225mm (12" x 9"). The R40 bonus disc includes the full Laura Secord Secondary School 1974 footage; the Passaic, NJ Capitol Theatre show from 1976; Lock and Key live from 1988; Rush at the Molson Amphitheatre in 1997; the I Still Love You Man video from 2011; and the Rush portion of the Rock & Roll Hall Of Fame Induction in 2013. The Rush Backstage Club and Best Buy also offered a special edition of the set that includes an extra R40 Completist disc (in addition to the bonus disc) that contains different content based on whether it's the Blu-ray or DVD version, with the ultimate goal being to ensure that the same content is included in both the DVD and Blu-ray packages. Eagle Rock Entertainment has also made the Completist content available for free download at R40Bonus.com. The Toronto Sun included the set in an article this past week where they review recently released concert DVDs and gave it 4 out of 5 stars:
Less is more? Not for Rush. The Canadian power trio mark their 40th anniversary in a typically big way with this 10-DVD (or 6-DVD) box, which repackages their last five live concert films - 2013's Clockwork Angels Tour, Time Machine 2011: Live in Cleveland, 2008's Snakes & Arrows Live, 2005's R30: 30th Anniversary Tour and 2003's Rush in Rio. But the real draw is the two-hour bonus disc, which includes a 40-minute 1974 school show with original drummer John Rutsey, two other archival performances (one featuring 2112 in its entirety) and their 2013 Rock and Roll Hall of Fame induction, highlighted by guitarist Alex Lifeson's "blah-blah-blah" acceptance speech and a tribute by some Foo Fighters. What more could you need?
Ultimate Classic Rock is once again running their annual Ultimate Classic Rock Awards and Rush's Rush ReDISCovered box set reissue of their debut album is up for 2014 Reissue of the Year (thanks meuste). So go vote for Rush!
Rush ABC 1974 is a 2011 import CD release of Rush's live WMMS radio broadcast of their August 26th, 1974 show at the Cleveland Agora. Craig Breaden over at Progarchy.com posted a review of the release this past week and had plenty of good things to say about it:
... there's nothing here that doesn't speak well of the band in its formative days; and, if you're a fan of that era, then the heaviosity on display in Cleveland in '74 is pretty much guaranteed to take you to church.

Details regarding RushFest Scotland 2015 were released this past week. The event will take place on Saturday, April 18th from 1PM to 3AM at the Dreadnought Rock in Bathgate. Be sure to check out the flyer for all the details and keep up with RushFest Scotland on Facebook for all the latest news and to purchase tickets.

Reader jfpt4e sent me this photo of a blanket that his girlfriend made him for Christmas. She's a seamstress by trade and sewed together a bunch of Rush concert t-shirts to create it. Impressive!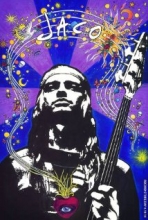 Jaco is a documentary film on legendary bassist Jaco Pastorius produced by Metallica bassist Robert Trujillo and directed by Paul Marchand and Stephan Kijak. The film was first screened last year at the Mill Valley Film Festival on October 6th and at the Grammy Museum on December 8th. They hope to have it available for purchase on Record Story Day this coming April, and it should also be getting some showings at different film festivals later this year. Geddy Lee is one of the many musicians interviewed for the film and a short snippet of Geddy discussing fusion music from the documentary was posted to the film's YouTube channel earlier this week. The documentary is being partially funded through a crowdsourcing project at Pledge Music. Follow the film on Facebook and on Twitter for all the latest news.
That's all for this week. Have a great weekend!