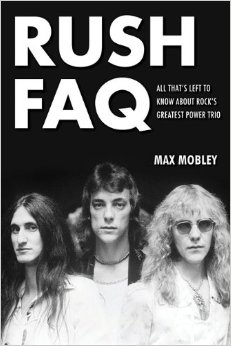 A new book on Rush by veteran music writer Max Mobley titled Rush FAQ: All That's Left To Know About Rock's Greatest Power Trio will be released on April 29th and is currently available for pre-order. From the Amazon description:
...Rush FAQ studies the evolution of the bands sound, from the early days of Zeppelin-esque blues-rock to complex, synth-laden opuses to the return of concept-album bombast with the critically acclaimed Clockwork Angels. With wit, humor, and authority, music industry veteran and unabashed Rush geek Max Mobley examines the music, gear, personalities, and trials and tribulations of one of rock and rolls truly legendary acts. It is a story Rush fans will treasure and rock and roll fans will admire.
Max Mobley is a music industry veteran who has been writing about Rush for over a decade, most notably as a columnist for Crawdaddy! and Premier Guitar. Mobley has interviewed Rush guitarist Alex Lifeson twice and seen countless Rush shows dating back to the A Farewell to Kings tour. He has kindly provided a copy of the book's introduction which you can check out at the bottom of the post. You can pre-order your copy of Rush FAQ at this location.
Rush FAQ by Max Mobley
Introduction
©:2014 All Rights Reserved
I first heard Rush at the impressionable age of twelve years old. The son of a preacher who had just moved onto our street, a tough rocker of about sixteen, had brought 2112 to my next-door neighbor's house. An attractive teenaged girl lived there, and the guy thought that by playing Rush's most infamous album he would surely win her heart, or at least a few minutes of make-out time. Naturally, it didn't work. The girl hated the music, but figured her little neighbor (me), who at this time was living off of Kiss Alive and ACDC, would probably enjoy it. So she came and got me. Told me I had to hear this music, which, according to her suitor, was unlike any rock and roll ever played on a turntable before. I was happy to oblige.

The preacher's son (I don't remember his name, though I wish I did) made a ritual out of hearing 2112 for the first time. First, he had me study the album cover, including the image of the three weird-looking dudes wearing wizardy-looking robes and looking super serious-like a cerebral version of soul-possession serious. I took this as a good (though slightly dangerous) sign. After all, outside of Robert Plant, it was a time when rock and rollers were not supposed to be good-looking. And looking weird was as good as looking tough, at least in my book. The preacher kid also had me read the paragraph on the album's back cover about life in a mysterious place called Megadon. The plot had thickened and I'd yet to hear a note.

I listened to side one of 2112 three times in a row that day, with opened album jacket in hand. Per the preacher kid, I was to listen to one instrument each time-drums first, then guitar, then bass. I'm not sure I was able to do that, though I probably acted like I had. Upon each needle drop, the song just seized me and took me wherever it wanted. I thought I heard it all the first time, but on each subsequent listen I heard more and more. Perhaps it was this combination of a reverential and ritualized first listen coupled with the truly original and bombastic sound of 2112, but man, I was hooked. I had found my religion. I had found something that spoke to me with such intensity that it was all I could think about for weeks.

Decades later, Rush's music is still something I think about often. I've been fortunate to have interviewed guitarist Alex Lifeson twice, once for the excellent guitar mag Premier Guitar, and once when I was a columnist for the illustrious but doomed Crawdaddy! magazine (another Internet casualty). And in the hundreds of rock and roll articles and columns I have written for the music press an newspapers, I always seem to slip in some Rush reference that perhaps nobody but a diehard fan would pick up on. This was never intentional; it's just that the band had become part of my viscera, their lyrics a part of my personal lexicon. Like so many Rush fans, I know firsthand how the band's music and lyrics can act as a form of shelter against the snakes and arrows of cruel adolescence(see what I mean?). The best music, or at least the right music heard at the right time, has that ability.

Along with the remarkably original story of Rush's ascent from high school dropouts stoned on rock and roll to their controversial induction into the controversial Rock and Roll Hall of Fame, Rush FAQ also covers the story of the fantastic relationship Rush fans have with the world's greatest Canadian Prog-rock Power Trio of all time (sorry, Triumph). These stories are intertwined because that's the only way the story of Rush can accurately be told.

Even more than providing shelter from the storms of adolescence for several generations of teenagers, Rush is a live band. That is how they earned their place in the rock and roll pantheon-one show at a time, and sometimes hundreds of shows in a single year. Because of this, Rush's live work, and the gear used to deliver their music, helps tell this tale of three travelers from Willowdale, and one professor from St. Catherines. With that in mind, cue up your favorite Rush albums and enjoy!

- Max Mobley