UPDATE - 12/19@4:21PM: Ultimate Classic Rock is also running a contest to win an R40 box set.
UPDATE - 12/19@2:18PM: Here's a review of the R40 Completist edition from Progarchy.com.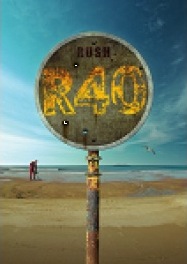 Christmas is less than a week away and many Rush fans will likely be seeing Rush's R40 40th Anniversary Collectors Box Set (6 Blu-ray discs or 10 DVDs) under the Christmas tree this year. The set includes Rush's 5 most recent live videos (Rush in Rio, R30, Snakes & Arrows Live, Time Machine, Clockwork Angels Tour) along with an R40 bonus disc, all contained in a 52 page hardback book measuring 305mm x 225mm (12" x 9"). The bonus disc includes the full Laura Secord Secondary School 1974 footage including the 2 unreleased tracks I've Been Runnin' and The Loser, along with their cover of Bad Boy. Previews of both of the unreleased tracks are available on Rush's YouTube channel (I've Been Runnin', The Loser), and you can read interviews with Alex and Geddy discussing the tracks on radio.com (Geddy, Alex). The R40 bonus disc also includes the Passaic, NJ Capitol Theatre show from 1976; Lock and Key live from 1988; Rush at the Molson Amphitheatre in 1997; the I Still Love You Man video from 2011; and the Rush portion of the Rock & Roll Hall Of Fame Induction in 2013. The Rush Backstage Club and Best Buy are also offering a special edition of the set that includes an extra R40 Completist disc (in addition to the bonus disc) that contains different content based on whether it's the Blu-ray or DVD version, with the ultimate goal being to ensure that the same content is included in both the DVD and Blu-ray packages. You can see all the details regarding the Completist DVD in this post and check out the liner notes at Cygnus-X1.net. Earlier this week Rush posted a new video trailer for the Completist edition which you can check out on YouTube. The A.V. Club is running a contest where the winner gets a signed copy of the R40 DVD box set. For all the details and to enter go to this location. The Buffalo News' Gusto section this past weekend included a holiday gift guide for music lovers and Rush's R40 box set gets mentioned:
Ten DVDs housed in a beautiful 52-page hardback book, celebrating 40 years of this Canadian institution's finest in-concert work. Tons of goodies for the Rush geek, most notable among them the first official release of the much bootlegged Dec. 10, 1976, show at the Capitol Theatre in Passaic, N.J., which includes a full run-through of the then-freshly released "2112." Rush fans will take this very seriously, as well they should.
Eric over at the Power Windows site has added 37 new wallpaper images to his Rush Art Gallery page. He has also combined all the images into one downloadable wallpaper pack and added it to his Desktop Themes for Windows page.
Speaking of Rush live video, there's a short snippet of some live Rush video of mysterious origin from the late '70s era played in one part of the 2010 Rush documentary Rush: Beyond the Lighted Stage. It occurs from about the 43:45-44:15 (watch it on Netflix) in the film during a scene where Billy Corgan and John Roberts are discussing the band. They flash back and forth between the video and the interviews, and you can just barely hear that the song being played is Finding My Way. The origin of this pro-shot video has stumped many fans since the documentary first aired. Reader Joe S finally got some answers regarding the video's origin from a source at Banger Films recently. It turns out that it was from a small TV station (in Cincinnati they think) that shot the video for a news story. Unfortunately there were only a few short segments filmed. So there you have it - mystery solved.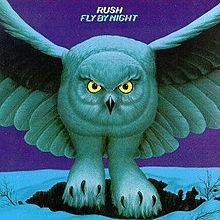 Rush announced last week that they will be releasing all of the Mercury-era Rush albums on vinyl along with a few select titles on Blu-ray audio next year. They are calling it the 12 Months of Rush:
All titles will be reissued on high-quality VINYL with a download card for Digital Audio version, high resolution Digital Audio releases, while three titles will also be released on Blu-ray Pure Audio. ... In 2015 ...[Rush] will see the reissue of the remaining 14 albums in their Mercury catalog in chronological order [the debut album was released last year]. Starting on January 27 with Fly By Night, which will be available in high-quality vinyl with a download code for a 320kbps MP4 vinyl ripped Digital Audio album download; high resolution Digital Audio editions in DSD (2.8mHz), 192khz / 24-bit, 96kHz / 24-bit; and an additional Blu-Ray Pure Audio version with 96kHz / 24-bit 5.1 surround sound and stereo. A Farewell to Kings and Signals are the other two albums which will be reissued in Blu-Ray Pure Audio. The remaining 13 titles will be released one or two a month through the end of the year. ...
For all the details, check out the Rush.com press release. It should be noted that the 3 titles to be made available on Blu-ray Audio were already released as DVD Audio titles as part of the Sector box sets. As of right now most of the titles are already available for pre-order. Here are the pre-order links along with their release dates:
Fly By Night (01/27/15) - Vinyl | Blu-ray audio
Caress of Steel (02/17/15) - Vinyl
2112 (03/17/15) - Vinyl
All the World's a Stage (03/17/15) - Vinyl
A Farewell to Kings (04/21/15) - Vinyl | Blu-ray Audio
Hemispheres (05/19/15) - Vinyl
Permanent Waves (06/16/15) - Vinyl
Moving Pictures (07/21/15) - Vinyl
Exit ... Stage Left (07/21/15) - Vinyl
Signals (08/18/15) - Vinyl | Blu-ray Audio
Grace Under Pressure (09/15/15) - Vinyl
The other titles should become available closer to their release date.
Rhythm magazine posted the results of their 2014 readers poll earlier this week and Neil Peart was included on their list of the 10 best prog drummers in the world today, coming in at #4:
2014 highlight: Having a relatively quiet year hasn't stopped Rush drum legend Neil Peart from harvesting plenty of votes in our end of year poll. Mr Peart did find time earlier this year though to share his musings on the nature of the drum solo in Rhythm magazine - over two parts, it was certainly an enthralling read!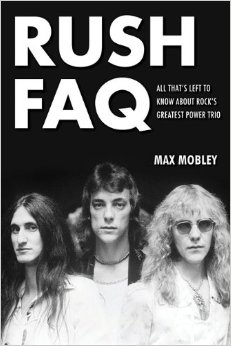 Although we didn't see any new music or touring from Rush in 2014, there were several new Rush books published along with a few new writing projects from Neil Peart. Back in June, Max Mobley's Rush FAQ: All That's Left To Know About Rock's Greatest Power Trio was released. Mobley has written for a number of music magazines including Crawdaddy! and Premier Guitar, and has interviewed Rush guitarist Alex Lifeson twice. He's also a huge Rush fan and has seen countless Rush shows dating back to the A Farewell to Kings tour. The book comes in at 250 pages and includes a foreword from Donna Halper. You can check out a copy of the introduction in this post and order your copy of Rush FAQ at this location.
Later in the year 2 new books analyzing the philosophy behind Rush and Neil Peart's lyrics were released. Author, journalist, communications professional and keeper of the Rush Vault Robert Freedman released his Rush: Life, Liberty, and the Pursuit of Excellence book back in August. Here's an excerpt from the book's foreword which I had the honor of writing:
... [Freedman's book] brings together all the different treatments of Rush's music into one grand, unifying theme, Aristotelian individualism, and shows the historical context into which the band falls. Whether he's looking at Aristotle, Ayn Rand, humanism, or critics' responses to Rush over the years, Freedman brings it all together in a comprehensive history of Rush's lyrical philosophy and does so in an accessible, down-to-earth manner that I think any Rush fan will enjoy. ...
You can purchase the book directly from the publisher, or from Amazon and other online retailers. In October, music scholar Durrell Bowman released his book Experiencing Rush: A Listener's Companion. Bowman is a cultural musicologist, musician, IT consultant and accomplished author who coedited the 2011 book Rush and Philosophy: Heart and Mind United. The book aims to guide readers through Rush's long career, explaining through the artful combination of biography, history, and musical exegesis how best to listen to Rush's unique brand of music. You can order your copy of Experiencing Rush: A Listener's Companion at this location.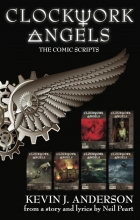 Neil Peart also kept busy with his various writing projects in 2014 with the release of Far and Near: On Days Like These back in September. The book is a follow-up to Peart's 2011 book Far and Away: A Prize Every Time and is another collection of his NeilPeart.net blog posts since that last book was released. In addition to that, the Clockwork Angels graphic novel series he co-wrote with Kevin J. Anderson was released in six issues between March and November, and will be getting a release as a single-volume graphic novel next April. And earlier this month Anderson also released a companion book to the graphic novel series via his Wordfire Press publishing label titled Clockwork Angels: The Comic Scripts. Peart and Anderson are also working on a new companion novel to Clockwork Angels titled Clockwork Lives which will expand on the stories of some minor characters from Clockwork Angels and should be released next year. In fact, Anderson just tweeted out yesterday that the first draft of the novel is finished:
And that's a wrap for the 1st draft of CLOCKWORK LIVES; very appropriate that the last piece written was The Percussor's Tale.
The paperback edition of the original Clockwork Angels novel was also made available earlier this year. All of these books would make a great addition to any fan's library of Rush books, in addition to being great gift ideas for any of the Rush fans on your holiday shopping list.
Speaking of Rush books, Anton Olsen at GeekDad included Martin Popoff's 2013 book Rush: The Illustrated History as part of his 2014 Holiday Gift Guide:
... I've been reading and re-reading this fantastic visual feast from Voyageur Press lately. Spanning all the albums and the entire history of the band right up to the last tour, this book is an absolute must for Rush fans. Page after page is decorated with behind the scenes photos, concert posters, backstage passes, ticket stubs, memorabilia, and so much more - and their story is lovingly chronicled by Martin Popoff. (R41 anyone?)
Alex Lifeson's rendition of Little Drummer Boy, which first appeared on the 1997 compilation Merry Axemas, is included in a new Christmas compilation album from Legacy Records titled The Classic Christmas (thanks RushFanForever). The album released a couple of months ago and can be purchased on CD or as an mp3 album. The Classic Christmas also features Jeff Beck, Joe Satriani, Steve Vai, Ted Nugent and more. You can listen to Lifeson's Little Drummer Boy on YouTube here.
The Concourse posted an article earlier this week on '70s Rock Legends UFO, who toured with Rush in the mid '70s. The article includes a quote from Geddy Lee talking about UFO bassist Pete Way:
... "[Pete] Way was a force of nature," Rush singer Geddy Lee told Ling. "Most people actually need to be sober at some point in the day, but he didn't seem to require that. At one gig we were backstage listening to them play, and the bass just disappeared-of course, he'd fallen off the stage." ...
Eric Benac of The Alpena News posted his list of 100 Songs You HAVE to Know earlier this week and Rush's La Villa Strangiato made the cut:
Those who can't handle Geddy Lee's high-pitched vocals or Neil Peart's preachy lyrics should love this hard rocking, complex instrumental.
The Rock and Roll Hall of Fame Foundation announced the class of inductees for 2015 this past week, and Northeast Ohio Media Group editorial writer Christopher Evans couldn't help but take it as an opportunity to slam Rush, who were inducted in the 2013 class (although he mistakenly says they were inducted last year):
... Rush was welcomed with open arms last year -- a Canadian group that should be banned on the grounds that Geddy Lee can't sing, the lyrics to "Tom Sawyer" are beyond stupid and the song title "Moto Perpetuo" exemplifies pretentious, narcissistic prog rock. As a Canadian myself, I encourage the band's impeachment. ...
Comedy Central's The Colbert Report aired its last episode yesterday after a very successful 9-year run. Host Stephen Colbert left the show to take over as host for CBS's The Late Show when David Letterman retires next year. As a tribute to the show, the Wall Street Journal compiled a list of 10 Memorable Moments From The Colbert Report yesterday, and Rush's July 16, 2008 appearance made the cut:
One of the earliest "gets" of "The Colbert Report" was Canadian prog-rock band Rush, who chose the Comedy Central show as the setting for their first American television appearance in more than 30 years. The gimmick was that Colbert's director, Jimmy, was a huge Rush fan, and Colbert invited the band on the show because he had lost a bet. Unfortunately, video of Colbert's interview with the group and its subsequent performance of "Tom Sawyer" isn't available, but for those of us who remember it vividly, one of the best questions Colbert has ever asked was when he said to Geddy Lee, Neil Peart and Alex Lifeson: "You're known for your long songs - have you ever written a song so epic that by the end of the song, you were actually influenced by yourself at the beginning of the song?"

This coming Sunday, December 21st will be the 21st day of the 12th month - often written as 21/12 in many parts of the world. It's the Winter Solstice and the occasion has also become a sort of unofficial Rush holiday among fans over the years. What better excuse do you need to listen to Rush all day long, watch Rush DVDs, wear Rush paraphernalia, and otherwise celebrate Rush fandom? To make it especially significant, do something extra special at exactly 9:12PM Sunday evening; 21:12 in military time. Then just a few days after International Rush Day, it'll be Christmas - which means there are only 6 shopping days left! Check out all of the Rush merchandise available on Amazon here, and make sure all the Rush fans in your life (including yourself!) have all the Rush swag they need under the Christmas tree come next Thursday. Have a great weekend, a joyous International Rush Day, and a Merry Christmas (or Hanukkah, Kwanzaa, etc.) everyone!