UPDATE - 12/19@4:21PM: Ultimate Classic Rock is also running a contest to win an R40 box set.
UPDATE - 12/19@2:18PM: Here's a review of the R40 Completist edition from Progarchy.com.
UPDATE - 12/18@1:20PM: The A.V. Club is running a contest where the winner gets a signed copy of the R40 DVD box set!
UPDATE - 12/18@1:02PM: Eagle Rock Entertainment has made the entire content of the Completist bonus disc available for digital download at R40Bonus.com (thanks Maciej F and RushFanForever), although the download links on the page aren't currently working.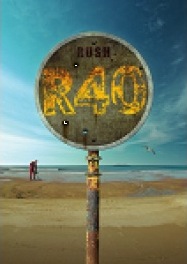 Rush's R40 40th Anniversary Collectors Box Set (6 Blu-ray discs or 10 DVDs) released last month and debuted at #2 on the Billboard Music Video chart. The set includes Rush's 5 most recent live videos (Rush in Rio, R30, Snakes & Arrows Live, Time Machine, Clockwork Angels Tour) along with an R40 bonus disc, all contained in a 52 page hardback book measuring 305mm x 225mm (12" x 9"). The bonus disc includes the full Laura Secord Secondary School 1974 footage including the 2 unreleased tracks I've Been Runnin' and The Loser, along with their cover of Bad Boy. Previews of both of the unreleased tracks are available on Rush's YouTube channel (I've Been Runnin', The Loser), and you can read interviews with Alex and Geddy discussing the tracks on radio.com (Geddy, Alex). The R40 bonus disc also includes the Passaic, NJ Capitol Theatre show from 1976; Lock and Key live from 1988; Rush at the Molson Amphitheatre in 1997; the I Still Love You Man video from 2011; and the Rush portion of the Rock & Roll Hall Of Fame Induction in 2013. The Rush Backstage Club and Best Buy are also offering a special edition of the set that includes an extra R40 Completist disc (in addition to the bonus disc) that contains different content based on whether it's the Blu-ray or DVD version, with the ultimate goal being to ensure that the same content is included in both the DVD and Blu-ray packages. You can see all the details regarding the Completist DVD in this post and check out the liner notes at Cygnus-X1.net. Yesterday Rush posted a new video trailer for the Completist edition which you can check out below or on YouTube.
Related Posts:
[Rush's R40 40th Anniversary Collectors Box Set debuts at #2 on the Billboard video chart]
[Rush's R40 40th Anniversary Collectors Box Set released today]
[New Geddy Lee interview and R40 preview clip of unreleased The Loser track at Radio.com]
[New Alex Lifeson interview and R40 preview clip of unreleased I've Been Runnin' track at Radio.com]
[Rush R40 40th Anniversary Collectors Box Set official press release]
[Rush R40 Blu-ray box set now available for pre-order]
[R40 6-disc Blu-ray box set coming this November]