UPDATE - 9/14@12:46PM: The 10-DVD R40 box set is also now available for pre-order.
UPDATE - 9/13@12:38PM: Amazon is also now listing the R40 Blu-ray set for pre-order with a release date of November 11th.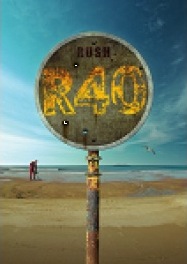 Given that 2014 is the 40th anniversary of the release of Rush's first album, fans have been wondering all year whether the band would release some kind of commemorative box set to mark the occasion. We finally got some news on that front earlier this week when a listing appeared online at the UK website SpinCDs.com for an R40 box set (6 BDs or 10 DVDs) slated to release this coming November. The set will contain Rush's 5 most recent live videos (Rush in Rio, R30, Snakes & Arrows Live, Time Machine, Clockwork Angels Tour) on Blu-ray or DVD along with an R40 bonus disc. The bonus disc will include the Laura Secord Secondary School 1974 footage, the Passaic, NJ Capitol Theatre show from 1976, Lock and Key live from 1988, Rush at the Molson Amphitheatre in 1997, the I Still Love You Man video from 2011 and the Rush portion of the Rock & Roll Hall Of Fame Induction in 2013. From the product description:
... The 6 Blu-ray discs are contained in a stunning 56 page hardback book measuring 305mm x 225mm with the 6 discs contained in 5 additional rigid insert pages. The 56 pages of the book are filled with memorabilia and photographs documenting 40 years of Rush live in concert. This is the ultimate collection of Rush live performances, beautifully presented.
You can get all the details at SpinCDs.com. The UK release date is given as Monday, November 17th so the North American release will likely be the following Tuesday, November 18th. So far SpinCDs.com is the only online retailer currently listing the item, but I'd expect that we'll see it on Amazon and other sites within the next week or two.

The 7th annual Scott Medlock-Robby Krieger Invitational Golf Tournament and All-Star Concert to benefit St. Jude Children's Research Hospital will take place on Monday, September 22nd at the Moorpark Country Club in Moorpark, CA. The event is hosted by sports artist Scott Medlock and legendary Doors guitarist Robby Krieger. Rush's Alex Lifeson will be among the many celebrities attending the tournament, and will also be participating in an all-star concert taking place that evening. The concert will also feature Krieger, Alice Cooper, Sebastian Bach, Tommy Thayer (KISS), Danny Seraphine (Chicago), David Sikes (Boston), Lita Ford and many others. For the all the details and ticket information, check out medlockkriegerinvitational.com.
A new Rush book from music scholar Durrell Bowman titled Experiencing Rush: A Listener's Companion will be released via Rowman & Littlefield Publishers on November 16th. Bowman is a cultural musicologist, musician, IT consultant and accomplished author who coedited the 2011 book Rush and Philosophy: Heart and Mind United. Experiencing Rush: A Listener's Companion is slated for release on November 16th and you can pre-order your copy at this location.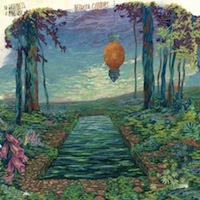 Earlier in the summer we learned that Alex Lifeson makes a guest appearance on Toronto-based folk rock trio The Wilderness of Manitoba's upcoming Between Colours album. The track that Alex plays on is titled Shift and you can give it a listen on SoundCloud at this location. Between Colours will be released on Pheromone Recordings in Canada this coming Tuesday, September 16. The band will be having an album release party at Lee's Palace on October 16th in Toronto, and will be embarking on a month-long Canadian tour in support of the album on September 19th.
Rolling Stone magazine sat down with Daniel Kessler and Sam Fogarino of the New York based post-punk rock band Interpol for an interview before the band's August 21st tour stop in Las Vegas last month. The pair discuss their pre-show rituals, revisiting the band's older albums, and their early influences. Kessler talks about his earliest influence being The Jam and then Fogarino mentions Rush:
... Rush. Let's get uncool. But that's what's cool about it, because it's so uncool. I know definitely that a member of Interpol is not supposed to say that they love Rush. ...
Kessler then mentions having recently heard Tom Sawyer at a Starbucks and being surprised by it. You can listen to the complete interview online at this location.
Author and music producer/engineer Bobby Owsinski published a book last December titled Deconstructed Hits: Classic Rock Vol. 1 where he uncovers the stories and techniques behind 20 iconic classic rock songs including Rush's Tom Sawyer. Earlier this week he published an excerpt from the book's section on Tom Sawyer to his blog at this location (thanks Simon Q).
In celebration of the 2014 NFL season, Ultimate Classic Rock is running a bracket-style contest among 16 fictional, band-themed football teams. Round one of the first-ever Hard Rock Football League championship pitted ZZ Top's Texas Eliminators up against Rush's Toronto Rush, and Rush won in a landslide victory. In round two they are matched up against Motorhead's Motorheads and currently losing! Voting closes next Tuesday, September 16th and you can vote once per hour, so go vote for Rush! And Guitar World is running a bracket poll to determine the greatest live band. Round 1 pits Rush up against Korn and you can vote here (thanks Alex P).
TV Guide Network aired a one-hour preview show of the upcoming season of the CBS reality show Survivor: San Juan del Sur this past week. At one point in the program one of the set designers shows off a new set which he called "The Temples of Syrinx, a shout out to my favorite band, Rush" (thanks Jeffrey F). The program will re-air a few times in the upcoming week as listed here, and the 29th season of Survivor kicks off on CBS on September 24th.
Reader Gabby let me know that Rush's The Spirit of Radio is featured in the trailer for the new documentary I Am What I Play from Roger King which follows the careers of 4 legendary rock DJs. You can view the trailer online here.
Here's some MLB video of Geddy Lee at a recent Toronto Blue Jays game dutifully filling out his scorecard (thanks RushFanForever):
A BIG happy 62nd birthday to Neil Peart! Have a great weekend everyone!