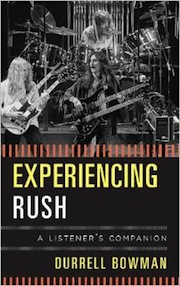 A new book from music scholar Durrell Bowman titled Experiencing Rush: A Listener's Companion will be released via Rowman & Littlefield Publishers on November 16th. From the book's editorial review:
In Experiencing Rush: A Listener's Companion, music scholar Durrell Bowman guides readers through Rush's long career, explaining through the artful combination of biography, history, and musical exegesis how to listen to this unique act. From Rush's emergence as an early blues-rock power trio of guitar, bass, and drums into the godfathers of progressive hard rock, Bowman marks the band's first breakthrough with its landmark, sci-fi/individualist album 2112. From there, readers explore Rush's movement from "prog rock" extended compositions into shorter, potential-radio-play "post-prog" songs, leading to Rush's most successful album Moving Pictures in 1981. In its later career, Rush adventurously mixed progressive hard rock and music technology, generating a new power trio sound that featured further stylistic evolutions. As Bowman makes clear, it is the band's stalwart path and many influences on fans, musicians, and others that resulted in Rush's induction into the Rock & Roll Hall of Fame in 2013.
Bowman is a cultural musicologist, musician, IT consultant and accomplished author who coedited the 2011 book Rush and Philosophy: Heart and Mind United. Experiencing Rush: A Listener's Companion is slated for release on November 16th and you can pre-order your copy at this location.