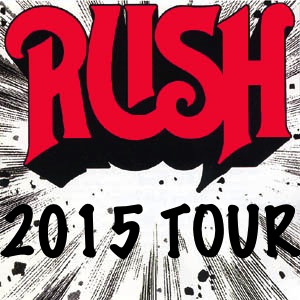 Although Rush is on an extended break for 2014, we are still expecting them to tour sometime next year as Alex pointed out in an interview with Rolling Stone back in March. In case you forgot what he said, here are some excerpts from that interview:
... "The three of us just had a meeting," ... "We said, 'Let's not talk about anything band-wise for the next year. Let's separate ourselves and come back rejuvenated.' Unfortunately, the other people at that meeting didn't hear what we were talking about, so there are already plans being made for spring of 2015. It's going to be a 41st anniversary tour, or whatever they're going to call it." ... "We haven't really talked seriously about what we want to do," ... "But I think we're probably going to lean towards making it a real sort of fan event, and really try to put something together that's very pleasing for the fans across the board. That's always been difficult, for us to sort of balance things." ... "We want to try and play different material this time," ... "I've always wanted to do some rarer Rush material, and this should be a good opportunity to do that. I also think it's going to be a long tour. We just need to stay healthy until then." ...
We haven't really heard much since then (Geddy indirectly mentioned it in his Terroni Magazine interview), but a tweet from Neil Peart drum tech Lorne Wheaton earlier this week seems to offer some confirmation that plans are definitely still underway for a 2015 tour. Lorne is currently on the road with Steely Dan as Keith Carlock's drum tech and in response to a tweet from a fan asking whether he'll continue to work with Keith when he goes on the road with Toto, Lorne said this:
If they decide to tour in the fall, maybe. Still NP's guy, and we will be busy next year. I love working with both though!!
Good news!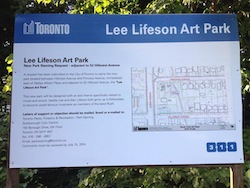 We learned early last month that a new, arts-themed park in the Toronto neighborhood of Willowdale is slated to be named after 2 of Willowdale's most famous residents - Geddy Lee and Alex Lifeson. Earlier this week the Toronto Star spoke with Geddy Lee about the proposed Lee Lifeson Art Park:
... "I know my mom is very happy!" ... "We met with the park architects and were really impressed with the thought and plans they have for it," ... "[Willowdale] is where I met my best friend and bandmate," ... "We were humbly honoured by the suggestion to name the park after us." ... "On tour and during our travels, ... we get to visit and enjoy so many parks around the world and really appreciate having that communal green space that is so important to a vibrant city."
The idea was first put forth at a consultation meeting held on April 22, 2014 by Councillor John Fillon and was then formally recommended by the Toronto parks committee on July 17th:
... Early designs for the area include art installations, a collaborative performance space and even a small bandshell for "acoustic concerts," according to [Filion], who first hatched the tribute plan two years ago. "I was standing around one night with a fellow music lover trying to think of somebody who had grown up in Willowdale who was a famous artist or musician," Filion said. "We both came up with the name Geddy Lee almost simultaneously." The councillor contacted Lee with the idea, and he immediately got on board - albeit with one condition. "He said he was interested and honoured, but also suggested it be named after Alex Lifeson, too," Filion said. ...
The article also mentions the overwhelming support of the online fan community for the idea and the misplaced anger of some fans over the perceived snubbing of Neil Peart.
... Why isn't it being called Rush Park? The perceived snub of drummer Neil Peart is not intentional, the band's publicist explained. It's just that he didn't grow up in Willowdale. (Your move, St. Catharines.) ...
The proposal will come before the North York community council this coming Tuesday, August 12th and is expected to pass overwhelmingly.


The fourth of six issues of the graphic novel version of Clockwork Angels released this past Wednesday, August 6th, and Comic Book Resources posted this preview showing 6 panels from the issue earlier this week. In addition to the standard cover that is available in comic and book stores, there is an exclusive, limited edition cover available via BOOM! Studios and the Rush Backstage Club. The first issue of the graphic novel was released back on March 19th and there were a number of different covers and subscription options made available as described in this post. The second and third issues are also available in both the standard and limited edition covers and can be purchased via the Rush Backstage Club, BOOM! Studios, Amazon.com, or your local comic/book store.
Neil Peart will be releasing the follow-up to his 2011 book Far and Away: A Prize Every Time via ECW Press this coming October. The book will be another collection of his blog posts from the past few years and is titled Far and Near: On Days Like These. A limited edition hardcover version of the book was made available for pre-order from the Rush Backstage Club a few days ago and will release on October 1st:
Neil Peart - Far and Near Limited Edition Hardcover has its own charcoal grey cloth slipcase adorned with a silver stamp of Neil's drumhead logo. Inside the book is a limited edition bookplate that is autographed by Neil Peart. Each book is also hand numbered out of 500. ** Only 500 of these Limited Edition hardcovers were produced**. Get your hands on this rarity before it sells out!
Unfortunately the pre-sale has since sold out and its unclear whether any more copies will be made available. The regular hardcover edition of the book is listed as releasing on October 14th and can be pre-ordered here.

Prog magazine revealed via their Facebook page earlier in the week the cover of their next issue featuring the 100 Greatest Prog Albums Of All Time as chosen by their readers and a number of prog-rock artists. The covers of Rush's Hemispheres, 2112 and Moving Pictures albums are all pictured in the album cover collage artwork gracing the cover. The issue started hitting newsstands this past Wednesday, August 6th. And speaking of Prog magazine, Rush's Rush ReDISCovered LP box set is one of the nominees for The Storm Thorgerson Grand Design Award at the magazine's 2014 Progressive Music Awards. Voting closed earlier today and the winner will be revealed at the ceremony which takes place at the Underglobe beneath Shakespeare's Globe Theatre in London, England on Thursday September 11th.

There was a Rush 2112 reference in an episode of Cartoon Network's Regular Show this past May that we hadn't mentioned yet. During the episode Video 101 (Season 5, Episode 25, May 5, 2014), Eileen calculates the time it will take to shoot a music video and the total shown on her calculator is 2112 as shown here. Thanks to Craig J for the heads up and Eric at Power Windows for the screenshot.
Music Radar posted their list of the 60 Greatest Bassists of All Time as chosen by a readers poll earlier this week and Geddy Lee made the cut at #2 (thanks RushFanForever):
It's Geddy Lee. The Rush man has inspired thousands to pick up the bass guitar, and many of the other bassists in this rundown cite him as an influence. A leading frontman, songwriter and a remarkable bass talent, it's no surprise he remains perennially popular with you guys.
Craig Breaden at Progarchy.com posted an article earlier this week where he profiles a number of Rush highlights on video. It's titled Moving Pictures: Rush on Film and you can check it out here.
Bassist Aaron Gibson recently had his all-bass version of Rush's Fly By Night featured at NoTreble.com, where they shared this exclusive video of the virtuoso bass player playing the cover (thanks Tom):
That's it for this week. Have a great weekend!