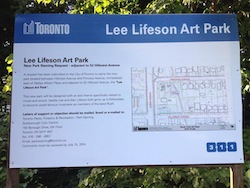 We learned a couple of weeks ago that a new, arts-themed park in the Toronto neighborhood of Willowdale will likely be named after 2 of Willowdale's most famous residents - Geddy Lee and Alex Lifeson. The proposed Lee Lifeson Art Park is slated to begin construction next year as described in Willowdale Councillor John Fillon's written proposal to the North York Community Council last month. The idea was first put forth at a consultation meeting held on April 22, 2014 and was very favorably received by residents. InsideToronto reported this morning that the proposal is scheduled to come before the North York community council on August 12th and is expected to be approved:
... The name has been applauded by residents at two community meetings and Lee and Lifeson are pleased with the honour, Willowdale Councillor John Filion said. "They were wonderful about it. They asked a lot of questions," he said about meeting with the band mates about the idea in May. "They said they would be honoured to have a park like this named after them." ... Lee and Lifeson launched Rush as students of Fisherville Junior High School, northeast of Bathurst Street and Drewry Avenue, in the late 1960s. "All their early rehearsals were at their parents' homes in Willowdale. Most of their early gigs were at local high schools, like Earl Haig," Filion said. "They're very connected to Willowdale and they're very renowned musicians." ...
The park will be built next year northeast of Yonge Street and Sheppard Avenue between Hillcrest and Princess avenue, east of Gladys Allison Place. A sign with the park's proposed name is currently posted on Hillcrest Avenue near Yonge and Sheppard as shown in this photo (thanks Facebook user Warren D).