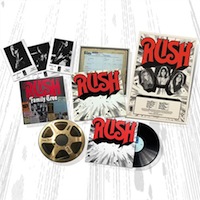 Rush is celebrating the 40th anniversary of the release of their 1974 debut album with a special Rush ReDISCovered LP box set containing a re-mastered version of the album on 200g vinyl which released this past Tuesday. You can get all the details regarding what's contained in the set by watching this promotional video and checking out the Rush.com press release. The Rush.com newsletter announcing the release earlier this week contained a few comments from Geddy about the making of the album:
"There are so many memories associated with the re-release of our very first album that one hardly knows where to begin. Like most first albums, it is sort of a miracle that it came into being at all. We originally recorded most of the songs in a studio in downtown Toronto, between the hours of 2 a.m. until 8 a.m. AFTER we had finished playing 5 sets a night at a local rock club. You can imagine the logistics of that.. good thing that we were so.. er... resilient!

We managed to record an album's worth of material in a matter of days and the engineer who worked with us then mixed the entire record in one evening. After the club date ended we came in to hear the final mix and we were crushed with disappointment, it sounded so ..well... polite .... nothing at all like the way we sounded live and not at all what we wanted. He simply did not understand us. So the next day we ran to our manager for help and we were directed to an ex-pat British engineer and producer named Terry Brown.

We met with Terry and instantly felt we were on better footing. After he had come to hear us play live, he suggested that we come to his studio, Toronto Sound, and re-record many of the overdubs and record a few of the "newer" songs that we had written and then re-mix the rest. It wasn't perfect but it sounded sooo much better and more importantly it sounded like us! Terry saved the album.. no question about that! It began a very happy collaboration between us that endured until 1981 after we had completed the Signals album."

- Geddy Lee on the making of Rush self-titled debut album
The band is running a Twitter contest through May 22nd where they'll be giving away a copy of the box set signed by Geddy Lee and Alex Lifeson. For all the contest details and how you can enter, just visit this location. And MusicVaultz is also giving away a copy of the box set with this Rush Trivia Contest for Canadian residents. In celebration of the release I'm asking everyone what their favorite track off the debut album is. Take the poll and let us know! If you haven't already, you can order your copy of Rush ReDISCovered here.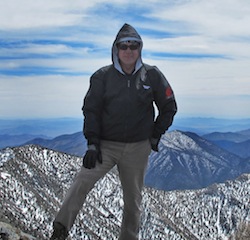 Earlier this week Neil Peart once again updated the news page on his website. The April, 2014 entry is titled Telescope Peak Revisited and in it Neil describes a recent motorcycle trip to Death Valley and his climb of Telescope Peak, which was the title of a song he wrote lyrics for several years ago:
... Back in 2001, when I was in Toronto with the Guys at Work and trying to start on lyrics for a new album, naturally I had lots of "baggage" to work through. Some of that made it into songs; much did not. One of the lyrics I wrote for the Vapor Trails sessions was titled "Telescope Peak," and though at the time it didn't "sell" to the other guys, I still kind of like it. (Without bitterness, because "Ghost Rider" got put to music, and with coproducer Paul Northfield's encouragement, recorded, so at least one of my "songs of the American road" saw the light of performance. Good enough!)

But here was me in 2001, thinking back to October, 1999, and wanting to write a song called "Telescope Peak." The words still "sing" to me-an uptempo rocker in the verses, then hanging on the line "On the last lonely day" before dropping into a grinding groove for the bridges. The choruses, naturally, in gentler half-time. (When I'm writing lyrics, I always have an imaginary tempo and melody in mind, but never share that with the Guys at Work-just let them take it where it leads them. Good things happen that way.) ...
You can read the entire update on Neil's website here.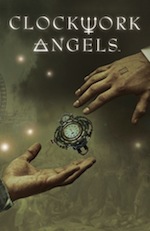 The second of six issues of the graphic novel version of Clockwork Angels was released this past Wednesday, April 30th. In addition to the standard cover that will be available in comic and book stores, there will be an exclusive, limited edition cover available via BOOM! Studios and the Rush Backstage Club. The first issue of the graphic novel was released 6 weeks ago back on March 19th and there were a number of different covers and subscription options made available as described in this post. If they continue with a release schedule of one issue every 6 weeks, issue 3 should be out on June 11th. Bloody Disgusting posted this lukewarm review of issue #2 yesterday.


Speaking of the Clockwork Angels graphic novel, author Kevin J. Anderson attended the Salt Lake Comic Con last month and ran into actor, Firefly alum and fellow Rush fan Adam Baldwin. Anderson posted this photo (thanks Tracy M) of himself and Baldwin (who is sporting a Clockwork Angels tour shirt) to instagram which shows the pair clasping hands and holding up issue #1 of the graphic novel. On a related note, Baldwin, his Rush t-shirt and other Firefly cast members were featured on The Chive's Daily Afternoon Randomness in this photo from last week at a Salt Lake Comic Con meet-n-greet. Thanks to Rick D and mac2112 for the heads up.

Details for Rush EUCon 2014 were announced earlier this week. This year's convention will take place the weekend of October 10-11th at The Box in Crewe. Activities will include a quiz & raffle, a charity auction to support Diabetes UK, a Rush Idol contest, and a performance from Italian Rush tribute band La Villa Strangiato. For all the details and to register just visit the website at rusheucon.co.uk, and for all the latest news you can follow Rush EUCon on Facebook and Twitter.
While on the subject of Rush fan conventions, The 14th annual RushCon will take place at The Great Hall in Toronto the weekend of August 22-24, and a couple more great guest speakers were announced earlier today. In addition to Kevin J. Anderson, veteran Rush roadies Tony Jack Secret Geranios and Howard Ungerleider will also be making an appearance! The convention will consist of 3 days of Rush-filled events, including a Friday night opening mixer (location TBD); Rush tribute band show; Rush-themed trivia, games, multimedia shows, door prizes, etc.; the Rush charity auction and more! You can get all the event details here, and register online at this location. 14 applications for the Rush Tribute Band contest were submitted and they've narrowed it down to 3 finalists. Now they need your help to determine the winner. To place your vote just visit the RushCon website here. One vote per person is allowed and voting will run through May 11th. For all the RushCon details just go to RushCon.org, and be sure to follow RushCon on Facebook and Twitter to stay up to date on all the latest RushCon news. In addition to RushCon in August, North American fans can also attend the 6th annual Rush RatCon gathering in July. RatCon 2014 will be held on July 11-12 at the newly dubbed Club Carnie in Marlboro NJ; all previous RatCons have taken place at Club Xanadu outside Baltimore, Maryland. The event's tagline is Forty years of "BLAH BLAH BLAH" and it will include a heated pool, Rush-themed food and beverages, contests, prizes, a live Rush tribute band and more! Accommodations, pricing, tribute band announcement, and more info will be announced soon. Just visit the Facebook page and Facebook event page for details and updates. For more info about the origin of RatCon visit the website here.
Guitarist John Wesley's latest album Disconnect released last month and Rush's Alex Lifeson makes a guest appearance, playing a guitar solo on the track Once a Warrior. Wesley is best known to Rush fans as the touring guitarist for Porcupine Tree. Wesley and his band kicked off an East Coast tour in support of the album this past Tuesday in Teaneck, NJ at Mexicali Live. A video of his performance of Once a Warrior from that show - including his tackling of Lifeson's solo - has been posted to YouTube at this location (thanks Eric at Power Windows). Last night the band played at the Best Buy Theatre in New York City in support of Blackfield (Porcupine Tree's Steven Wilson's final show with the band), and next Friday, May 9th they'll be playing a show in support of The Winery Dogs at the Variety Playhouse in Atlanta, GA. You can order your copy of Disconnect here.
Consequence of Sound is running a bracket poll to determine the Greatest Drummer of All Time and Neil Peart is of course in the running. To place your vote just visit this location
VH1 posted their list of the 10 Most Underrated Classic Rock Singers earlier this week and Geddy Lee made the cut at #10:
Love or hate it, the prog rock frontman's high, piercing voice is part of what makes Rush a legendary group. The bassist/singer's voice often gets overlooked due to the tightness of the band as a whole, but it's hard to imagine anyone else belting out classic cuts like "Tom Sawyer," "Fly by Night" or "2112."
Rush's compilation album The Spirit of Radio: Greatest Hits 1974-1987 made the Music Times' list of 7 Compilation Albums Definitely Worth Owning earlier this week. Here's what they had to say:
Though Rush fans may disagree with me (and I have felt their immense wrath before), the band's only start-to-finish great LP is 1981's Moving Pictures. However, Rush has a ton of excellent songs spread out over its entire career, and all of the best can be found on The Spirit of Radio: Greatest Hits 1974-1987. Most essential on this compilation is the track "2112 Overture/The Temples of Syrinx," which is the first seven minutes (the best part) of the band's twenty-minute "2112" suite, probably the band's greatest song.
Rush's Red Barchetta made this MSN Autos list of the Coolest cars in songs (thanks Peter C):
Sonically brilliant, this song is rather oppressive in its premise that driving has been outlawed. Inspired by the November 1973 Road and Track magazine article "A Nice Morning Drive," which had a futuristic doomsday vibe to it, the powerful song is named for the ultrarare, ultracool, classic Ferrari 166, known as the Barchetta ("little boat" in Italian). The tune also has hints of the 1981 movie "The Last Chase," where Lee Majors ("The $6 Million Man") drives the last car (a Porsche Can-Am style racecar he had hidden under his garage) to California as an act of defiance against the dictatorship running the country.

NMR Distribution - makers of Rush's official wall calendars - are adding another entry to their line of Rush posters. This new 36"x12" poster depicts 3 classic action photos of the band as seen here. You can check out all the Rush posters NMR Distribution has to offer at this location. Thanks to plunge for the heads up.
Greg Prato recently interviewed Saxon's Biff Byford for SongFacts.com and asked him about the band's first US tour where they opened for Rush:
... The very first tour we did was with Rush in the '80s. Which was great, since we're huge Rush fans. ... We knew them and we ate with them and we said hello a lot, but we didn't really have too much to do with them. They were a little bit untouchable in those days. But yeah, we had some great times. They once invited me on the bus to travel with them, but I didn't think it was fair that the rest of the guys wouldn't be on it. Sort of kick myself on that. I should have gone on it! ...
Progarchy.com posted an article earlier this week where author eheter writes a retrospective review of Rush's Moving Pictures. It's titled Synergistic Perfection: First - and Lasting - Impressions of Moving Pictures and you check it out online at this location (thanks Bryan M).
That's all for this week. Have a great weekend everybody!