[NEWS, WEATHER, and SPORTS: April, 2014 - Telescope Peak Revisited]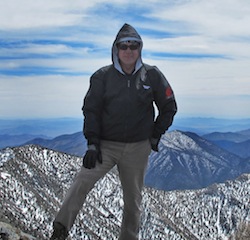 Neil Peart has once again updated the news page on his website. The April, 2014 entry is titled Telescope Peak Revisited and in it Neil describes a recent motorcycle trip to Death Valley and his climb of Telescope Peak, which was the title of a song he wrote lyrics for several years ago:
... Back in 2001, when I was in Toronto with the Guys at Work and trying to start on lyrics for a new album, naturally I had lots of "baggage" to work through. Some of that made it into songs; much did not. One of the lyrics I wrote for the Vapor Trails sessions was titled "Telescope Peak," and though at the time it didn't "sell" to the other guys, I still kind of like it. (Without bitterness, because "Ghost Rider" got put to music, and with coproducer Paul Northfield's encouragement, recorded, so at least one of my "songs of the American road" saw the light of performance. Good enough!)

But here was me in 2001, thinking back to October, 1999, and wanting to write a song called "Telescope Peak." The words still "sing" to me-an uptempo rocker in the verses, then hanging on the line "On the last lonely day" before dropping into a grinding groove for the bridges. The choruses, naturally, in gentler half-time. (When I'm writing lyrics, I always have an imaginary tempo and melody in mind, but never share that with the Guys at Work-just let them take it where it leads them. Good things happen that way.) ...
You can read the entire update on Neil's website here.