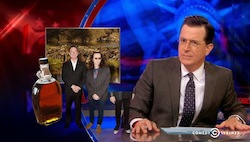 There was a Rush reference on last night's episode of Comedy Central's The Colbert Report. Stephen opened up the show with a report about how the Canadian middle class is now the most affluent in the world, displacing the United States at the number one position. Stephen goes on to state the following:
... no longer will people around the world aspire to the American dream of a house, a white picket fence, 2.5 kids. No, now it's the Canadian dream of a beaver dam, a maple syrup moat and 2.5 members of Rush. I don't know about you but I don't want to teach Geddy Lee to catch. ...
The accompanying graphic displays a photo of the band, with Geddy Lee, Neil Peart and the lower half of Alex Lifeson (2.5 members of Rush) along with a beaver dam and bottle of maple syrup. You can see a screenshot here and watch the complete episode online at this location. There have been a few other Rush references (here and here) on The Colbert Report over the years and the band famously appeared on the show for a live performance back in 2008. Thanks to Eric at Power Windows for the heads up and the screenshot.