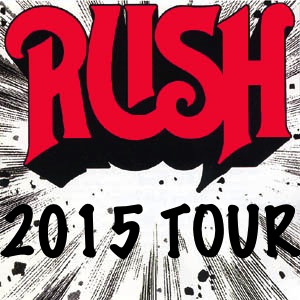 In the wake of last year's Clockwork Angels Tour, all three members of Rush made it clear in interviews that the band would be taking at least a year off from touring, squelching any plans for a 2014 tour in celebration of the band's 40th anniversary. However, they also indicated that they did expect that they'd be touring again as early as 2015, and according to a short Rolling Stone interview with Alex Lifeson that was posted yesterday, that's exactly what they are planning to do:
Rush wrapped up their worldwide Clockwork Angels tour just seven months ago, but they're already planning a lengthy "41st anniversary" tour for 2015, according to guitarist Alex Lifeson. "The three of us just had a meeting," Lifeson tells Rolling Stone. "We said, 'Let's not talk about anything band-wise for the next year. Let's separate ourselves and come back rejuvenated.' Unfortunately, the other people at that meeting didn't hear what we were talking about, so there are already plans being made for spring of 2015. It's going to be a 41st anniversary tour, or whatever they're going to call it." ... "We haven't really talked seriously about what we want to do," ... "But I think we're probably going to lean towards making it a real sort of fan event, and really try to put something together that's very pleasing for the fans across the board. That's always been difficult, for us to sort of balance things." ... "We want to try and play different material this time," ... "I've always wanted to do some rarer Rush material, and this should be a good opportunity to do that. I also think it's going to be a long tour. We just need to stay healthy until then." ...
A couple of things that stood out for me were the description of the planned tour as lengthy and fan-focused with rarer Rush material. More details as they become available.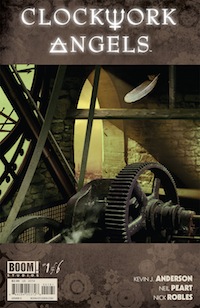 The first of six issues of the graphic novel version of Clockwork Angels released this past Wednesday. There are a number of different covers of the issue available as described in this post from a couple of weeks ago. There are 3 standard covers of the 1st issue available (Cover A, Cover B, and Cover C) along with another exclusive Rush and BOOM! Studios cover. The A, B, and C covers are available in comic stores, but the exclusive cover can only be purchased via the Rush Backstage Club or through BOOM! Studios. There are also a number of different subscription packages available as shown on the BOOM! Studios website. Subsequent issues of the graphic novel series will have 2 covers available; the standard cover and the Rush/BOOM! Studios exclusive cover. There will also be an exclusive cover of the first issue available for purchase at the Emerald City Comic Con in Seattle next week on March 28th, and yet another exclusive cover available only at Larry's Comics. Earlier this week Comicbook.com posted a preview of the first several pages from the inaugural issue which you can check out here. There's also this great 5/5 review of issue #1 from Big Comic Page.
... WOW! Robles' illustrations on this are nothing short of spectacular, managing to encapsulate perfectly the writing of Anderson and the feel that Peart gives to all of his works. The use of sepia tones to indicate present time is a nice touch as well, what with the story being mostly told in flashbacks, and gives the whole thing an almost 'Wizard of Oz' feel to it. Everything is so beautifully sculpted that a world is created that manages to be both Victorian Steampunk and Sci-Fi Opera. ...
And here's yet another 5/5 review - this one from Comic Bastards, along with this lukewarm, 3/5 review from Bloody Disgusting. Kevin J. Anderson was interviewed for the Canadian SPACE Channel's Inner Space program earlier this week and spoke for a couple of minutes about the graphic novel and his collaboration with Neil Peart. You can check out the video of Anderson's appearance here (thanks bucklemyshoe).
Earlier this week Neil Peart once again updated the news page on his website. The March, 2014 entry is titled Not All Days Are Sundays and in it Neil talks about enjoying the winter in Quebec with his family, and also dealing with the death of his good friend Steve (Steve was the elder brother of his late wife Jackie). You can read the entire update on Neil's website here.
Last Friday the folks at RushCon released several more details regarding this year's convention celebrating the 40th anniversary of Rush, including travel information and the event schedule. The 14th annual RushCon will be held at The Great Hall in Toronto the weekend of August 22-24. The convention will consist of 3 days of Rush-filled events, including a Friday night opening mixer (location TBD); Rush tribute band show; Rush-themed trivia, games, multimedia shows, door prizes, etc.; the Rush charity auction; special guest speaker Kevin J. Anderson; and more! There's a discounted 3-day rate available until March 31st, and you can register online now at this location. Applications for the Rush tribute band contest are now being accepted here. For all the RushCon details just go to RushCon.org, and be sure to follow RushCon on Facebook and Twitter to stay up to date on all the latest RushCon news.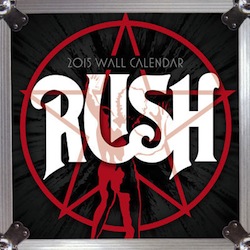 The cover art for the official Rush 2015 wall calendar has been revealed by NMR Distribution via this product listing on their website, although the theme of the calendar isn't completely clear. The cover has the look of a roadcase and depicts the band's Starman logo in red with a white RUSH explosion logo and the words 2015 Wall Calendar overlain on top of it. This 12"x12", 16-month calendar will officially release sometime this summer and is actually already available for pre-order via Amazon. The band's official 2014 calendar celebrates their 40th anniversary and can be purchased online here.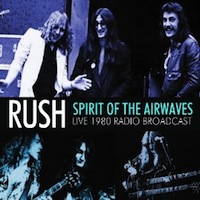 A live radio broadcast recording of a February, 1980 Rush concert titled Spirit of the Airwaves was released on CD and vinyl in Europe this month, and the CD is now available as an import in the US/Canada; the vinyl version will be available on April 1st. It was recorded over a series of shows in mid-February of 1980 at the Kiel Auditorium in St. Louis during the Permanent Waves tour. The release has actually already been available for digital download in Europe since December 9th and can currently be purchased on iTunes and other digital music providers there (but not in the US/Canada). This unofficial release is similar to the Rush ABC 1974 live CD from a few years back, and is essentially a packaged release of a bootleg that's been around for many years; namely the St. Louis '80 bootleg that was sourced from a direct A/D transfer of the original 2LP (4-sided) record set provided to radio stations for broadcast.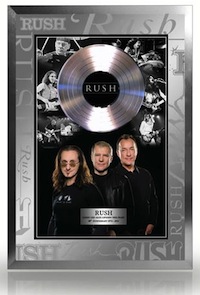 Rush's official merchandise store at the Rush Backstage Club is now offering Rush commemorative frames in 7 different varieties. There's a 40th anniversary framed LP, a framed discography, a framed Gold 45 album collection, and various Gold and Platinum framed LPs. Prices fall in the $150-$200 range and you can check them all out at the Rush Backstage Club here.
Ultimate Classic Rock is currently running their March Riff Madness contest where they pit 64 classic rock songs against each other in a bracket-style match-up. Rush's Limelight has made it to round 3 after defeating Thin Lizzy's Jailbreak last week. It is currently matched up against The Kinks' You Really Got Me and is losing in a close race. You can vote once per hour through this coming Sunday, March 23rd so go vote for Rush!

Reader Mike W let me know about a 2112 sighting at an Antique Relics Mall in Springfield, Missouri. It's some kind of glass frame with the words Booth 2112 written on it as seen here.
Brad Birzer at Progarchy.com wrote a piece this past week titled Neil Peart: The Most Endangered Species (thanks Don D) where he pays tribute to one of Rush's perfect songs - Natural Science from the Permanent Waves album.


Yesterday marked the 5th anniversary of the release of the 2009 film I Love You Man starring Paul Rudd and Jason Segal. The film included a number of Rush references and a cameo from the band themselves. Here's the full, extended concert clip from the movie where Rush plays Limelight as the boys rock out in the audience:
That's all for this week. Have a great weekend!