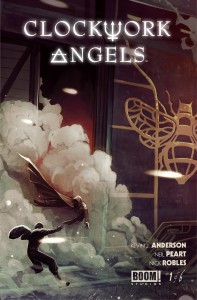 The first of six issues of the graphic novel version of Clockwork Angels will be released this coming Wednesday, March 19th. There will be a number of different covers available as described in this post from last week. There will be 3 standard covers of the 1st issue available (Cover A, Cover B, and Cover C) along with another exclusive Rush and BOOM! Studios cover. The A, B, and C covers will be available in comic stores, but the exclusive cover can only be purchased via the Rush Backstage Club or through BOOM! Studios. There are also a number of different subscription packages available as shown on the BOOM! Studios website. Subsequent issues of the graphic novel series will have 2 covers available; the standard cover and the Rush/BOOM! Studios exclusive cover. There will also be an exclusive cover of the first issue available for purchase at the Emerald City Comic Con in Seattle on March 28th, and yet another exclusive cover available only at Larry's Comics. That's a lot of covers!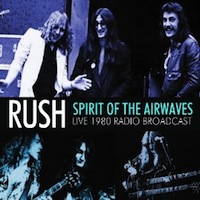 A live radio broadcast recording of a February, 1980 Rush concert titled Spirit of the Airwaves was released on CD and vinyl in Europe this month, and will be available as an import in the US/Canada next week. It was recorded over a series of shows in mid-February of 1980 at the Kiel Auditorium in St. Louis during the Permanent Waves tour. The release has actually already been available for digital download in Europe since December 9th and can currently be purchased on iTunes and other digital music providers there (but not in the US/Canada). This unofficial release is similar to the Rush ABC 1974 live CD from a few years back, and is essentially a packaged release of a bootleg that's been around for many years; namely the St. Louis '80 bootleg that was sourced from a direct A/D transfer of the original 2LP (4-sided) record set provided to radio stations for broadcast.
Guitarist John Wesley will be releasing his latest album Disconnect later this month and Rush's Alex Lifeson makes a guest appearance, playing a guitar solo on the track Once a Warrior. Wesley has been hitting the interview circuit to promote the album and recently chatted with both the Prog Report and with Phil Simon at The Huffington Post. In both interviews Wesley reveals how Alex Lifeson became involved with the album, and also discusses all of his other various side projects. At one point in the Prog Report interview Wesley talks about how he and Porcupine Tree frontman Steven Wilson connected through Rush's music, and how much Alex Lifeson's guitar sound influenced the band's sound on their last few albums (at about the 9-minute mark):
... there was this heavy guitar element to Porcupine Tree that was coming out. I hate to say it but we have to give credit to Alex Lifeson for that. It was kind of a weird sub-conscious thing ...
Later in the interview (at the 16:45 mark) Wesley talks at length about how Alex Lifeson came to appear on Disconnect, and calls his solo on Once a Warrior "classic Alex". You can listen to the entire interview online at this location, and you can check out Phil Simon's Huffington Post Skype interview with John here. Disconnect will release on March 31st in the UK and April 1st in the US, and can be pre-ordered now at this location.
Speaking of Phil Simon - in addition to being a Huffington Post contributor, Phil is an author, Rush fan, tech consultant, and RIAB reader, and he'll be releasing his latest book this coming Monday, March 17th. It's titled The Visual Organization: Data Visualization, Big Data, and the Quest for Better Decisions and - like most of Simon's books - it is chock full of Rush references, including a nod to the band in the acknowledgements. When Rush is on tour Phil is known for offering organizations a free speaking engagement provided they buy him Rush tickets and pay travel expenses. Phil usually finds a way to slip a Rush reference into his speeches too. At a Tech Cocktail talk last summer on the fallibility of experts, he used the fact that Rush was once dismissed by the experts to help illustrate his point as shown in this video (at the 7:20 mark).
Earlier this week Billboard compiled their list of the 40 highest-paid musicians of the past 12 months and Rush made the cut coming in at #35 with a total of $9,050,583.42. Rush also made the list last year, coming in slightly higher at #28 despite making slightly less revenue ($8,719,834.30). Other rock acts that came in higher than Rush were Imagine Dragons (#31), Phish (#25), Trans-Siberian Orchestra (#24), The Eagles (#22), Paul McCartney (#21), Dave Matthews Band (#19), Fleetwood Mac (#10), The Rolling Stones (#5), and Bon Jovi (#4). Topping the list was Taylor Swift with a whopping total of $39,699,575.60. The artists were ranked by U.S. earnings calculated from touring and music sales (including digital and streaming), but excluding revenue from sponsorship and merchandising. You can check out the entire list at this location.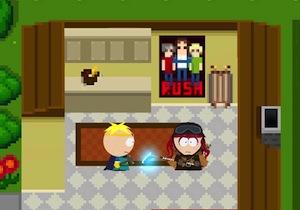 South Park: The Stick of Truth is the latest video game based on the long-running Comedy Central animated series South Park. It's a role-playing style game where players can unlock access to the great nation of Canada - the O Canada level - at one point. The Canada portion of the game is rendered in 8-bit, Ultima-style and a Rush poster can clearly be seen on the wall in one of the houses as shown here. South Park creators Trey Parker and Matt Stone are both friends of Rush, and a cartoon version of the band appeared in the South Park episode Royal Pudding (Season 15, Episode 3) as shown here. They also created a special Lil' Rush intro video to Tom Sawyer featuring the South Park gang that was used on the Snakes & Arrows tour as seen here.
Ultimate Classic Rock is running their March Riff Madness contest where they pit 64 classic rock songs against each other in a bracket-style match-up. Rush's Limelight has made it to round 2 where it is up against Thin Lizzy's Jailbreak. You can vote once per hour through this coming Sunday, March 16th so go vote for Rush (thanks Kelly M).
American country music group The Band Perry is currently on tour, and at one recent show the drummer broke into the Tom Sawyer drum fill after he was introduced by the band. You can check out a video of it on YouTube here (thanks Craig).
Just in time for St. Patty's Day, Seamus Egan of the Irish-American group Solas was recently interviewed for Fly Magazine. When asked about the kind of music that he connected with as a teenager in Philadelphia in the '80s he says, "I remember becoming obsessed with Rush and 'Tom Sawyer,' so that will give you an indication of where I was at". Thanks to livestarmark for the heads up.
Reader The Clansman 2112 wanted me to let you all know that he still needs to fill some slots in his annual rushisaband Fantasy Baseball League in time for their draft on Sunday. It's a 20 Team Roto League where they don't play for money - just for fun and bragging rights, so it's free to join. If you are interested email him at elwood2000@hotmail.com.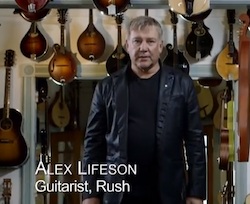 March is kidney health month in Canada and the Kidney Foundation of Canada announced their new free Online Risk Assessment tool via a press release earlier this week. Last fall Alex Lifeson helped raise awareness of the conditions that cause kidney disease with this 30-second commercial spot. The Kidney Foundation of Canada launched an updated version of the commercial which highlights the new assessment tool. The press release mentions the important role Alex Lifeson has played in helping to raise awareness:
The PSA features Rush guitarist, Alex Lifeson, whose family has suffered from conditions that cause kidney disease. "During the Kidney Foundation's 50th anniversary year, we're taking extra steps to empower individuals to actively engage in their kidney health care," says Paul Shay, the charity's National Executive Director. "Thanks to celebrity spokesperson Alex Lifeson's participation in a new public service announcement, we are able to help raise awareness of the risk factors for kidney disease. Canadians will also have a health information e-tool at their fingertips and a printed risk assessment they can share with their healthcare provider - crucial resources for their kidney health management." ...
That's all for this week. Have a great weekend, a happy Pi Day, and a happy St. Patrick's day! Many thanks to Eric over at Power Windows for providing the St. Patty's Starman image.