Other than a couple of minor items involving Alex Lifeson and some news from the NAMM 2014 show, there's not much in the way of Rush happenings to report this past week. Since it's an off year for the band, we likely won't be hearing much in the way of band news until more details come out regarding the expected 40th anniversary re-issue of the band's debut album. There hasn't been any further news reported with regards to that since Universal Music Canada's VP of catalog marketing Ivar Hamilton first spilled the beans about the release last month. We're also looking forward to the Clockwork Angels graphic novel release this coming March, although there was no new news on that front this week either. Boom! Studios will be releasing the graphic novel in a series of six beginning this coming March. The first issue along with a complete 6-issue subscription are now available for pre-order at the Boom! Studios website (Issue #1 for $3.99, 6-issue Subscription for $29.99). The paperback release of Clockwork Angels: The Novel will be available on May 13th and can be pre-ordered here.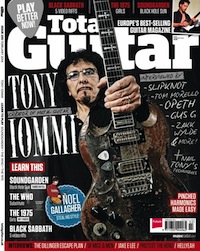 The 250th issue of Total Guitar magazine went on sale earlier this week and features legendary Black Sabbath guitarist Tony Iommi on the cover. As part of the cover feature, they rounded up key metal and rock guitarists that have been influenced by Tony's playing over the years and got them to pose their questions to him. According to MusicRadar.com, one of these featured guitarists is Alex Lifeson. Lifeson and Iommi were photographed together at last year's Classic Rock Awards by Ross Halfin as shown in these photos. And in another piece of Alex Lifeson news, the St. George Daily Spectrum reported on a story earlier this week which involved a Minnesota man who was accused of defrauding Dixie Regional Medical Center of services by pretending to be Rush's Alex Lifeson and Pink Floyd's David Gilmour. For all the bizarre details you can check out the article online here.

The 2014 NAMM show kicked off earlier this week in Anaheim, California and both Alex Lifeson and Neil Peart were in on the action. DW Drums premiered an all-new line of Icon snare drums which honor Neil Peart, Roger Taylor of Queen, and Nick Mason of Pink Floyd which you can check out in this video. And PRS Guitars has introduced a new Private Stock Alex Lifeson Thinline acoustic guitar which can be seen in this video. For all the details on the Icon snare drum check out the product brochure, and for more on the Alex Lifeson acoustic check out the PRS website. Speaking of NAMM, 10 years ago at the 2004 NAMM show, Neil Peart's 30th anniversary R30 kit was featured as shown in this video (thanks Greg Nosek).
Ultimate Classic Rock is running their 2014 Ultimate Classic Rock Awards and Rush along with their Clockwork Angels Tour concert video are in the running in several categories including Best Live Album, Song of the Year (The Garden), Tour of the Year, and DVD of the Year. Rush is currently leading in several of the categories, but they still need your vote. Voting is open until February 11th, so go vote for Rush!

We learned earlier this week about a major Rush reference contained in the latest issue of the Marvel comic Deadpool (issue #22, released January 8, 2014). At one point Agent Gorman is on the S.H.I.E.L.D. Helicarrier sitting in an office at a computer, and trying to guess the password. There's a prominent Rush Starman poster along with several Spiderman posters on the wall. Gorman pauses in thought for a moment, then types in the password SPIDEYLOVER2112. It works and he mutters, Idiot to himself. You can check out a scan of the reference online here.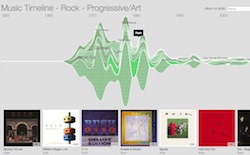 Last week the Google Research team created a Music Timeline which uses aggregated data from Google Play Music to show the changes in music genres over the decades. The visualizations show which albums from past eras are still in our music libraries today, and within each broad music category they have sub-genres and highlight albums representing each. Rush's Moving Pictures was selected as one of the featured albums within the Rock music genre for the Progressive/Art Rock sub-genre. You can also conduct a search for specific bands based on keyword; the result of a search for RUSH brings up Rush and any other bands with the word rush in them (Mahogany Rush, Otis Rush, Big Time Rush, etc.). You can read more about the project in this blog post.
MusicRadar.com posted an interview with bassist Bryan Beller earlier this week where he picks his 10 essential bass albums (thanks Kelly M). Coming in at #6 on his list is Rush's Moving Pictures and here's what he had to say about it:
"I was such a moron: This was one of the first records I tried to learn how to play when I was just starting out. You can imagine how frustrating that was. It didn't go very well. [Laughs]

"All of the melodic stuff in Red Barchetta is amazing. You know, this is another band where the guitar wasn't always super-overdriven. It some parts, Alex Lifeson does some really snappy chord stuff, and it's Geddy Lee who's driving the melodic underpinning of the song.

"There's YYZ, which has so many fascinating things going on. It seemed unplayable to me at the time. Tom Sawyer and Limelight are classics, as we all know. The last song, Vital Signs, has terrific bass parts.

"Some people would pick another Rush album, but I've always loved Moving Pictures. I guess I'm somewhat partial to that period when a band apexes. To me, there's always been something special about this record."
CBC Music posted a photo gallery of what they think are The 20 most Canadian album covers ever and Rush's Inuksuk Test for Echo album cover made the cut (thanks Scott P):
The Inukshuk, which has always been an Inuit symbol, has in recent years become more of a widespread Canadian symbol. Do we have Rush to thank for that? Um, no.
Also making the list was The Great White North by Bob and Doug McKenzie, which featured a guest appearance from Geddy Lee on the track Take Off. On that note, and given that it's felt like we are all living in the Great White North with how cold it's been lately ... here's Take Off.
Beauty, eh? Have a great weekend and stay warm!