UPDATE - 1/30@9:45AM: The Icon drums are also featured in the NAMM 2014 Edge magazine (thanks Mark R).
UPDATE - 1/26@11:38AM: Here's a photo gallery of the DW Drums booth at NAMM from MusicRadar.com. And here's a Facebook photo gallery showcasing the Rush stuff at NAMM from Clockwork Angels String Ensemble member Gerry Hilera.
UPDATE - 1/24@1:22PM: The Icon snare drums are featured in this YouTube video from the DW Drums booth at NAMM 2014 (thanks Eric at Power Windows).
----- snip -----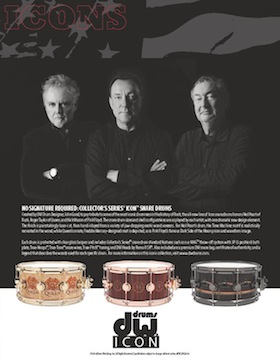 The 2014 NAMM show kicked off earlier this week in Anaheim, California, and DW Drums has premiered an all-new line of Icon snare drums which honor Neil Peart, Roger Taylor of Queen, and Nick Mason of Pink Floyd. From the product brochure:
... The snare drum sizes and shell configurations are as played by each artist, with one dramatic new design element. The finish is painstakingly laser-cut, then hand-inlayed from a variety of jaw-dropping exotic wood veneers. For Neil Peart's drum, the Time Machine motif is realistically recreated in the wood, while Queen's ornate, Freddie Mercury-designed crest is depicted, as is Pink Floyd's famous Dark Side of the Moon prism and waveform image. Each drum is protected with clear gloss lacquer and includes Collector's Series® snare drum standard features such as our MAG throw-off system with 3P (3 position) buttplate, True-Hoops, True-Tone snare wires, True-Pitch tuning, and DW Heads by Remo USA®. Also included are a premium DW snare bag, certificate of authenticity, and a legend that describes the woods used for each specific drum. For more information on this iconic collection, visit: www.dwdrums.com. ...
Thanks to Mark R for the heads up.