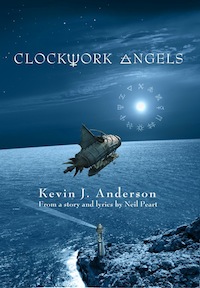 The first full week of 2014 saw very little happening in the Rush news department. Earlier this week we were treated to some more updates and concept art for the upcoming graphic novel version of the Clockwork Angels novel, but there's not much else to report. Phil Simon spoke with Kevin J. Anderson about the graphic novel for a Huffington Post article this past Monday. Anderson discussed how he first pitched the idea for a graphic novel version of the book he co-wrote with Neil Peart:
... "The Clockwork Angels world is so vivid and fantastical it seemed obvious to me from the outset that it would translate well to the comics medium," says Anderson. ... At San Diego Comic Con, Anderson showed several comic publishers the Hugh Syme artwork from the novel. He pitched them the idea of expanding the multi-media platform from music to prose to comics. "All of the companies were interested, but said they would have to consider it, have meetings, run numbers," Anderson says. But when he talked with Ross Richie, founder and CEO of Boom! Studios, he received an entirely different response. In an e-mail, Richie wrote, "HOLY CRAP!!! Rush!!!! WHOA!!!! This is so cool!!!!!" Anderson smiles. "That was more in keeping with the enthusiasm we were looking for." ...
The article also included some concept art samples such as this drawing of an Albion steamliner. Boom! Studios will be releasing the graphic novel in a series of six beginning this coming March. The first issue along with a complete 6-issue subscription are now available for pre-order at the Boom! Studios website (Issue #1 for $3.99, 6-issue Subscription for $29.99). The series will be scripted by Anderson with artwork by Nick Robles. The article also mentions the paperback release of Clockwork Angels: The Novel. ECW Press just released the cover art for the paperback edition which is currently due for release on May 13th and can be pre-ordered here.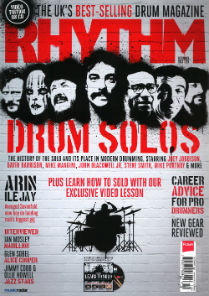 The December, 2013 issue of Rhythm magazine is a special edition focusing on the drum solo. Neil Peart is prominently featured on the cover of the issue along with several other drumming greats. The article itself focuses on the history of the drum solo, and makes several mentions of Neil Peart throughout. In one portion of the article Neil discusses the role of improvisation in the composition of a drum solo:
... Neil Peart, known for his meticulous approach to his drum parts, told Rhythm, "I might work on something in my warm-up routine, and it's in my solo that night. I cover myself in that the second half of the solo is well organised, and presented for the audience as a performance piece. You'll take more chances if you know that it's going to end well. I actually found it daunting in one way but exciting in another. Before that show, that's one thing I know that I don't know - the songs are laid out and most of our-arrangements are pretty tight, but there's that edge of, 'What'll I do tonight? Where will it go, where will it take me?" ... "Freddie [Gruber, renowned drum teacher] had defined me as a composer. He said, 'Look, when you play, you're composing.' And I accepted, yes, I'm a compositional drummer and when I did the Anatomy Of A Drum Solo video I defined myself that way - 'I composed this solo and I play variations within the movements but it is a composed piece.' Then right after that I went, 'Well, I want to improvise. I don't want to be just a compositional drummer.' So I deliberately set out to learn that, within the context of my solo, making the first half of it improvisational over three different ostinatos, and then the second half was composed so I know it is always going to resolve into something from the audience's point of view." ...
John over at Cygnus-X1.net has transcribed the entire article and made it available online here.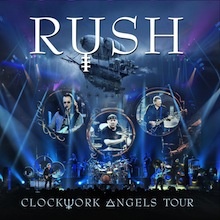 Ultimate Classic Rock is running their 2014 Ultimate Classic Rock Awards and Rush along with their Clockwork Angels Tour concert video are in the running in several categories including Best Live Album, Song of the Year (The Garden), Tour of the Year, and DVD of the Year. Voting is open until February 11th, so go vote for Rush! And speaking of Rush dvds, the Rush documentary Rush: Beyond the Lighted Stage will be made available for streaming on NetFlix on February 26th.
Rush's official merchandise store at the Rush Backstage Club has added a line of Rush drumheads to their inventory. There are currently 4 designs available including Clockwork Angels, A Farewell to Kings, Rush Explosion and Rush Starman. Each drumhead is a customized, high-gloss, 14" snare from Remo and is available for $49.99.
Dallas Observer music writer Drew Ailes posted his list of 36 New Year's Resolutions for an Awful Music Journalist earlier this week and #9 on his list was the following:
9. Figure out if Geddy Lee from Rush is really Les Claypool from Primus' grandmother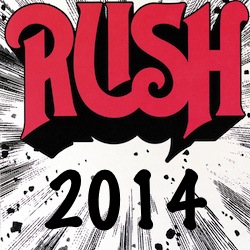 We learned a few weeks ago that Rush will be releasing a re-issue of their debut album to celebrate the 40th anniversary of its 1974 release, although very few details are known at this time. Earlier this week Tom Johnson over at Something Else! Reviews decided to take a look back at this album and speculate a bit about what might be contained in the re-issue:
... While the sources are quiet on additional material to make [the re-issue] truly special, I can speculate on a couple of things: First, following the trend set first by the Sector box sets, and the deluxe editions of Moving Pictures and 2112, I'd be shocked if there isn't a surround-sound and high-resolution DVD/Blu-ray accompanying the album. But even at that, it's a pretty minor anniversary edition.

What Rush fans really want are legitimate, bonafide official releases of the first Rush single, now extremely rare, consisting of a cover of Buddy Holly's "Not Fade Away" and backed with "You Can't Fight It," originally released on Moon records in 1973. Where else could this possibly fit? But there's more that fans really want from this period - "Garden Road" and "Fancy Dancer," two reportedly recorded but never released outtakes from the Rutsey period, along with others like "Bad Boy," "Slaughterhouse" and "Run Willie Run." ...
On that note, here's a bootleg recording of Rush performing Garden Road back in 1974:
Yesterday (or today depending on who you ask) marked the 25th anniversary of the release of Rush's 3rd live album A Show of Hands. The album peaked at #21 on the Billboard album charts and was certified Gold by the RIAA on March 9, 1989. It was recorded in 1988 over several dates on the Hold Your Fire tour as well as in the Meadowlands (East Rutherford, NJ) during the 1986 Power Windows tour. Yesterday was also the 18th anniversary of the release of Alex Lifeson's one and only solo album Victor. Have a great weekend everybody!