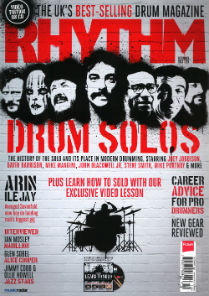 The December, 2013 issue of Rhythm magazine is a special edition focusing on the drum solo. Neil Peart is prominently featured on the cover of the issue along with several other drumming greats. The article itself focuses on the history of the drum solo, and makes several mentions of Neil Peart throughout. In one portion of the article Neil discusses the role of improvisation in the composition of a drum solo:
... Neil Peart, known for his meticulous approach to his drum parts, told Rhythm, "I might work on something in my warm-up routine, and it's in my solo that night. I cover myself in that the second half of the solo is well organised, and presented for the audience as a performance piece. You'll take more chances if you know that it's going to end well. I actually found it daunting in one way but exciting in another. Before that show, that's one thing I know that I don't know - the songs are laid out and most of our-arrangements are pretty tight, but there's that edge of, 'What'll I do tonight? Where will it go, where will it take me?" ... "Freddie [Gruber, renowned drum teacher] had defined me as a composer. He said, 'Look, when you play, you're composing.' And I accepted, yes, I'm a compositional drummer and when I did the Anatomy Of A Drum Solo video I defined myself that way - 'I composed this solo and I play variations within the movements but it is a composed piece.' Then right after that I went, 'Well, I want to improvise. I don't want to be just a compositional drummer.' So I deliberately set out to learn that, within the context of my solo, making the first half of it improvisational over three different ostinatos, and then the second half was composed so I know it is always going to resolve into something from the audience's point of view." ...
John over at Cygnus-X1.net has transcribed the entire article and made it available online here.