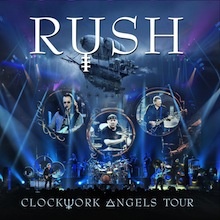 On Tuesday, November 19th Rush: Clockwork Angels Tour will be released simultaneously on CD, DVD and Blu-ray and is currently available for pre-order (DVD, Blu-ray, CD). We learned earlier this week that Rush is also offering a limited edition deluxe package exclusively available at the Rush Backstage Club for $99.99. The deluxe edition is packaged in a LP-sized casebound portfolio book and includes the Rush Clockwork Angels Tour 3 CD set, DVD (2 disc), Blu-Ray (1 disc) and a 36-page tourbook unique to this set. The release is strictly limited and each unit is numbered out of 5000. You can pre-order yours now at the Rush Backstage Club. The film will be getting a theatrical release on November 18th and tickets are already available for purchase at a number of theaters, and via the Fathom Events website. The official press release for the event was only just released yesterday despite the fact that we've known about the release since tickets began appearing on Fandango a couple weeks ago. Rush also posted the official movie poster to their Facebook page. The Wall Street Journal posted a 90-second preview clip of 2112 from the film which you can check out at this location, and there's also the full audio clip of the song available on SoundCloud. A couple of weeks ago Rolling Stone posted video of Rush's performance of The Garden which you can check out at the Rolling Stone website, or on YouTube. Rush will be partnering with independent retail outlets to sell an exclusive 10" picture disc single of this live version of The Garden for a Record Store Day sponsored Black Friday event on November 29th. The concert was filmed/recorded on November 28th of last year in Dallas, TX and the primary footage consists of this entire concert which was one of the band's Night A setlists. As a bonus they also include 3 Night B setlist tracks (Middletown Dreams, The Pass and Manhattan Project) from the November 25th show in Phoenix along with a soundcheck recording of Limelight. The DVD/Blu-ray also includes a 25-minute tour documentary titled Can't Stop Thinking Big, the intro/intermission/outro tour videos and other exclusive bonus content. You can get all the details in the Rush.com press release and watch the official trailer for the film at this location. There's also a slightly different trailer posted over at the Fadoo Productions website.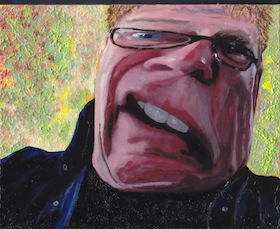 Alex Lifeson is once again participating in The Kidney Foundation of Canada's annual A Brush of Hope charity auction this year. As they have for several years running, Alex Lifeson along with dozens of other Canadian celebrities have donated paintings to be auctioned off to raise money for the charity. Alex participated a number of times in the past but had to skip last year due to the Clockwork Angels tour. Alex's painting for this year is a self portrait that you can check out on the Brush of Hope Facebook page here. The 2013 Brush of Hope Launch Party took place last Wednesday evening at Gallery 78 in Fredericton, NB, with the live eBay auction kicking off the following day. The online auction for Alex's painting is underway and will run through the weekend. You can see all the details and place your bid here where the bid for Alex's painting has now surpassed $5000! For all the latest news and information be sure to follow A Brush of Hope on Facebook.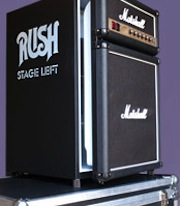 New York City's Q104.3 is running a contest where one lucky Rush fan could win a prize pack which includes a customized Rush Marshall Fridge, the Clockwork Angel Tour concert on CD & DVD, Vapor Trails Remixed, and more. To enter just tell them via this entry form why you are Rush's biggest fan in 140 characters or less, then have folks vote for your chance to win the Rush prize pack. For all the details, rules and entry form, visit the Q104.3 website.
The Foo Fighters will be playing a show in Mexico City next month on December 13th and posted a humorous video promoting the show to their Facebook page yesterday titled Entregando Lo Bueno (Bringing the Goods). The video features all of the Foo Fighters individually at their homes receiving a hand-delivered letter informing them that they are headed to Mexico. The scene where drummer Taylor Hawkins is handed his letter shows Hawkins outside washing his Chevy van. The van has a mural depicting the words Chevy Metal along with a Rush starwoman. You can watch the video at this location with the Rush reference coming in at about the 20-second mark.
Andrew Olson recently sat down with drummer Mike Portnoy before a Winery Dogs show in Seattle for an interview that he posted to his Neil Peart fan site. In addition to chatting about The Winery Dogs, Dream Theater and drumming, Mike and Andy also talked a good bit about Rush and Neil Peart. Here were Mike's comments on Rush's long overdue Rock Hall induction earlier this year:
I think it's amazing. I actually sent Neil and Alex an email a couple days beforehand congratulating them. And what I said to them in that email was, "It's one small step for Rush, and one giant leap for music in general." And that's true. And Neil actually wrote me back a couple days before they went in, and he was being as gracious and as humble as he is. He was saying, "Oh, it's not about us. It's about just the recognition for music-and Progressive music in general." He was looking at it as a win for everybody that is in this genre, and not just them. And that's true. It was a huge step for this type of music to be recognized. And hopefully now, you know, maybe Yes will get in there, or Deep Purple-it's crazy that some of these bands aren't in. It's crazy that it took this long for Rush to get in. But, at the end of the day, to coin Neil's phrase, it was "One Little Victory."
Be sure to check out the entire interview online at this location.
Speaking of Dream Theater members past and present, Dream Theater guitarist John Petrucci mentions Rush and Alex Lifeson in a recent Ultimate Classic Rock interview where he discusses the band's new self-titled album. Dream Theater worked with Rush sound engineer Rich Chycki on the album, and Rich helped Petrucci mimic some of Alex's guitar sounds on the track The Looking Glass. Petrucci had mentioned this track as being a purposeful tip of the hat to Rush in a recent MusicRadar.com interview. Here's what Petrucci had to say in the Ultimate Classic Rock interview (thanks ou812112):
... Rush is one of the common denominators in our band as far as a band that everybody loves and grew up with and was a big influence. You know, Alex has this unbelievable gift for creating these big arena rock guitar riffs that are in a major key and somehow just get the audience pumped from the first note. Things like 'The Spirit of Radio' and 'Limelight' and you name it - it's a challenge to do that, because it's not easy and you want it to be original and unique and have that kind of conviction and power. ... I learned all of [Rush's] stuff, played with all of my friends. Everybody was in a band and everybody played. We knew every Rush song. [Laughs] ... 'Hemispheres' was probably the biggest for me, with 'La Villa Strangiato' and [the other songs on that album] - that to me is the ultimate sound and blending of prog rock with metal and dark sides and great guitar and bass fusions, conceptual lyrics and all of that stuff. It kind of has it all. ...
Reader Jonathan L let me know that over the recent Canadian Thanksgiving weekend Montreal classic rock station CHOM 97.7 played a countdown of the top 500 rock songs of all time as voted by the CHOM 97.7 staff. Several Rush songs made the cut with Tom Sawyer breaking into the top 20 at #19. Here's how all the Rush songs came in:
19. Tom Sawyer
74. Spirit of the Radio
115. Freewill
154. Subdivisions
195. The Trees
240. Fly by night
272. Closer to the heart
300. Red Barchetta
368. Distant Early Warning
405. La Villa Strangiato
429. Lakeside Park
This past Tuesday, October 29th was the 35th anniversary of the release of Rush's 6th studio album and progressive rock masterpiece, Hemispheres, which was released back in 1978. Hemispheres was produced by Terry Brown and recorded in the summer of 1978 at Rockfield Studios in South Wales, UK. It peaked at #47 on the US Billboard charts, was certified Gold on December 14, 1978 and was certified Platinum on December 1, 1993. A remastered version was also released in 1997 and yet another remastered version was released in 2011 as part of the Sectors box set. Just last month Audio Fidelity released an SACD version of the album as well. Tuesday also marked the 28th anniversary of the 1985 release of Power Windows, and the 32nd anniversary of the 1981 release of Exit ... Stage Left.
Here's the preview of Rush's performance of 2112 from the upcoming Clockwork Angels Tour video:
That's all for this week. I hope everyone had a safe and happy Halloween yesterday and enjoyed my annual RIAB Halloween theme. I have to thank the talented Eric at the Power Windows site for providing the Rush Starman pumpkin image. Several other readers provided some of the Halloween-themed Rush pics in the image rotator including Kurt K, hermy and lamb saag. Have a great weekend everybody!