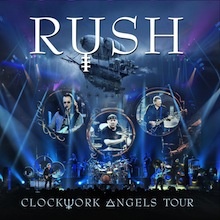 Last Friday evening some listings for a theatrical showing of Rush's Clockwork Angels Tour concert film started popping up on FanDango and other movie listing websites throughout the US. Despite the lack of any kind of official announcement from the band as of yet, it looks like the film will be getting a theatrical release on November 18th - the day before its release on CD/DVD/Blu-ray - and tickets are already available for purchase at a number of theaters. Be sure to check your local theater listings to see if the film is coming to your neck of the woods. Last week Rolling Stone posted video of Rush's performance of The Garden from the film, and you can check it out at the Rolling Stone website, and it's now also available on YouTube. Rush announced a couple of weeks ago that they will be partnering with independent retail outlets to sell an exclusive 10" picture disc single of this live version of The Garden for a Record Store Day sponsored Black Friday event on November 29th. On Tuesday, November 19th Rush: Clockwork Angels Tour will be released simultaneously on CD, DVD and Blu-ray and is currently available for pre-order (DVD, Blu-ray, CD). The concert was filmed/recorded on November 28th of last year in Dallas, TX and the primary footage consists of this entire concert which was one of the band's Night A setlists. As a bonus they also include 3 Night B setlist tracks (Middletown Dreams, The Pass and Manhattan Project) from the November 25th show in Phoenix along with a soundcheck recording of Limelight. The DVD/Blu-ray also includes a 25-minute tour documentary titled Can't Stop Thinking Big, the intro/intermission/outro tour videos and other exclusive bonus content. You can get all the details in the Rush.com press release and watch the official trailer for the film at this location. There's also a slightly different trailer posted over at the Fadoo Productions website.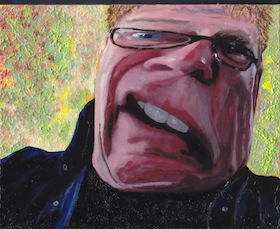 Alex Lifeson is once again participating in The Kidney Foundation of Canada's annual A Brush of Hope charity auction this year. As they have for several years running, Alex Lifeson along with dozens of other Canadian celebrities have donated paintings to be auctioned off to raise money for the charity. Alex participated a number of times in the past but had to skip last year due to the Clockwork Angels tour. Alex's painting for this year is a self portrait that you can check out on the Brush of Hope Facebook page here. The 2013 Brush of Hope Launch Party took place Wednesday evening at Gallery 78 in Fredericton, NB, and the live eBay auction kicked off yesterday and runs through November 3rd. The online auction for Alex's painting is underway, and you can see all the details and place your bid here; bidding has already surpassed $2000! For all the latest news and information be sure to follow A Brush of Hope on Facebook.
Speaking of charity auctions, Neil Peart recently helped the Pines Silent Auction raise $11,000 for the Pines Long Term Care Home in Muskoka, ON through his generous donation as described in this Cottage Country Now article:
... One hundred and eighty-three items were donated for the silent auction this year, including work from local artists, gift certificates and a number of items given by Neil Peart, drummer and lyricist for the rock band Rush. "He donated drumsticks and T-shirts and a hat," said Lodge. "He was very kind." Lodge said those items were very successful, and received a lot of bids, but many of the other items were successful too, especially on the last day of the auction. ...
The guitars of Alex Lifeson and Geddy Lee are featured in a new book from author/photographer Lisa Johnson titled 108 Rock Star Guitars which was released earlier this week. The book includes a forward by Les Paul which he wrote before his death in 2009, and a portion of the proceeds from the sales will go to benefit the Les Paul Foundation. In addition to the regular, hardcover edition there's a deluxe edition available in a die-cut collector's box which includes a padded-leatherette hardcover book signed and numbered by the author, booklet, guitar pick, and exclusively designed, hand-woven silk chiffon scarf. Guitar World recently posted a photo gallery preview of a few of the guitars featured in the book including Alex Lifeson's 1976 Gibson ES-355 Stereo.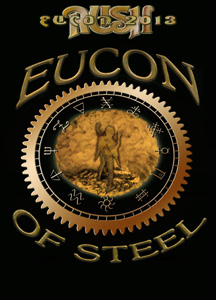 Rush Eucon 2013 Eucon of Steel took place a couple of weeks ago on Saturday, October 12th at the Queens Social Club in Sheffield, England and was another huge success. Over 200 Rush fans attended the event and the raffle/auction raised an amazing £2650.00 to benefit Guide Dogs for the Blind. As a thank you for the fundraising effort, the charity allowed Rush EuCon attendees to name a puppy, and the name chosen was Geddy! The event featured a 2 hour set of classic Rush songs from Rush tribute band Bravado along with games, prizes, the raffle/auction and more. To check out photos from the event, visit the Rush EuCon Facebook group page. Thanks to William Winsborough for the info.
John at Cygnus-X1.net posted the eleventh installment of his Rush: A Brief History of Time series earlier this week where he compiles scans and transcriptions of old Rush articles. You can see this latest batch on John's website at this link. Also be sure to check out his chronological listing of all the collected articles from the series at the bottom of the page. This latest batch contains a total of 98 new articles and advertisements spanning all five decades of Rush's legacy including some of the earliest mentions of the band in Billboard Magazine from way back in 1973. Thanks John!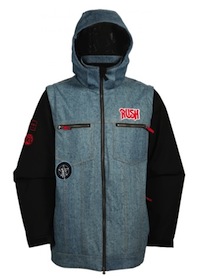 Canadian snowboard outfitter RipZone has teamed up with Rush to create a limited edition, denim snowboard jacket to celebrate the company's 20th anniversary and Rush's recent Rock Hall induction. A limited quantity of the jackets are now available via the RipZone website and other snowboard clothing and equipment retailers.
Rob over at the Rush Vault penned an article last week giving 10 reasons why he thinks Rush and original producer Terry Brown will reunite for another album. It's an interesting thought experiment and also included is a poll asking readers what they think. You can check out the article and take the poll online here.
Reader between2wheels let me know about a new behind-the-scenes documentary on NHL Hockey team the Boston Bruins that recently began airing called Behind The B. The show is narrated by Denis Leary, and in the 3rd installment of the series there is a scene with players Torey Krug and Matt Bartkowski driving together on the streets of Boston listening to Rush. You can clearly hear both Freewill and then Tom Sawyer being played with Bartkowski attempting to sing along. Leary narrates the following over the scene:
Two players with a lot in common are Torey Krug and Matt Bartkowski. Both are rookie defensemen who emerged as key contributors late last season, and are now being asked to take on bigger roles. And apparently, they both have the same taste in music.
You can watch the episode online at this location and the Rush part comes in at the 11:35 mark.
VH1 posted a photo gallery list of the 25 Biggest Hit-Making Trios In Music History earlier this week and Rush came in at #2. You can check out the complete gallery at this location (thanks Sean).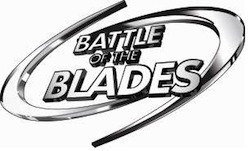 Battle of the Blades is a popular Canadian figure skating reality show from CBC Television that teams up retired NHL players with professional figure skaters for a competition much like Dancing with the Stars. This past Sunday night's episode featured the team of Amanda Evora and Scott Thornton performing their routine to Rush's Closer to the Heart. You can see the pair discussing their choice of song in this YouTube clip and watch the actual performance below or at this location.
October was another big month for Rush releases, 2 of which celebrated a landmark anniversary this past week. Rush's 15th studio album Counterparts celebrated its 20th anniversary last Saturday, and the band's 5th live album and 1st live concert DVD Rush in Rio celebrated its 10th anniversary on Monday. This coming Tuesday, October 29th Power Windows, Exit ... Stage Left and Hemisperes all celebrate anniversaries as well. That's it for this week. Have a wonderful weekend!