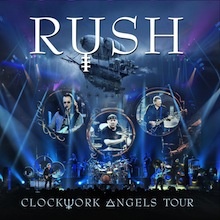 Yesterday Rolling Stone posted video of Rush's performance of The Garden from their upcoming Clockwork Angels Tour CD/DVD/Blu-ray. The video is the full, nearly 8-minute version of the song from the recording, and you can check it out at the bottom of this post or at the Rolling Stone website. Rush announced last week that they will be partnering with independent retail outlets to sell an exclusive 10" picture disc single of this live version of The Garden for Black Friday on November 29th. With the picture disc and the preview release of The Garden video, it seems likely that Rush will release The Garden as a radio single as well at some point in the next few weeks. Geddy Lee was interviewed by VH1 recently to discuss the Clockwork Angels Tour video and had the following to say regarding the importance of live albums in the Rush discography:
Live albums are very important for Rush and they became sort of a closing chapter for us. And the way things used to work was we would do three or four studio albums and then we would do a live album and in that way kind of make it a historical document as to where the band was at in that period of time. We never expected that we would just keep going, you know, the lifespan of a band is unpredictable, and so it appeared for quite a while that every four records would be followed up with a live record and it's a way for us to look back at that last period and see how our sound has changed and take a different approach to recording live every time. But now the record industry has changed so much and DVDs have become such a fantastic souvenir of any one tour. And because it takes so much effort to design and put on one of our tours we feel it's appropriate to record every new tour that we do, that has a new stage show, and a DVD seems to be the perfect outlet for that. It's great for us as a historical document and it's great for our fans as a souvenir of that tour that they came to.
The interview includes video of Geddy answering the above question along with video of one of the other questions asked. You can read the entire interview and watch the videos at this location. On Tuesday, November 19th Rush: Clockwork Angels Tour will be released simultaneously on CD, DVD and Blu-ray and is currently available for pre-order (DVD, Blu-ray, CD). The concert was filmed/recorded on November 28th of last year in Dallas, TX and the primary footage consists of this entire concert which was one of the band's Night A setlists. As a bonus they also include 3 Night B setlist tracks (Middletown Dreams, The Pass and Manhattan Project) from the November 25th show in Phoenix along with a soundcheck recording of Limelight. The DVD/Blu-ray also includes a 25-minute tour documentary titled Can't Stop Thinking Big, the intro/intermission/outro tour videos and other exclusive bonus content. You can get all the details in the Rush.com press release and watch the official trailer for the film at this location. There's also a slightly different trailer posted over at the Fadoo Productions website.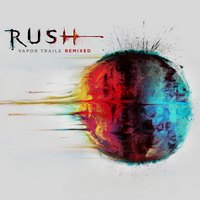 Rush released the long-awaited remix/remaster of Vapor Trails back on September 30th and the album debuted on the US Billboard 200 album charts at #35; it debuted at #54 on the UK charts. This week it has dropped all the way down to #137. For my current poll I'm asking everyone what they think of the remix compared to the original 2002 release. Do you like them both? Hate them both? Never liked the original, but like the remix? Please take the poll and let us know. Rob Mallory over at the SH Rock blog posted this great review of the remix a couple of weeks ago. Roadrunner is giving away a few copies of the remix on CD and vinyl; you can get all the details and enter to win at the Roadrunner website. Reader robertrobyn let me know that some indie record stores are giving away special, dimpled lithographs of the album cover as shown in this photo. You can order the Vapor Trails remix on CD or on 180g vinyl, and order the Atlantic-era The Studio Albums 1989-2007 box set (which also contains the remix) here.
Neil Peart made a guest appearance on the first episode of the six-part, Canadian documentary series Walk the Walk which recently premiered on Canadian cable TV outlets Global TV and Slice. The series celebrates the work done by community heroes, surprising them with a visit from a celebrity they admire who has already been inducted into Canada's Walk of Fame; Rush was inducted back in 1999. The episode with Peart focuses on London, Ontario based musician Karl Sloman, who shows compassion, along with perseverance and ingenuity, with the band he formed in 2005 called Trainwreck - an eight-member band divided equally between players with and without disabilities. Earlier this week Sloman posted the full story of his Brush with Rush to his website here. He talks about his work with Trainwreck and how it came about, and relays the complete, inside story of how he and his band came to be featured on Walk the Walk. The post also contains a bunch of great behind-the-scenes photos. Be sure to check out the entire thing at this location, and there's also this minute-and-a-half preview video of the Neil Peart episode which you can check out at this link.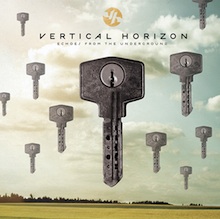 Speaking of Neil, Vertical Horizon's new album Echoes from the Underground officially released last week and the album is now available for order from Amazon and other retailers. Neil Peart plays drums on the tracks Instamatic and South For The Winter. Earlier last week Billboard posted a video of Neil Peart in the studio tracking Instamatic which you can check out at this location. There's also some older video of Neil in the studio with the band from back in early 2012. Neil had also made a guest appearance on Vertical Horizon's 2009 album Burning the Days, playing drums on three of the tracks along with penning the lyrics for one. Vertical Horizon frontman and Neil Peart's good friend Matt Scannell was recently interviewed for the Worcester Telegram & Gazette and spoke a little about Neil's involvement:
...'Instamatic' is one of my absolute favorite drum tracks of all time and it's on my new record... I hear elements of all the different stages of (Peart's) career from 'Clockwork Angels,' all the way back to 'Hemisphere' and beyond," Scannell said. "It's an incredible moment for Neil as a performer. It is shocking. He is on fire on this song ..."

Peart also contributes to the somber and introspective "South for the Winter," despite some initial reservations. "Are you sure you want me to play on 'South for the Winter'? It's so not what I normally do. I don't know what I'll bring to that song." Scannell recalled Peart saying. "And I said, 'Well, that's exactly why I want you to play on it, because I don't know where it will go but we'll go somewhere beautiful.' " ... "There's a Plato quote that actually Neil Peart told me about, 'Be kind, for everyone you meet is fighting a hard battle,' and it sort of shook me because it's so true," Scannell explained. "We do need more compassion and more kindness towards each other. So that song really was written with that in mind." ...
You can order your copy of Echoes From the Underground here. It's also available on Spotify here.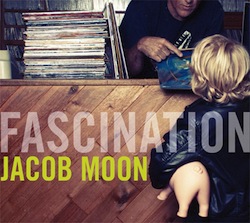 Canadian folk musician Jacob Moon will soon be releasing a new CD titled Fascination which will include covers of Rush's Limelight and Subdivisions. The album is slated for release sometime next month and can now be pre-ordered via making a pledge at Kapipal or RocketHub. The album will also include covers of songs from Yes, Marillion, Radiohead and Peter Gabriel, along with two new original songs. Jacob recorded Limelight with the Alex Lifeson-produced David Barrett Trio and has posted a full preview clip of the song to Soundcloud which you can listen to at this link. You can check out some in-studio footage where Jacob and David talk about The Trio's work with Alex Lifeson, the Limelight recording and more at this link. Jacob Moon garnered the attention of Rush and their fans when he posted a YouTube video of himself performing an impressive rooftop solo rendition of Rush's Subdivisions a few years ago. The video quickly went viral, and Rush later asked Jacob to perform the song at their Canadian Songwriters Hall of Fame induction ceremony back in March of 2010.
The Rush Backstage Club is running a contest where you could win 1 of 3 Clockwork Angels 2013 tourbooks signed by Rush. The contest closes this coming Thursday, October 24th and only one entry per person is allowed. For all the details and to enter go to this location. The store also has a number of Clockwork Angels shirts on closeout sale for just $9.99.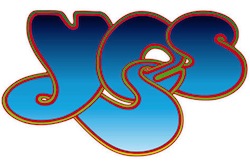 The nominees for induction into the Rock and Roll Hall of Fame for 2014 were announced earlier this week, and since Rush was finally inducted into the Hall last year, for the first time in 15 years Rush fans have nothing to complain about. Rush's induction may have helped open the doors for other progressive rock acts as prog-rock pioneers Yes are among this year's crop of nominees. Other rock acts on this year's list of prospective inductees include Deep Purple, KISS, Peter Gabriel and Nirvana. All 5 of these artists have some interesting connections to Rush. Peter Gabriel-era Genesis along with Deep Purple and Yes have all been cited by Rush as being huge influences on the band. As early touring mates, Rush and KISS developed a deep friendship and respect for each other, despite playing very different styles of music. Both Deep Purple and KISS have been on the ballot in the past but never chosen for induction; Peter Gabriel was inducted as a member of Genesis a few years ago. Nirvana only became eligible this year and will almost certainly be selected for induction. Nirvana drummer Dave Grohl along with his Foo Fighters bandmate Taylor Hawkins inducted Rush in last year's ceremony, and Rush are all huge fans of Grohl's work with both the Foo Fighters and Nirvana. As 2013 inductees, the members of Rush are now eligible to vote for the 5 nominees that they think are most deserving of induction in 2014, and it's very likely that Yes and the aforementioned bands will be included on all three of their ballots. For the 2nd year in a row, the Rock Hall has posted an online poll where fans can choose their top 5 nominees (Rush won last year's poll with over one quarter of the vote). The top 5 winners of this poll will get counted as one fan ballot vote in the final tally. So help support Yes and the other nominated rock acts and go vote! The inductees should be announced sometime in December.
Rush sound engineer Rich Chycki was recently interviewed for MusicRadar.com and spoke a little about his work with Rush:
"I got a call from Rush's management in 2004 when they were doing a charity event in Canada. I was asked to do the recording and mixing for the TV broadcast. We had a lot of chemistry. They're all really funny guys. We spent the time just laughing our faces off.

"A few months later, Al Lifeson asked me to mix their new R30 DVD. In the nine years since then, we've had 26 platinum and gold sales awards for all of the DVDs and albums we've done. Their main mantra at this point is to continue putting out music for their fans - they have done everything.

"The first time I really got to know Neil [Peart] was on Snakes And Arrows. He was warming up on his kit and I was setting up microphones. When the kit is so large I measure the distance of microphones to drums with a tape measure so that we have the best phase coherence that we can have, because we have so many open mics around the kit. Neil was doing these press rolls on his snare, and I was literally putting the tape measure down on his snare as he was playing. He was looking at me like, 'What are you doing?!'

"With those guys, if they hear something they like, they say, 'That's great - let's go.' They can be hands on, but a lot of the time it is hands off because they will hear what they want and say, 'Let's just record.'"
BlogTO posted their list of the 25 most famous Toronto bands last week and Rush of course made the list (thanks Bruce L).
Rush might be a little outdated since their formation in 1968, but everyone listens to vinyl now anyway, right? Each member of Rush is respected as a master of their instrument. Ever watched a Neil Peart drum solo? You might want to Youtube that. Rush has been awarded twenty-four gold, fourteen platinum, and three multi-platinum albums, totaling over 40 million in sales. They've won several Juno Awards, and were inducted into the Canadian Music Hall of Fame in 1994 and the Rock and Roll Hall of Fame in 2013. Sure, they might be your dad's favourite band, but their name keeps buzzing for good reason.
Canadian actress/model Malin Akerman was a guest on the Late Late Show with Craig Ferguson this past Monday and at one point after indicating that she likes Hard Rock music Craig asks her if she ever listened to Rush. She responds, "I did. Yes, but they're not one of my favorites". The interview is posted online at YouTube and the Rush mention occurs at about the 5-minute mark (thanks ou812112).
Reader RushFanForever uncovered an Aux.tv article from this past July which lists the 10 best Canadian metal albums of all time and Rush's 2112 made the cut:
Canada's proto-metal prodigal sons, Rush, and their 20-minute epic remains one of the genre's finest hours, breaking genre barriers before the confines even existed. From its grandiose opening overture to Geddy Lee's delightfully shrill vocals in the opening of "The Temples of Syrinx," Rush's confusing nod to the idiocy of Ayn Rand remains nonetheless a heavy metal classic. It is their biggest, boldest and best release. It is the path by which all progressive metal bands begin and an indictment on compromise for commercialism's sake. It is, regardless of what you might argue, one of Canada's best metal albums.
Speaking of Canadian heavy metal, comedian Brian Posehn recently performed in Victoria and was interviewed by the Times-Colonist. He talked about getting inspiration from heavy metal music, particularly Rush:
Los Angeles-based comic Brian Posehn, making his Victoria debut, is happy to be performing in Canada. That's partly because Rush, the rock band, hails from this country. And Posehn is a mega-fan. ..." Rush is a couple of rungs higher than all the other bands. They're my all-time favourite band." ... He wrote for the school newspaper and was the school DJ. Classmates realized he was the "funny guy who was really into music." At a time when kids were into Madonna and Michael Jackson, Posehn blasted Anthrax and Metallica through the hallways. And Rush. "At school I played side one of [the Rush album] 2112 one day. We wanted to go to 7-Eleven, me and a friend, so I just left the record on and took off." As much as he loved Rush's virtuoso power-trio rock, Posehn also liked the band's attitude - especially their sense of humour. His favourite member is vocalist/bassist Geddy Lee. "Geddy's always the guy I wish was my uncle. I remember being in high school and reading [articles by] Frank Zappa. And wishing Frank and Geddy Lee were my uncles," Posehn said. "They seemed like the coolest dudes in music."



Just about 4 years ago UK-based digital artist Graham Whieldon launched his website of Rush-inspired fine art digital paintings at macrographs.com. When he first launched the site he had only one completed painting for sale; a print inspired by Rush's epic song The Fountain of Lamneth from their Caress of Steel album. Now also available are a Red Barchetta-inspired print, a By-tor and the Snow Dog-inspired print called Snow Dog and a 2112-inspired print titled 2112 VIII. Over the past year Whieldon has been working on an ambitious Clockwork Angels-inspired piece and posted an update along with some preview images to his website last week which you can check out here. You can see samples of all of his work and purchase the prints by visiting the Macrographs website. You can also follow Macrographs on Facebook.
Here's Rush's performance of The Garden from their upcoming Clockwork Angels Tour CD/DVD/Blu-ray:
Tomorrow will mark the 20th anniversary of the release of Rush's 15th studio album, Counterparts. And this coming Monday, October 21st will be the 10th anniversary of the release of Rush's first live concert DVD, Rush in Rio. That's all for this week. Have a great weekend!