UPDATE - 6/30@10:03PM: Here's a photo gallery from the Chicago Tribune (thanks Patrick).
UPDATE - 6/29@1:37PM: Official photos from last night have been posted at Rush.com including several of the Stanley Cup appearance. John over at Cygnus-X1.net also posted this great gallery of photos. There's also this review from The Chicago Tribune (thanks MadRushian).
UPDATE - 6/29@10:15AM: Here's some even better footage (thanks yiddishrush worshipper).
----- snip -----
UPDATE - 6/29@9:51AM:

The setlist was Night B - version 5 and - as many folks had speculated - the Stanley Cup made an appearance along with a few Chicago Blackhawks players. Right before YYZ Geddy announced a special guest - Lord Stanley, and the gnomes brought out a road crate and produced a tiny Stanley Cup (like in the This is Spinal Tap movie) - then some some players led by Daniel Carcillo came out with the real cup (thanks hazlnut). The whole thing lasted about 2 minutes and you can see some grainy YouTube footage of it here (thanks The Mighty Dudad). There's also this meet and greet photo of Carcillo with Geddy, Alex and the Cup that Rush posted to Twitter.
----- snip -----
UPDATE - 6/28@9:38PM: The setlist looks like it might be Night B - version 5 (thanks Kelly D).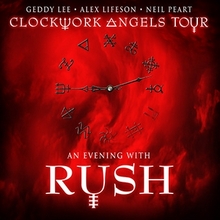 Rush will roll the Clockwork Angels tour into Chi-town tonight to play the First Midwest Bank Amphitheatre in Tinley Park for show #23 of the 2013 tour. The band played their Night A set for the Saratoga Springs crowd Tuesday night, so fans should be seeing one of the Night B sets tonight. I'll post any setlist information as soon as I learn about it. For everyone going to tonight's show, have fun, stay safe, and be sure to share your photos, videos and reports with us. RuussshhhH!!!
Date/Time: Friday, June 28th @ 7:30PM
Show Number: 23
Venue: First Midwest Bank Amphitheatre
Place: Tinley Park, IL (outside Chicago)
gallery: [view] [upload] [YouTube videos]
reviews: [reviews] [setlist]