UPDATE - 6/29@6:35PM: Here's a review from The Saratogian.
UPDATE - 6/26@11:12AM: Here's a nice gallery of photos posted over at Cygnus-X1.net.
UPDATE - 6/26@9:12AM: Official photos are now posted over at Rush.com.
UPDATE - 6/25@11:28PM: Tonight's setlist was Night A - version 3.
UPDATE - 6/25@9:37PM: Through the first set it looks like Night A - version 3 (thanks Kelly D).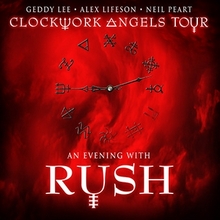 Rush continues their trek across the eastern US tonight when they bring the Clockwork Angels tour to the SPAC in Saratoga Springs, NY. The band played their Night B set for the crowd in Jones Beach Sunday night, so fans should be seeing one of the Night A sets this evening. I'll post any setlist information as soon as I learn about it. For everyone going to tonight's show, have fun, stay safe, and be sure to share your photos, videos and reports with us. Rush on!!!
Date/Time: Tuesday, June 25th @ 7:30PM
Show Number: 22
Venue: SPAC
Place: Saratoga Springs, NY
gallery: [view] [upload] [YouTube videos]
reviews: [reviews] [setlist]