UPDATE - 5/8@1:41PM: Live Nation ran a promo commercial for this show that seems to include footage from last year's show in Dallas, which was filmed for the upcoming DVD (thanks Sean). So it's a mini-preview of the DVD of sorts. You can check it out on YouTube here.
UPDATE - 5/8@10:50AM:

Here's an epic meet-n-greet photo from last night with longtime RIAB-ers LanceTheShred and mrdriven. mrdriven even brought along some chicken for Geddy!
UPDATE - 5/8@10:15AM: Here's a photo gallery from last night's show that was posted over at Cygnus-X1.net.
UPDATE - 5/8@10:13AM: The Baltimore Sports Report posted a photo of Geddy wearing his Baltimore Orioles shirt last night, and speculated as to whether Geddy has given up on the Blue Jays - who are a disappointing 13-21.
UPDATE - 5/8@7:26AM: Official photos from the show have been posted at Rush.com.
UPDATE - 5/7@10:51PM: The show is over and the band went back to the Night A setlist (Night A - version 3) tonight instead of Night C. Although the 2 sets are only one song removed, so there's not much difference. They may just be throwing in the Night C set occasionally and otherwise switching between A and B. They are certainly keeping me on my toes! Thanks to Kelly D for the updates.
UPDATE - 5/7@9:31PM: Through the first set the band seems to have deviated slightly from the Night C set and are instead playing some version of Night A ... I think. We'll see when the show's over. Geddy is also wearing an Orioles shirt. Thanks to Kelly D for the updates.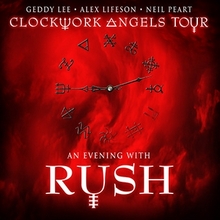 Rush heads back indoors tonight when they take the Clockwork Angels tour machine to the 1st Mariner Arena in Baltimore for stop #7 of the 2013 tour. As I'd explained in my last Friday updates post it looks like the band has added in a Night C setlist now - where they are rotating 3 sets rather than just 2 (still no new songs for 2013 yet though). Sunday in Virginia Beach they played their Night B set, so the Baltimore crowd will likely see the Night C set tonight - the same that was played in Nashville last week. I'll be sure to update this post with any unforeseen setlist changes as soon as I learn about them. For everybody going to the show tonight, have fun, stay safe, and be sure to share your photos, videos and reports with us. RUSH!!!
Date/Time: Tuesday, May 7th @ 7:30PM
Show Number: 7
Venue: 1st Mariner Arena
Place: Baltimore, MD
gallery: [view] [upload] [YouTube videos]
reviews: [reviews] [setlist]