UPDATE - 5/2@9:21AM: Here's a gallery of photos posted over at Cygnus-X1.net.
UPDATE - 5/2@7:06AM: Last night's setlist was Night A - version 4 - the same as in Austin on opening night. Official photos from the show have been posted at Rush.com, and a few readers have uploaded some great shots to the tour gallery.
UPDATE - 5/1@10:20PM: It looks like they might be playing Night A - version 4 - the same set they played in Austin.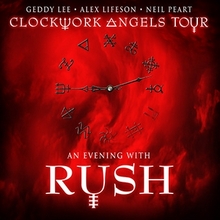 Rush takes the Clockwork Angels tour machine north to the Music City of Nashville this evening where they'll play the Bridgestone Arena for stop #4. Since they played the Night B set for their last show in Orlando, I'd expect them to pull out a version of their Night A set tonight - but I wouldn't bank on it. I'll be sure to post which setlist they decide to play as soon as I can confirm it. Here's a short preview article from the Nashville Scene:
... tonight's performance is all about the now, with the trio touring in support of its acclaimed 2012 concept album Clockwork Angels. They recorded at Nashville's Blackbird Studios with A-list rock producer Nick Raskulinecz (Foo Fighters, Deftones). Live, the band augments the Clockwork cuts with the addition of an accompanying string ensemble. But fear not, the strings won't come in during Neil Peart's drum solo.
For everyone going to the show, have fun, stay safe and make sure to share your photos, videos and reports with us. A special shout-out to the Rush Fans of Tennessee who will be gearing up for the concert with a pre-show party at McFadden's restaurant. Rush on!!
Date/Time: Wednesday, May 1st @ 7:30PM
Show Number: 4
Venue: Bridgestone Arena
Place: Nashville, TN
gallery: [view] [upload] [YouTube videos]
reviews: [reviews] [setlist]