UPDATE - 5/7@10:30AM: There are several great reader-submitted pics in the photo gallery.
UPDATE - 5/6@9:25PM: Here's a great gallery of front row pics courtesy wolfeman (note: need Google+ account to view).
UPDATE - 5/6@4:36PM: Here's a gallery of photos that was posted over at Cygnus-X1.net.
UPDATE - 5/6@3:10PM: Here's a review from the Daily Press.
UPDATE - 5/6@1:14PM: Official photos from last night's show are now posted at Rush.com.
UPDATE - 5/5@11:33PM: Show's over. Looks like it was Night B - version 3 as expected.
UPDATE - 5/5@9:17PM: Through the 1st set they are playing Night B as anticipated (thanks Kelly D).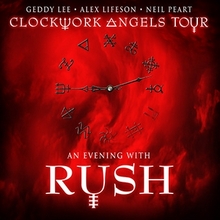 Rush will celebrate Cinco de Mayo by performing their first outdoor show of 2013 tonight when they roll into the Farm Bureau Live in Virginia Beach. The weather forecast is calling for a rain-free evening, but it will be a little chilly in the mid to upper 50s. As I'd explained in my last Friday updates post it looks like the band has added in a Night C setlist now - where they are rotating 3 sets rather than just 2 (still no new songs for 2013 yet though). So tonight they will likely play their Night B set - the same that they played in Orlando last weekend. I'll be sure to update this post with any unforeseen setlist changes as soon as I learn about them. For everybody going to the show, have fun, be safe, stay warm and make sure to share your photos, videos and reports with us. Rush on!!
Date/Time: Sunday, May 5th @ 7:30PM
Show Number: 6
Venue: Farm Bureau Live
Place: Virginia Beach, VA
gallery: [view] [upload] [YouTube videos]
reviews: [reviews] [setlist]