UPDATE - 10/30@9:35PM: Here's a review and some photos from Random Thoughts Escaping.

UPDATE - 10/30@1:19PM: Cleveland artist Derek Hess has created a very cool Clockwork Angels tour poster commemorating the show and made it available for sale online at this location (thanks to my bro Matt for the heads up).
UPDATE - 10/30@9:44AM: Here's a review from UltimateClassicRock.com.
UPDATE - 10/29@1:25PM: Here's a review from the Cleveland Plain Dealer.
UPDATE - 10/29@10:25AM: Here's a photo gallery that was posted over at Cygnus-X1.net.
UPDATE - 10/29@8:34AM: Official photos have been posted at RushShowPhotos.com.
UPDATE - 10/29@12:18AM: Rush played their standard B setlist tonight - the version 3 one that they had been playing since the St. Louis show rather than the slightly altered one they played in Boston last week. Here's the complete setlist from the show.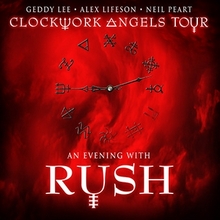 Tonight Rush brings the Clockwork Angels tour to the venue where they filmed their Time Machine live concert video back in April of 2011 - Quicken Loans Arena in beautiful Cleveland, OH. On the afternoon of that show a gathering was staged just a few blocks away from the venue in front of the Rock and Roll Hall of Fame to protest Rush's continued exclusion from The Hall. No such protest is necessary today as earlier this month Rush was finally selected as a nominee for induction in 2013. The band is due to play some version of their Night B setlist, but it's unclear which one. After consistently switching back and forth between the same A and B sets since their Columbus show last month, they decided to mix things up for the last 2 shows. In Boston they made a small change to the B setlist, swapping out one of the Clockwork Angels tracks with another that has been a regular part of the A setlist. And in Buffalo Friday night they added a track to the A set that had not yet been played at all on the 2012 tour. So there's no telling whether we'll hear that same B setlist or some other version tonight. There is one particular song that would be a fitting add for a Cleveland crowd; we shall see. As always, if there are any deviations from this setlist I'll post them here as soon as I am able. For everyone going to the show - have fun, stay safe (and dry - it's a rainy day in Cleveland) and be sure to share your reports, reviews, and photos with us. Cleveland rocks with Rush tonight!!!
Date/Time: Sunday, October 28th @ 7:30PM
Show Number: 22
Venue: Quicken Loans Arena
Place: Cleveland, OH
gallery: [view] [upload] [YouTube videos]
reviews: [reviews] [setlist]