UPDATE - 9/24@3:44PM: Here's a review and photo gallery from examiner.com.
UPDATE - 9/24@12:16PM: Here's a great gallery of photos posted over at Cygnus-X1.net.
UPDATE - 9/23@2:38PM: Here's a review from the St. Louis Post-Dispatch.
UPDATE - 9/23@8:54AM: Official photos from the show are posted at RushShowPhotos.com.
UPDATE - 9/23@8:47AM: Reports from last night's show indicate that the Night B setlist was played with one exception. They changed out the last song of the second set, playing the same second set closer from the Night A setlist. You can view the complete setlist here (*SPOILERS*).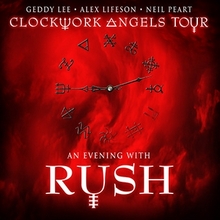 Rush takes the Clockwork Angels tour to St. Louis tonight to play the Scottrade Center. The band is due to play their Night B setlist - the same that was played in Detroit (*SPOILERS*) last week. If there are any deviations from this setlist I'll be sure to post them here. Reader Larry M let me know that there's some major highway construction going on around St. Louis that may cause some trouble for concertgoers coming to St. Louis from Illinois. For all the details check out this article. For everyone going to the show - have fun, stay safe and be sure to share your reports, reviews, and photos with us. Rush on!!
Date/Time: Saturday, September 22nd @ 7:30PM
Show Number: 8
Venue: Scottrade Center
Place: St. Louis, MO
gallery: [view] [upload] [YouTube videos]
reviews: [reviews] [setlist]