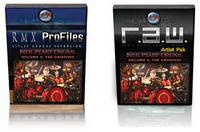 Back in January Sonic Reality made available a pre-release version of Neil Peart Drums Vol. 2: The Grooves - the follow-up to their highly successful Neil Peart Drums Volume 1. Neil Peart Drums Vol. 2: The Grooves has now been officially released and Sonic Reality is offering an additional FREE set of 72 loops taken from the Rush song YYZ with any purchase. From the press release:
... Neil Peart and Grammy-winning producer Nick Raskulinecz have teamed up with music software developer Sonic Reality to create the new "Neil Peart Drums Vol. 2 The Grooves" sound collection. Over 600 grooves performed by Peart are now available in a variety of loop formats such as Rex, Apple Loops, Acidized Wave, R.A.W., Stylus RMX and more to come. Musicians can use these drum grooves to write their own music, practice, jam or play Rush covers inside their computer recording software or iPads and mobile devices.

"When we did the Neil Peart Drums Vol. 1 Series we wanted to present a digital recreation of Neil's amazing DW kit so it could be played from any midi controller such as a keyboard or an electronic drum kit" says Sonic Reality CEO Dave Kerzner "But for Vol. 2 we now also have the isolated drum tracks of Rush songs performed by Neil and cut up into 1-2 bar patterns that can be re-arranged and used in new music made by any musician or songwriter."...
For more information and to purchase a copy, go to esoundz.com/neilpeartdrums/. You can also hear the kit in action on the Sonic Elements EP XYZ: A Tribute to Rush, which was released last month.