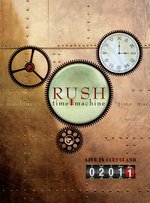 It was another quiet week in Rush-land. The big news of the week was another delay in the release of Rush's upcoming Time Machine 2011: Live in Cleveland concert DVD/Blu-ray. The release has been pushed back 2 weeks from October 25th to Tuesday, November 8th. Don't be surprised if it gets pushed back at least one more time, but it should definitely be out in time for Christmas. The region-free DVD/Blu-ray will have a running time of 164 minutes and the cover art is the familiar Time Machine Tour design with the text Live in Cleveland printed over the countdown timer which is set to 2011. Bonus features will include outtakes from the intro, intermission and outro videos from the Time Machine Tour along with the full clip of the Canadian Bandstand gig that Rush played at Laura Secord High School in St. Catharines, ON in 1974 with original drummer John Rutsey on drums, portions of which were included in the Rush documentary Rush: Beyond the Lighted Stage. It's not clear whether this would just be the same 2 clips of Working Man and Best I Can that were also included as extras in the documentary, or if it will include the entire show (or more unreleased footage at least). The bonus features will also include some of Rush's 1976 black and white bootleg video of their performance in Passaic, NJ. Again, it's not clear what full clip means in this context. The video was directed by Rush documentary filmmakers Sam Dunn and Scot McFadyen, and engineered by Rich Chycki. You can pre-order your copy at Amazon (DVD, Blu-ray).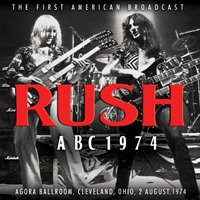 Speaking of Rush live shows in Cleveland, according to a catalog entry at UK online music store Plastichead.com, Left Field Media will be releasing a CD of Rush's live WMMS radio broadcast of their August 26th, 1974 show at the Cleveland Agora titled Rush ABC 1974. This broadcast has been available as a bootleg for many years, but this may be the first legal release (legal according to UK laws at least). The CD is set to release on October 24th in the UK and as of right now it doesn't look like it will be made available in the US or Canada. I should also note that this was Rush's first recorded performance in the US as well as their first recorded performance with Neil Peart on drums who had only just joined the band a month prior to the show. A young Donna Halper - who was the music director at WMMS at the time - introduced the band before the show and the band dedicated Working Man to her. The broadcast also includes recordings of the two unreleased Rush tracks Fancy Dancer and Garden Road.
If any of you regularly access rushisaband.com via a mobile device you may have noticed some changes in the past week. I've recently launched a stripped-down mobile version of the website that mobile users will be automatically redirected to. Mobile users who still want access to the full site can still do so however. For now the mobile site only has blog entries, but I have plans to add some tour-related content hopefully in time for Rush's 2012 tour. Please check it out on your mobile device and let me know what you think. In other site-related news, rushisaband.com now has close to 4500 Twitter followers along with nearly 3000 Facebook followers!

The September edition of warehouse club Costco's Costco Connection magazine contains a short interview with Geddy Lee. You can read it online at this link. They are also running a contest where you can win a Fender Geddy Lee jazz bass or a signed 2011 Moving Pictures limited edition lithograph. For a chance to win just email your name, address and daytime phone number with a subject line of either Fender Geddy Lee Bass or Moving Pictures Litho respectively to giveaway@costco.com. For contest details just refer to the right sidebar on this page.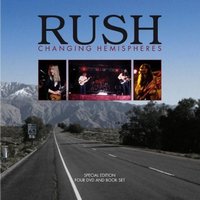 UK multimedia publisher Abstract Sounds Books is set to release a 116-page hardcover book and 4-DVD set titled Rush: Changing Hemispheres on Monday, September 26th in the UK according to Play.com. This release is not an official Rush release and has not been approved by the band. It's not clear whether the set will be released at all in the US/Canada and very few details regarding the content are known at this time. It's quite possible that this is just a repackaging of previously released material; perhaps a re-purposing of the lackluster 2006 set Inside Rush: Music in Review 1974-1981. So if you are looking to purchase this, proceed with caution.
The official 2012 Rush wall calendar put out by NMR Distribution which celebrates the 30th anniversary of the release of 1982's Signals began shipping from Amazon earlier this week. You can order your copy at this link. John over at Cygnus-X1.net has scanned all of the images from the calendar and made them available online at this link.
Earlier this summer Orange Amplifiers put together a fund-raising charity auction called Music Aid for Joplin to benefit victims of the May 22nd US tornado disaster in Joplin, Missouri. The online auction kicked off on June 18th and ended this past week. Among the items up for bid were a 14-inch Sabian Paragon Crash cymbal signed by Neil Peart and personalized with the winner's name that sold for £550, and an Orange CR50BXT bass amp signed by Geddy Lee that went for £700.
Eric at the Power Windows site launched a Rush transcript archive this past weekend. The archive is a comprehensive collection of hundreds of transcripts of Rush related magazine and newspaper articles, radio programs, concert reviews, tour books and more, dating back as far as 1974 and listed in chronological order. You can read some background on the archive, what it contains and how it came about at this link. If you have any old magazines or clippings with Rush news stories/interviews in them that aren't already listed in the archive, please send them on over to Eric at this email address. Many thanks to Eric for putting together this great resource for Rush fans.
Noisecreep recently posted in no particular order their list of the Top 10 All-time Canadian Hard Rock Bands and - not surprisingly - Rush made the cut. Here's what they had to say:
Rush formed in 1968 in the quiet suburb of Willowdale in Toronto. More than 40 years later, singer-bassist-keyboardist Geddy Lee, guitarist Alex Lifeson and drummer Neil Peart have sold more than 40 million albums worldwide. Yeah, yeah, you're gonna argue that Rush is prog-rock, right? True, they are progressive and unlike any other band out there with its intricacies and musicianship. But at its core, the trio rocks - hard.

Essential Song: 'Tom Sawyer'
Next week they'll be posting their list of the top 10 Canadian power trios whose name begins with R - I predict that Rush will make this list too. :)
Joe Pernice of indie rock band the Pernice Brothers was recently interviewed for the Vienna Patch and had some not-so-nice things to say about Geddy Lee. Joe now lives in Toronto and when asked about how he likes living there he had this to say:
... "I go to see The Blue Jays play, whenever my beloved Red Sox are in town," the die-hard Bostonian said. "It's mostly great, even if there's one glitch. I really can't stand the band, Rush. And almost every time I'm at a game, so is (Rush singer) Geddy Lee. And they have to put his big, ridiculous face up on the Jumbotron. Man, that can really wreck your day." ...
Reader Asif K noticed a Rush Time Machine Tour t-shirt sighting in this Daily Mail article covering President Barack Obama's recent vacation at Martha's Vineyard. One of the island residents waiting to get a glimpse of the President's motorcade is pictured wearing a Rush t-shirt.
Steve Austin of Nashville-based metal band Today is the Day was recently interviewed for Exclaim magazine and had the following to say when asked what comes to mind when thinking of Canada:
... I think of Montreal and the fact that it's a pretty damn cool city, it's a pretty European city. I of course think of Geddy Lee and Rush, because I love the band Rush a whole lot. Then I also think of other suck bands, like Triumph, that tried to be like Rush. And then I of course think of Bob and Doug, the beer drinking fools that had the movie a long time ago. ...
Wired.com's Michael Calore mentions Rush and Geddy Lee in a recent review of the Moog Tauras 3:
I saw an original Moog Taurus synthesizer in a magazine when I was a kid. I didn't know what it was. Given the bulk and odd shape - a black box sitting on the floor with horizontal slats sticking out - I assumed it was some sort of fancy shoe shine machine Geddy Lee used to polish his Mithril-tipped boots. ... The original Taurus was produced for just five years, from 1976 to 1981. Not long, but long enough to become a hit, especially among the progressive rock and space rock alchemists - Rush, Genesis, Yes, ELO, King Crimson - who were already experimenting with early analog synthesizers (and various substances). ...
Since earlier this year reader Mitch K has been hosting a radio show on 92.1 WPTS in Pittsburgh called the Mind of Mitch. The show focuses on progressive rock and Rush is prominently featured - typically more towards their B-side material. The show has been moved to a new and better time slot. It now runs every Monday afternoon from 2-4PM. You can listen live online at this link.
Reader Out of the Shockwave dug up an old 2005 Metal Sludge interview with legendary Black Sabbath bassist Geezer Butler. At one point Geezer is asked to rate 10 different bassists on a scale from 1-10, and he gave Geddy the highest rating saying Geddy Lee's gotta be at least a 9.

Back in January we learned that Lerxst would appear in Toronto filmmaker Rob Heydon's new indie film Irvine Welsh's Ecstasy. The film is an adaptation of Scottish author Irvine Welsh's book Ecstasy: Three Tales of Chemical Romance. Alex will be playing the role of Dr. Michael Figg; a character made specifically for the film who works in a mental hospital where Billy Boyd's character Woodsy is committed for a breakdown after consuming too much Ecstasy. The filmmakers had planned to debut the movie at the Toronto International Film Festival next month, but the film has not yet been officially added to the schedule. The cast & crew screening of the film will take place at the Toronto Underground Cinema in Toronto, ON on Saturday, September 10th at 4PM. Tickets can be purchased at this link. There's no word on whether Alex will be in attendance, but it's certainly possible. You can watch a short clip of Alex Lifeson as Dr. Figg at the film's YouTube channel here. The clip runs about 1 minute and features respected psychiatrist Dr. Michael Figg discussing his radical new treatment.
Speaking of Alex Lifeson, tomorrow happens to be his 58th birthday and in honor of this occasion I'll close out this week's post with a video taken from the Alan King documentary Come on Children of a young Alex Lifeson arguing with his parents over his future as a musician back in 1972. Happy birthday Lerxst!!
That's all for this week. Have a great weekend!