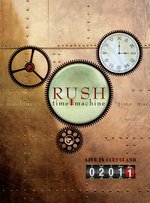 More details regarding Rush's upcoming Time Machine 2011: Live in Cleveland concert video were revealed this past week via the DVD's Amazon UK listing. The region-free DVD/Blu-ray will release on Tuesday, October 25th and have a running time of 164 minutes. The cover art is the familiar Time Machine Tour design with the text Live in Cleveland printed over the countdown timer which is set to 2011. Bonus features will include outtakes from the intro, intermission and outro videos from the Time Machine Tour along with the full clip of the Canadian Bandstand gig that Rush played at Laura Secord High School in St. Catharines, ON in 1974 with original drummer John Rutsey on drums, portions of which were included in the Rush documentary Rush: Beyond the Lighted Stage. It's not clear whether this would just be the same 2 clips of Working Man and Best I Can that were also included as extras in the documentary, or if it will include the entire show (or more unreleased footage at least). The bonus features will also include some of Rush's 1976 black and white bootleg video of their performance in Passaic, NJ. Again, it's not clear what full clip means in this context. The video was directed by Rush documentary filmmakers Sam Dunn and Scot McFadyen, and engineered by Rich Chycki. In related news, Chycki recently tweeted in response to question from @ScottSabol regarding the DVD/Blu-ray that the Audio is done!!. There was also this news story from Cleveland ABC news affiliate WEWS earlier in the week covering the DVD release. There isn't any new information in the article but it's nice to see the DVD getting some press.
We learned earlier this year of Alex Lifeson's involvement with the film score for a new spy thriller due out next month starring Topher Grace and Richard Gere titled The Double. The film was co-written by Derek Haas and director Michael Brandt and features original music by film composer John Debney with a little help from Alex Lifeson. Alex plays guitar on the score throughout the movie and also wrote the outro track which is titled Don't Look Back according to movie co-writer Derek Haas, who posted the information to The Rush Forum earlier this week. Haas has promised to post the track online at some point if he can get permission, although he hasn't been able to yet. We had already been aware from reports earlier this year that Scarlet Sins vocalist Sylvya NuVynska and Skinny Puppy founding member cEvin Key also play on the outro track, and that Rush sound engineer Richard Chycki handled the mixing duties. Some still shots from the movie were just recently released and the film will be released to theaters in the US on September 23rd. Haas also posted the following to The Rush Forum regarding how Alex became involved with the film:
... Michael and I got to know Alex and Geddy when they were in LA finishing Snakes & Arrows. Alex is a movie-buff and literature-buff and he expressed interest in scoring films. (I hope you detect my admiration shining through... he's truly one of the greatest guys I've ever met. Geddy too, but that's a different story.) As we were putting THE DOUBLE together, Michael and I told Alex we'd love for him to be included any way he wanted. We did the movie for very little money so we weren't going to be able to afford him but we wanted to throw it out there. He was between the two tours so he asked us to send him the latest cut of the film and he started talking to the composer (Debney) via email and the phone. Then he just went to town... the guy is astonishing. And generous. The single is definitely not a RUSH song but you can sure hear Alex's distinctive "voice" all over it. ...
Speaking of Alex, last year Lerxst produced 3 tracks for Toronto band the David Barrett Trio that were released digitally over the past several months; Hollowbody (iTunes, Amazon), Sonar (iTunes, Amazon) and Disappearance (iTunes, Amazon). David Barrett spoke with Alex Lifeson back on the Snakes & Arrows tour for an interview that he posted portions of to YouTube last week. Alex talks with David about acoustic guitars and recording Snakes and Arrows. You can listen to the 6-and-a-half minute interview at this link. All three of the Lifeson-produced tracks mentioned above can be heard on SoundCloud at this link. David talks about the songs and how his collaboration with Lifeson came about in this January post on his blog. The Trio is asking for assistance to fund their project via RocketHub at this link. Please help them out if you can.
Alex also was brought up in a recent Gibson interview with guitarist Matt Roberts of 3 Doors Down. At one point in the interview he's asked the question Who has really impressed you in the business? and here was his response:
... Alex Lifeson has become a good friend of mine. He's been really inspirational to me. He's a great guy. It was awesome to be able to work with Alex. We did some recording with Alex. I never thought I'd be playing guitar with Alex Lifeson. Great guy. Great musician. ...
Alex produced 3 songs for 3 Doors Down back in 2000. You can watch the interview at this link at about the 1:30 mark.
And last and also least on the list of Alex Lifeson news for the week, GuitarSquid posted their list of the Top 10 Guitarist Mullets last Friday, and coming in at #10 was Alex Lifeson. From the article:
Although the mullet and its many variations are often identified with Canadians, hockey players in general, Australians and trailer parks South of the Mason Dixon line, let's not forget that gutiarists are a worthy subgroup for categorizing notable mullets. Many a guitarslinger has kept it all-business in the front and party-hardy in the back. ...

10. Alex Lifeson - Lifeson has been around long enough to have survived a number of hindsightful hair-don'ts, but his Hold Your Fire-era mullet is a perfect specimen of mid-'80s Canadian variety.
Neil Peart's latest book Far and Away: A Prize every time was first released in hardcover this past April and became available in paperback earlier this week along with a Kindle edition that released a couple of weeks ago. The CBC will be re-airing Neil Peart's June appearance on Strombo where he discusses the book on this evening's program. In celebration of the re-airing they are running a contest where Canadian residents could win a signed hardcover edition of Far and Away. To enter the contest just go to this link. You can purchase your copy of Far and Away in your preferred format at Amazon.com (hardcover, paperback, Kindle).
Earlier this summer I let you know that Mead Calendars would be releasing a 16-month Rush 2012 wall calendar which depicts a different album cover for each month as shown here. The calendar is now available for purchase and can be ordered through Amazon.com at this link. There's also the official 2012 Rush wall calendar put out by NMR Distribution that celebrates the 30th anniversary of the release of 1982's Signals. This Signals-themed calendar is currently available for pre-order through Amazon and other retailers and is slated for a September 1st release.
Reader Colin W sent me this video advertisement for Glasgow-based self-storage company Abra Storage. The worker featured in the video is wearing a Rush Time Machine Tour t-shirt.
Gibson.com recently posted their list of the 50 Greatest Songs of the '80s as chosen by their editors, writers and readers. Rush did not make their top 50 list, but they also posted a list of the top 25 songs of the '80s as chosen strictly by Gibson.com readers. Rush's Tom Sawyer did make that list, coming in at #22. You can check out the complete results at Gibson.com at this link.
Video editor Glen Lazarro recently posted a story to the 99 Tigers blog where he takes a humorous look back on the making of Rush's Time Stand Still video. The post also includes this spoof version of the video which Lazarro introduces with the line This is a Brilliant Spoof of the Rush video. It really skewers the editor. Me.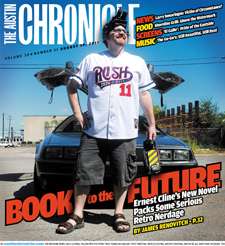 Today's edition of the Austin Chronicle features sci-fi author Ernest Cline on the cover sporting a Rush Time Machine Tour jersey. The author is the subject of an article titled The Geek Shall Inherit the Earth which discusses Cline's latest book Ready Player One which released this past week (thanks RushFanForever).
Rush fan site RushWeb.net was recently relaunched after a long hiatus. From the site's about page:
Rushweb.net started in 2000 as a source for news for Rush fans. After a few year hiatus, Rushweb.net is back!

Rushweb.net was credited for breaking the news about Geddy Lee's solo album. Rushweb.net also interview Geddy Lee about My Favourite Headache, a first for Rush fan sites.

We have a lot of exciting things planned for this recreated version of Rushweb.net. Stay tuned!
Check it out when you get a chance.
We learned on Wednesday that syndicated guitar radio show The Chop Shop will be commemorating the 10th anniversary of 9/11 with a 2-hour radio tribute show next month. Host Steve Black will talk with a number of rock celebrities including Rush's Geddy Lee as they reflect back on 9/11. The special will be available to all US radio stations and air on or around 9/11 weekend depending on the particular radio station's scheduling. For a list of Chop Shop affiliate stations go here. The show will also be available to stream online for free on 9/12 for all Chop Shop mailing list subscribers. To sign up for their free mailing list just go to their home page.
While on the subject of Geddy, reader garcost48 let me know that acerbic rock photographer Ross Halfin makes an unflattering mention of Geddy Lee in his August 1st diary entry:
A day where The Master has to educate the uneducated. Brad Tolinski Editor and friend was telling me he'd never heard Budgie or Sabotage by Sabbath...? I made the "heathen" listen to Never Turn Your Back On A Friend at 8.30 am. 'It sounds like the first Rush album only way better and the bassist is a better-looking Geddy Lee', if you can imagine a good looking Geddy Lee. ...
And rounding out our Geddy Lee news for the week, Global TV in Canada ran a news story Tuesday on the push to expand mobile food truck service in Toronto. Leading the charge is Zane Caplansky of Caplansky's Deli - one of Geddy Lee's favorite spots to eat in Toronto. At one point in the story Geddy is interviewed while having a bite to eat at Caplansky's and has the following to say about the subject at hand:
Geddy: I think it's great. The more talented food makers we have on the streets of Toronto, the better the city's going to be.

Newscaster: Now when the lead singer of Rush - Geddy Lee - is making the suggestion, perhaps City Hall had better listen. ...
You can watch the video below or at this link. Geddy comes in at about the 1:50 mark.
That's all for this week. Have a wonderful weekend everyone!