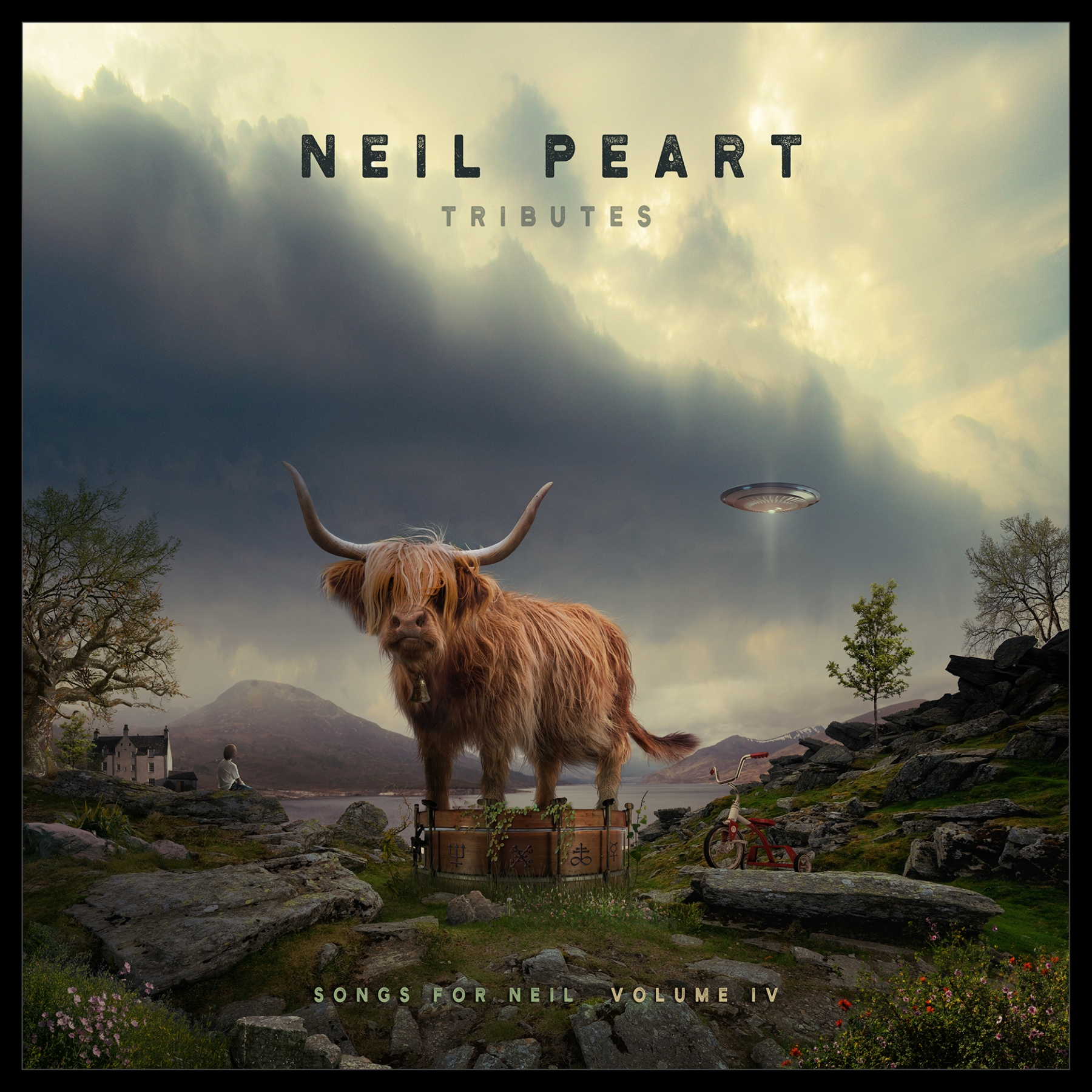 Rush's Neil Peart was taken from us back on January 7, 2020 after a long battle with glioblastoma, and this past Tuesday, September 12th would have been his 71st birthday. For the past 3 years, on Neil's birthday, RUSHfest Scotland has sponsored the release of an album of Rush songs dedicated to the iconic drummer titled TRIBUTES - SONGS FOR NEIL, played by Rush tribute bands and musicians from around the world. Proceeds from sales of the albums were split equally between two charities - Glioblastoma Foundation Neil Peart Research Award in the USA and Cancer Support Scotland (registered charity SC012867). They continued the tradition this year with SONGS FOR NEIL VOL. 4, which released on Tuesday in celebration of Neil's birthday. This fourth volume includes a special track titled Masterpiece which was written and performed by Neil's brother Danny Peart along with guitarist Brandon Dyke. Other tribute bands included on the album are Solar Federation from the U.S., Fleesh from Brazil, Scotland's Clockwork Angels, and even Ninja Sex Party, who added their rendition of Madrigal to the collection (full track listing here). Volume 4 is available in double-vinyl, double-CD, and/or digital download, and you can get all the details and secure your copy here. As before, all profits from sales of this album will be going to Cancer Support Scotland in the UK and the Glioblastoma Foundation Neil Peart Research Award in the US. The album is available as a red vinyl double LP, CD, and digital formats. Prints of the album artwork are also available, along with copies of the Songs for Neil tributes from the past 3 years. Visit the RUSHfest Scotland website for all the details and to order your copy. Both Geddy Lee and Alex Lifeson posted Instagram tributes to their late bandmate on his birthday this past week: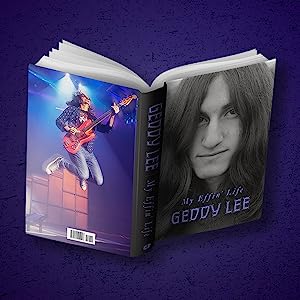 Geddy Lee's long-awaited memoir My Effin' Life will be released in just 2 months via Harper Collins, and is currently available for pre-order via Amazon and other retailers. From the book's description:
The long-awaited memoir, generously illustrated with never-before-seen photos, from the iconic Rock and Roll Hall of Famer, Rush bassist, and bestselling author of Geddy Lee's Big Beautiful Book of Bass.

Geddy Lee is one of rock and roll's most respected bassists. For nearly five decades, his playing and work as co-writer, vocalist and keyboardist has been an essential part of the success story of Canadian progressive rock trio Rush. Here for the first time is his account of life inside and outside the band.

Long before Rush accumulated more consecutive gold and platinum records than any rock band after the Beatles and the Rolling Stones, before the seven Grammy nominations or the countless electrifying live performances across the globe, Geddy Lee was Gershon Eliezer Weinrib, after his grandfather murdered in the Holocaust.

As he recounts the transformation, Lee looks back on his family, in particular his loving parents and their horrific experiences as teenagers during World War II.

He talks candidly about his childhood and the pursuit of music that led him to drop out of high school.

He tracks the history of Rush which, after early struggles, exploded into one of the most beloved bands of all time.

He shares intimate stories of his lifelong friendships with bandmates Alex Lifeson and Neil Peart-deeply mourning Peart's recent passing-and reveals his obsessions in music and beyond.

This rich brew of honesty, humor, and loss makes for a uniquely poignant memoir.
The book is slated for release on November 14th, and will be available in hard cover, on kindle, and as an audiobook (CD version available).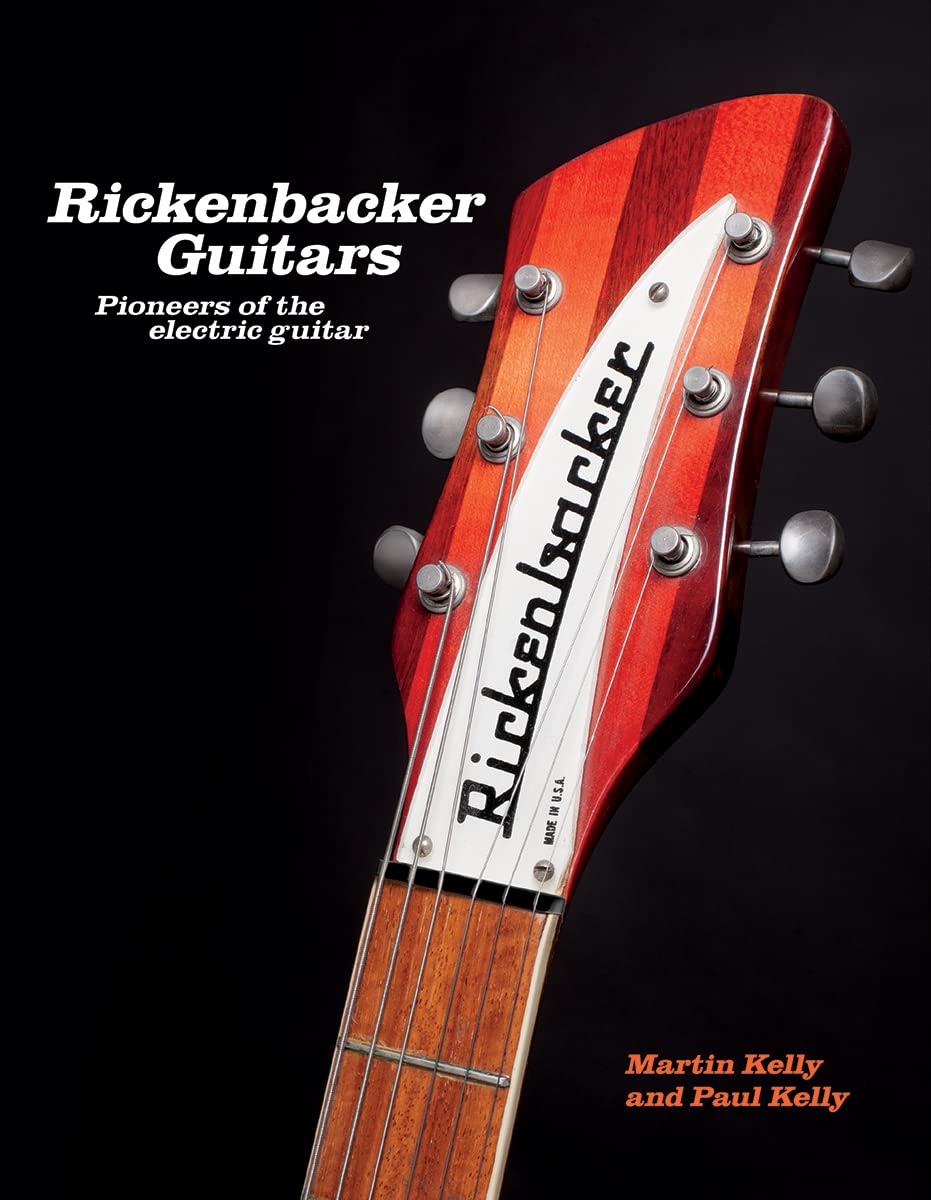 Speaking of Geddy Lee and books, a new book on Rickenbacker guitars from authors Martin and Paul Kelly titled Rickenbacker Guitars: Pioneers of the Electric Guitar officially releases in hardback today. The book chronicles the history of Rickenbacker guitars, with stunning photography and new interviews with legendary Rickenbacker players, including Rush's Geddy Lee. From the book description:
"The attention to detail is amazing" --Roger McGuinn

"A joy to the eyes and a must-have reference guide" --Geddy Lee

Electric guitars are not simply musical instruments At their best they are iconic works of art, a marriage of form and function that has come to symbolize the very essence of 20th century pop culture

While Fender and Gibson maintain their positions as brand leaders in an industry that has helped shape popular music, Rickenbacker, a small family-run business with roots stretching back to the very invention of the electric guitar, remains one of the most important makers almost 100 years from inception This book charts the company's history from its founding in 1931 to the present day

The authors traveled the world to bring together more than 350 original instruments -- including all 7 Beatles-owned Rickenbackers -- photographing them beautifully for this all-encompassing study of a unique brand

New interviews with legendary Rickenbacker players, including Roger McGuinn, Peter Buck, Susanna Hoffs, Johnny Marr, Geddy Lee and Paul Weller, make this book the most comprehensive history of the brand to date and a must for all guitar enthusiasts.
The hardcover version of the book is now available and can be ordered here, while the Kindle version released last week and is available here. Blogger and Rush fan Jay Roberts got a copy of the Kindle edition and put up a blog post earlier this week describing the chapter on Geddy Lee, and included this excerpt from their Geddy Lee interview:
Chris Squire was the one who really made me want to get a Rickenbacker. I bought my first (a 1973 Jetglo 4001 ML6222)) from Long and McQuade which was the Primo store in downtown Toronto. I used to go in there and they had a few Ricky's hanging on the wall and I would just drool over them. But when we got our first record deal and the advance came through, Alex, Neil and I went down there and had the shopping spree that every child dreams of. It was just the greatest day ever as I'd looked at those basses for so long and just couldn't afford one.

The idea for the double neck came earlier though, around the time of "A Farewell to Kings." The music we were starting to write was getting more layered and more proggy, we were getting into the idea of using a Minimoog and bass pedals.

Up to that point everything we recorded was with a view to being able to reproduce it accurately live so we'd held back on doing a lot of overdubs, as there were only the three of us on stage.

When we were working on "Xanadu," we put a rhythm guitar behind Alex's solo and realised that we were going to miss that live, it's just not going to sound as rich. So why don't I get a double neck and I can play that and I can fill in the bottom end on these new bass pedals then I'm now using all the time. So that's why I went after the double neck to give the band's sound a bit more richness when we needed it. The more the merrier for me, the more toys I can play with the better.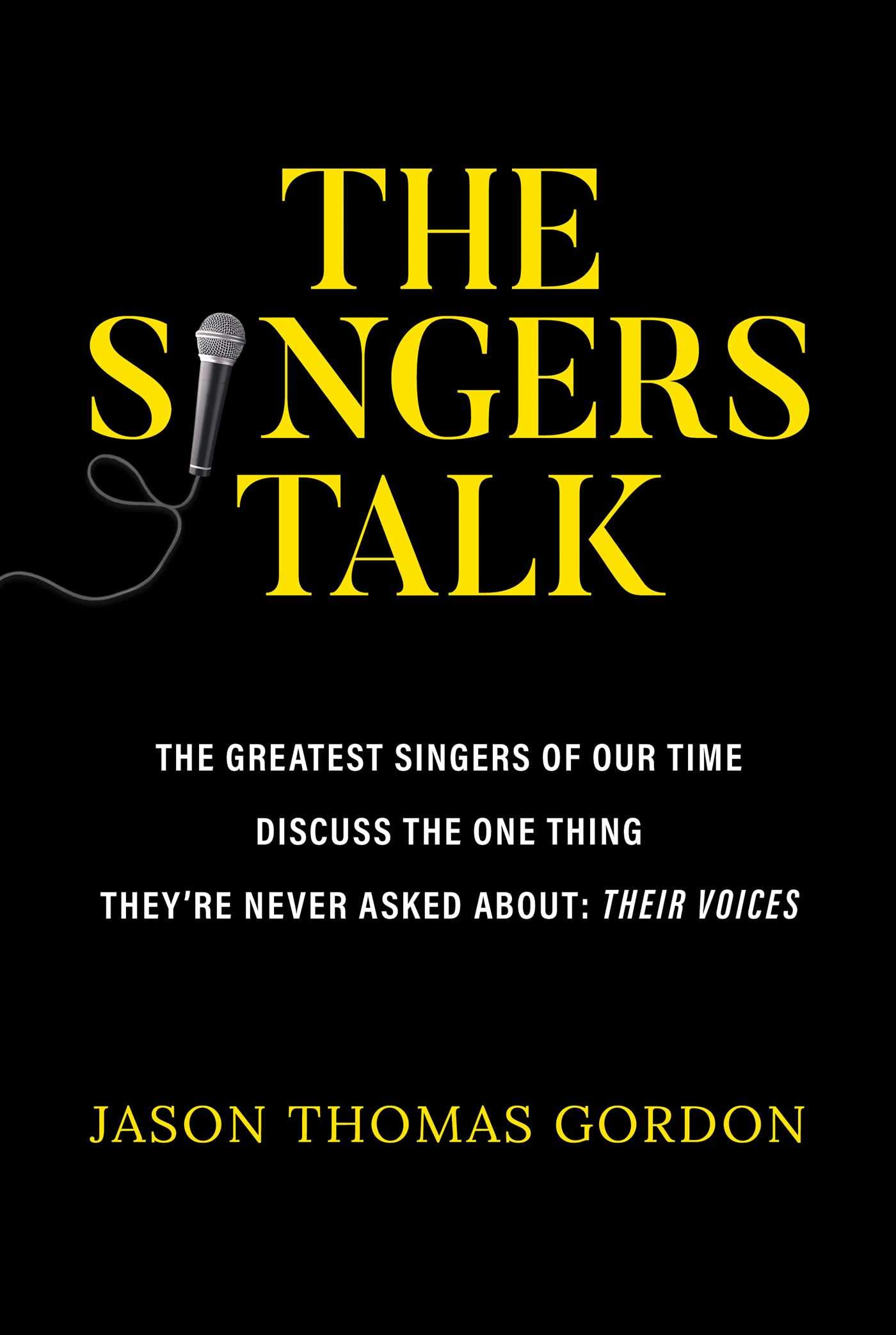 Geddy is also featured in a new book from author Jason Thomas Gordon titled The Singers Talk, which released on September 5th and can be ordered here. The book's subheading reads, The Greatest Singers of Our Time Discuss the One Thing They're Never Asked About: Their Voices, and it promises a "groundbreaking collection of conversations with the greatest vocalists of the modern era". In addition to Geddy Lee, others featured include Ozzy Osbourne, Radiohead's Thom Yorke, The Cure's Robert Smith, AC/DC's Brian Johnson, Karen O of Yeah Yeah Yeahs, Jane's Addiction's Perry Farrell, R.E.M.'s Michael Stipe, Spoon's Britt Daniel, AFI's Davey Havok, ex-Van Halen singer Sammy Hagar, Alabama Shakes' Brittany Howard, Joan Jett, Chris Robinson of The Black Crowes, Pink Floyd's Roger Waters, Heart's Ann Wilson and Alkaline Trio frontman and former Blink-182 singer Matt Skiba. Additionally, Rage Against the Machine's Tom Morello speaks on his late Audioslave bandmate, Chris Cornell, while Nevermind producer Butch Vig gives his insight on late Nirvana frontman Kurt Cobain. The author was recently interviewed for Rolling Stone to discuss the book, and you can check that out here.
Grammy-nominated blues rock singer Beth Hart was recently interviewed for Prog magazine to talk about her love of progressive rock, and how Rush's Moving Pictures helped introduce her to the genre:
... "When I was a kid, I was a really huge classical buff, and I still am. My mum turned me on to jazz and blues: Dinah Washington, Billie Holiday, stuff like that. Then the neighbourhood kids started turning me on to Black Sabbath, Iron Maiden, and when I was about nine or 10, they got me into Rush as well. At that time, Rush were pretty big in America and Moving Pictures had just come out. I fell in love with that record, although my husband [road manager Scott Guetzkow] and my guitar player Jon [Nichols] always laugh at me because they say it's the worst record of their whole career. It was Geddy Lee's bass playing that did it for me - and to this day, he's probably my number-one favourite bass player. ...
Primus frontman Les Claypool was recently interviewed for Guitar World magazine to speak about his bass collection, and mentions Rush and Geddy Lee:
... Bass-wise, Claypool is still using his famous Carl Thompson 4-string. You know the one - it has the funky scrolled-up horns and the bit of wood bearing Geddy Lee's autograph nailed to the headstock. Asked if manufacturers ever approach him about a signature bass, he replied: "Most people know that I play a Carl Thompson. If I was to play a production bass, I'd probably play a Fender Jazz." Like Geddy Lee? "Actually, if I wanted to sound like Geddy Lee I'd play a black-and-white Rickenbacker." In 2022 Claypool got his chance, as Primus stepped out on their A Tribute To Kings Tour, playing a set of original material before covering the 1977 Rush masterpiece in its entirety. ...
Goldmine magazine posted their list of The Top 20 follow-ups to hit albums earlier this week, and Rush's Signals - the follow-up to the Multi-Platinum Moving Pictures - was included at #16:
I was perfectly conflicted by going with A Farewell to Kings here versus Signals, so I'll briefly extol both. The former was a daring, highly progressive follow-up to 2112, and less heavy, and less song-partitioned. The latter, Signals, is my favorite Rush album, and the follow-up to the band's biggest seller, Moving Pictures, very recently certified at five times platinum. Signals, for me, represents the catalog's best blend of synthesizers and guitars, and is generally equally adored by battalions of Rush fans. It's also the last time we see Terry Brown producing a Rush album, which he does in creamy, organic fashion befitting the album's pastel cover art.
Rush's Hold Your Fire album celebrated its 36th anniversary last Friday, September 8th and to recognize the occasion, we set up a Ranked Choice Voting poll to determine the album's best track. After over 500 ballots cast, and 9 runoff rounds, Time Stand Still came out on top, along with a respectable 2nd for Force Ten. For the full results breakdown, visit this link:
On the latest episode of Rush Roundtable (#199) on the Rushfans YouTube channel, the panel continues their Counterparts song discussions with Double Agent:
That's all for this week. Have a great weekend everybody!