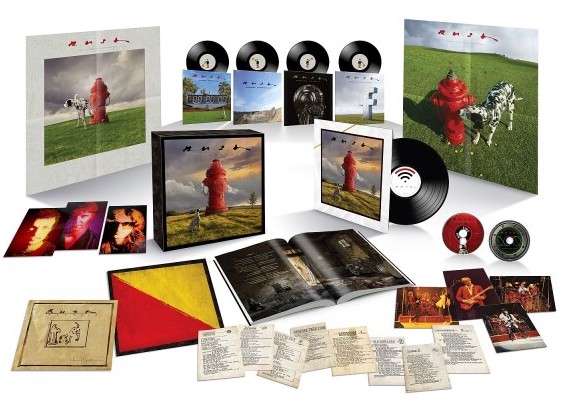 Rush has announced that they'll be releasing a Signals 40th anniversary box set later this spring. The set is the latest in a string of 40th anniversary box sets released by the band over the past several years, beginning with a 2112 set back in 2016. The set will be available in three distinct configurations, including a Super Deluxe Edition, an LP Picture Disc Edition, and a Dolby Atmos Digital Edition. There will also be a limited edition Super Deluxe box set edition featuring eight lithographs of Neil Peart's original hand-drawn lyrics for each song on the album. The set is slated for release on April 28th, with all configurations already currently available for pre-order via this link. The band have also released an unboxing video which you can check out below or on YouTube here, and there are also several other Signals 40th merchandise items available. More details from the press release:
... The Super Deluxe Edition includes one CD, one Blu-ray Audio, one high-quality 180-gram black vinyl LP with new artwork from original album designer Hugh Syme in a premium tip-on jacket, and four 7-inch singles ("Subdivisions," "Countdown," "New World Man," and "The Weapon (Single Edit"), all of them with new artwork from Syme. The set encompasses the Abbey Road Mastering Studios 2015 remastered edition of the album for the first time on CD. The Blu-ray Audio disc contains the core album newly mixed from the original multi-tracks in 48kHz 24-bit Dolby Atmos (the second Rush album to appear in Atmos, following Moving Pictures) and 96kHz 24-bit Dolby TrueHD 5.1 as done by esteemed producer/engineer Richard Chycki, alongside the previously available 48kHz 24-bit PCM Stereo mix. Also included on the Blu-ray are new animated visualizers for all eight songs, as well as two bonus remastered vintage promo videos: the high-school halls narrative of "Subdivisions" and "Countdown," the latter of which features authorized Space Shuttle Columbia launch footage. Additionally, the LP in the Super Deluxe Edition has been cut via half-speed Direct Metal Mastering (the second Rush album to have been done as such, again following Moving Pictures) on a 180-gram audiophile black vinyl LP, and it has been pressed at GZ Media in the Czech Republic.

The Super Deluxe Edition will also include several exclusive items, including a 40-page hardcover book with new song illustrations and new artwork by original album designer Hugh Syme and unreleased photos from the Signals Tour, along with three lenticular lithographs that transition from the original black-and-white band headshots into the original album's "Digital Man" color headshots; four Signals Tour band lithographs; Syme's original album cover sketch lithograph; and a double-sided 24×24-inch poster featuring Syme's new Signals artwork on one side, and an outtake photo from the original album cover shoot on the other side. All contents are housed in a premium lift-top box, which features significantly reimagined cover artwork by Hugh Syme.

The second configuration will be released in is a one LP Picture Disc Edition. The picture disc is housed in a transparent plastic sleeve, and it showcases new Hugh Syme artwork on both album sides.

Finally, the third configuration, the Dolby Atmos Digital Edition, is the digital equivalent of Richard Chycki's expert Atmos mix of all eight tracks from the original album.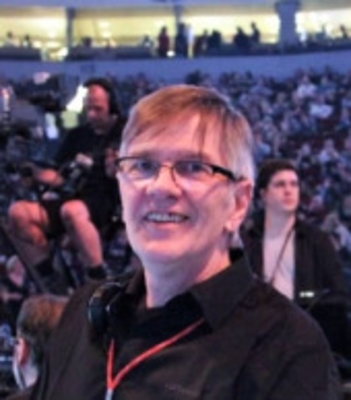 Former Rush live concert engineer Jon Erickson passed away this past week, and Rush posted the following message to their social media in tribute:
It is with great sadness we acknowledge the passing of our old pal and Live Concert Engineer throughout the 80's, Jon Erickson. We had many adventures together during one of the most exciting periods in our band's history. Thanks Jon, for lending us your prodigious talents, for your effervescent smile, and for your friendship throughout the years. May you rest in peace.
Jon was a 50-year veteran of the Canadian music industry as a sound engineer, tour manager, and owner of a business that supplied sound equipment to touring bands. He worked on some of Rush's live concert albums/videos in the '80s, including Exit... Stage Left and the Grace Under Pressure Tour, and also worked with bands such as Max Webster, The Tragically Hip and Bruce Cockburn. RIP.
In celebration of the March, 1974 Moon Records release of Rush's debut album, Classic Rock posted an article this past week detailing the album's history which you can check out here
... Rush was released in March 1974, and sold a few thousand copies in Canada. But what the band needed was an opening in the US market. That came when a radio station in Cleveland started playing one of the album's most powerful tracks, Working Man. This blue-collar heavy metal anthem resonated with Cleveland's factory workers. Some even mistook the song for a new Led Zeppelin record. And Rush had their breakthrough. Rush promptly signed to Mercury Records for North America, and the album was re-released on July 1, following a remix by Terry Brown, who would produce Rush for the next eight years. ...
Far Out Magazine's Thomas Leatham wrote an article this past week on the story of Rush's Countdown which you can read here:
... In the Signals tour book, Neil Peart explained what it was like watching the spacecraft take off. "We met our liaison man in the pre-dawn hours [but] they announced that the launch would be scrubbed for that day, he said. "The next night we had a show in San Antonio, after which we drove off immediately, clambered into a hired jet, and flew straight back to Florida. This time the launch took place on schedule, and it was SOMETHING!" Peart added, explaining the process of wanting to write the song: "I remember thinking to myself as we flew back to Fort Worth after a couple days without sleep: 'We've got to write a song about this!' It was an incredible thing to witness, truly a once-in-a-lifetime experience. I can only hope that the song comes even close to capturing the excitement and awe that we felt that morning." ...
Drummer Mike Portnoy was recently interviewed for Loudwire's Gear Talk, and talks about his drumming mentors, along with sharing some of his favorite drum intros of all time. Neil Peart - of course - is mentioned:
... "John Bonham was my first drum hero that had all of these cool, cool drum intros. He was the man. He was the groove master," says Portnoy. From there, it was a quick jump over to progressive music where Rush's Neil Peart grabbed his attention. "It was all those Neil Peart-isms that I cut my teeth on and that's how I learned to play a big drum kit and progressive music and play odd time signatures and for so many years Neil was my biggest drum hero," says Portnoy who then rocks out to three classic Rush tracks. ...
SingersRoom.com posted a couple of lists this past week that featured Rush. The first being their list of the 29 best long songs, which included Rush's The Camera Eye at #13. The other was a list of 20 songs with male names which featured Rush's Tom Sawyer at #4.
On this week's edition of the Rush Fans YouTube channel's Rush Roundtable (episode #170), a panel of mostly musicians share which Alex Lifeson guitar solos are their favorites, by the decade they were released. You can check out the episode below or on YouTube:
That's all for this week. Have a great weekend!!