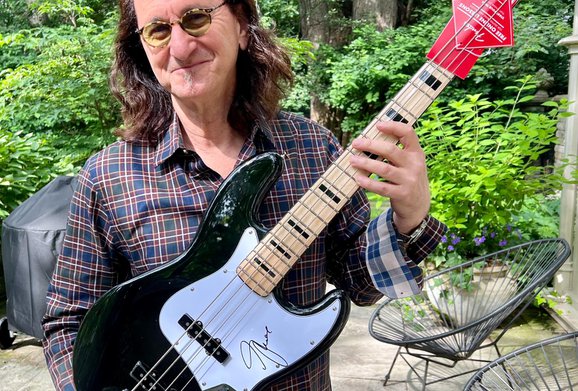 Make Music Matter is currently hosting a Healing in Harmony Holiday Auction to benefit trauma survivors, and Rush's Geddy Lee has donated a couple of items in support. Multi-Grammy winning producer David Bottrill (the man responsible for the Vapor Trails remix) chairs Make Music Matter's Board of Directors and made the following statement:
I'm so proud of my colleagues in the music industry who are coming together to make a difference. We're thrilled to have their support as we expand our work alongside Indigenous communities to address the generational trauma their members have experienced.
Geddy's contribution to the auction is a signed Signature Fender Jazz bass, along with a signed photo. Also contributing to the auction are members of Billy Talent, Sum 41, The Tragically Hip, Blue Rodeo, and many others. The auction kicked off yesterday and will run through December 4th. For all the details and to view all the items up for bidding, visit this location.
Canadian indie rock band the Rheostatics are playing a series of 3 shows this week at Toronto's Horseshoe Tavern as part of the venue's 75th anniversary celebration, and the first took place last night. Rheostatics frontman Dave Bidini had announced a couple of weeks ago that Rush's Alex Lifeson would be sitting in with the band for last night's show, but Alex had to cancel last minute due to illness as described in this tweet:
Sad to report Alex Lifeson won't be playing with us tonight as he's under the weather.

- @hockeyesque (@hockeyesque) November 25, 2022
Lifeson is a longtime friend of Bidini, and has performed with the Rheostatics on several occasions in recent years, with the most recent being back in 2019 as part of a fundraiser for Bidini's community newspaper the West End Phoenix.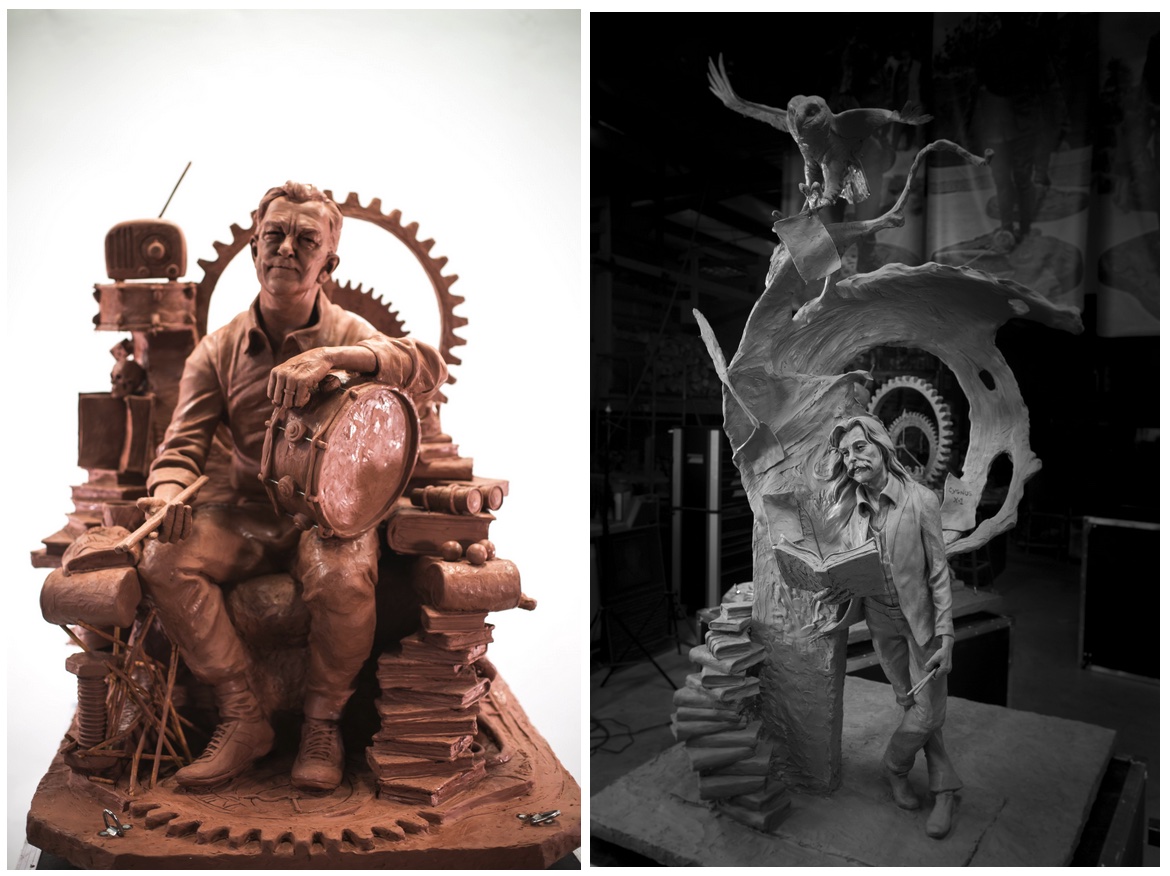 The late Neil Peart grew up in the St. Catharines, Ontario community of Port Dalhousie, the lakefront home of Lakeside Park which inspired the lyrics to the 1975 Rush song of the same name. Back in 2020 the St. Catharines City Council, with the full support of the community, voted to name the newly rebuilt pavilion at Lakeside Park the Neil Peart Pavilion at Lakeside Park in honor of the hometown icon who passed away in January of 2020. The Council also established the Neil Peart Commemorative Task Force, with the objective to commission a public work of art commemorating Peart's life and legacy. Back in January of last year the Task Force officially began welcoming artists to submit requests for pre-qualification via the city's website, and revealed the finalists back in September of last year along with the launch of a fundraising campaign for the Memorial. Earlier this month the Task Force finally revealed that the artist who will have the honor of creating the memorial is Morgan MacDonald of The Newfoundland Bronze Foundry. MacDonald was recently interviewed by the CBC to discuss his idea for the Memorial and how being selected was a dream come true for him. You can watch the video news story below or at this location. The project and its timelines are contingent on the Task Force raising the $1 million required for completion, and donations of any size can be made online at stcatharines.ca/neilpeart. The sooner the Task Force can achieve its fundraising objectives, the sooner the community and fans will be able to see the results. So give if you can.
The latest episode of the Something for Nothing podcast features an interview with Bob King - the model for several of Rush's iconic album covers including the world-famous Starman logo from 2112, the man with the bowler hat on Hemispheres and Exit...Stage Left, and one of the movers on Moving Pictures. Bob talks to hosts Steve and Gerry about growing up in St. Catharines, his long-time friendship with Hugh Syme, and how he feels about being the symbol of defiance for Rush fans everywhere. You can listen to the show below or wherever you get your podcasts:
Toronto-based progressive blues-rock duo Crown Lands consists of drummer/singer Cody Bowles and guitarist Kevin Comeau, who bonded over their shared obsession with Rush several years ago and formed Crown Lands shortly after. The duo released their blues-rock, riff-laden, self-titled debut album in 2020, and were named Breakthrough Group of the Year at last year's JUNO Awards, with the album winning Rock Album of the Year. The pair make no secret regarding their obsession with Rush - the Crowns Lands album includes a 10-part song with sections referencing Rush's work titled Context: Fearless Pt. 1. They made a demo of the song with former Rush producer Terry Brown, and later worked on the track with Nick Raskulinecz, co-producer of Rush's last 2 albums, and David Bottrill (who remixed Rush's Vapor Trails album). The pair also joined Alex Lifeson and others as part of an ensemble performance of a Led Zeppelin medley at the Andy Kim Christmas show this past year. The duo recently had the honor of recording the Beatles classic Come Together to be used as Canada's FIFA World Cup anthem, and were interviewed by DurhamRegion.com to talk about that and share some facts about the band:
... Both band members are huge Rush fans - so much so that Comeau has the naked star man graphic from the cover of Rush's "2112" tattooed on his butt. "Five years ago, a buddy was auditioning for a band that Cody played drums in and I crashed the audition because I heard Cody was a big Rush fan. Within five seconds of meeting Cody, I pulled down my pants and mooned them straight up. We never looked back," Comeau said in a 2021 Toronto Star interview. ...
Earlier this month AXS TV aired an episode of Top Ten Revealed where they counted down the Top Ten Drum Heroes We've Lost. Neil Peart was included on the list at #3 behind Keith Moon and John Bonham. Thanks to Will C for the heads up.
Author Lisa S. Johnson was recently interviewed for the Women's International Music Network, and spoke a bit about her 2013 book 108 Rock Star Guitars, which served as one of the inspirations for Geddy Lee's Big Beautiful Book of Bass. The book profiled dozens of famous musicians' guitars, including Geddy Lee and Alex Lifeson, and was mentioned by Ged and Al during their 2019 Rock & Roll Hall of Fame Rush Fan Day interview as seen in this video. Thanks to RushFanForever for the heads up.
YYNOT has made a name for itself in recent years for being one of the premier Rush tribute bands, as well as a great prog-rock band in their own right with 3 albums of original material under their belt. They will be playing a show on Saturday, January 7th at the Keswick Theatre outside Philly that will be a Celebration of Neil Peart with proceeds benefiting Cedars Sinai Hospital. For all the details and to purchase tickets go here.
The other Canadian rock power trio - Triumph - was the subject of a 2021 documentary titled Rock & Roll Machine which was released on DVD/Blu-ray today and can be ordered here. The film was produced by Banger Films - the same outfit responsible for the Rush Beyond the Lighted Stage documentary. About a year ago, Ultimate Classic Rock's Matt Wardlaw sat down with all 3 members of the band for an interview where the trio talk about the band's history and the documentary. Drummer/vocalist Gil Moore addressed how Triumph was often confused with Rush:
... You've got Rush, one of the greatest bands of all time, and they've got intense fans. They were constantly touring in America. We'd be showing up and they would have been blowing through town two months earlier or two months later. Walking through airports, you'd get the fans that weren't really with it that weren't that tight with either band. We were both a little bit faceless, in a way. They'd get the bands confused [because of that]. It just got to the point where somebody said to Mike Levine, "Are you [Rush front man] Geddy [Lee]?" He'd just go, "Yeah, I'm Geddy. I'm just having a bad day." [Laughs.] We would just play with it, because we loved the guys in Rush and [their music] like everybody else does. It was just a coincidence that we were both from Toronto, both a three-piece. Rik's got a high voice; Geddy's got a high voice. But you know, the music's not similar really, I don't think. ...
Not long after that interview, Banger Films put out an excerpt from the film where The Trailer Park Boys discuss the similarities between the 2 bands, and Ricky is convinced that they are actually the SAME band, as seen in this clip. :)
I hope all of my US readers had a happy Thanksgiving yesterday and are surviving the madness of Black Friday. Have a great weekend everyone!!