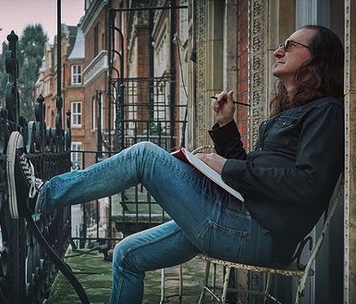 Back in September of last year, Geddy Lee announced via Instagram that he was working on a memoir with a planned release via Harper Collins in the Fall of 2022. He later clarified via a Classic Rock interview back in April that the book would instead probably release sometime in the spring, and we now have some clarification on that. The publisher's website now has a listing for the as-yet-untitled memoir, and it gives a tentative release date of May 16, 2023. The listing indicates that the book will be around 400 pages and available as a hardcover or as an e-book. There's also a listing on Amazon where you can pre-order the hardcover for $35 and the e-book for $17.99. Amazon also shows a CD option for $39.99 but it's not clear what that includes. From Geddy's original Instagram post announcement:
... My friend and collaborator on the Big Beautiful Book of Bass, Daniel Richler, saw how I was struggling in the aftermath of Neil's passing, and tried coaxing me out of my blues with some funny tales from his youth, daring me to share my own in return. So I did-reluctantly at first, but then remembering, oh yeah, I like wrestling with words. It's a less physical version of arguing with musical notes, without a Ricky doubleneck breaking my back! And soon my baby-step stories were becoming grownup chapters. Being the nuclear obsessive that I am, I'd write and re-write them, reassessing perspectives in the narrative not just by scouring my memory banks but my diaries and piles of photo albums too. I was piecing together a mystery of a different kind.

I'd then send these improved and even illustrated stories to Daniel, who'd clean up some of the grammar and remove a lot of the swearing (I love to fucking swear), and presto! In a voice that sounded, well, just like me, a presentable, epic-length account of my life on and off the stage was taking shape: my childhood, my family, the story of my parents' survival, my travels and all sorts of nonsense I've spent too much time obsessing over. And Daniel said, "I think you're writing a book. An actual memoir, in fact." To which I replied, "Hmm... I guess I am."

I'm rounding third on this as-of-yet untitled memoir, which will be published by HarperCollins, edited by Noah Eaker, and is scheduled for release in Fall 2022.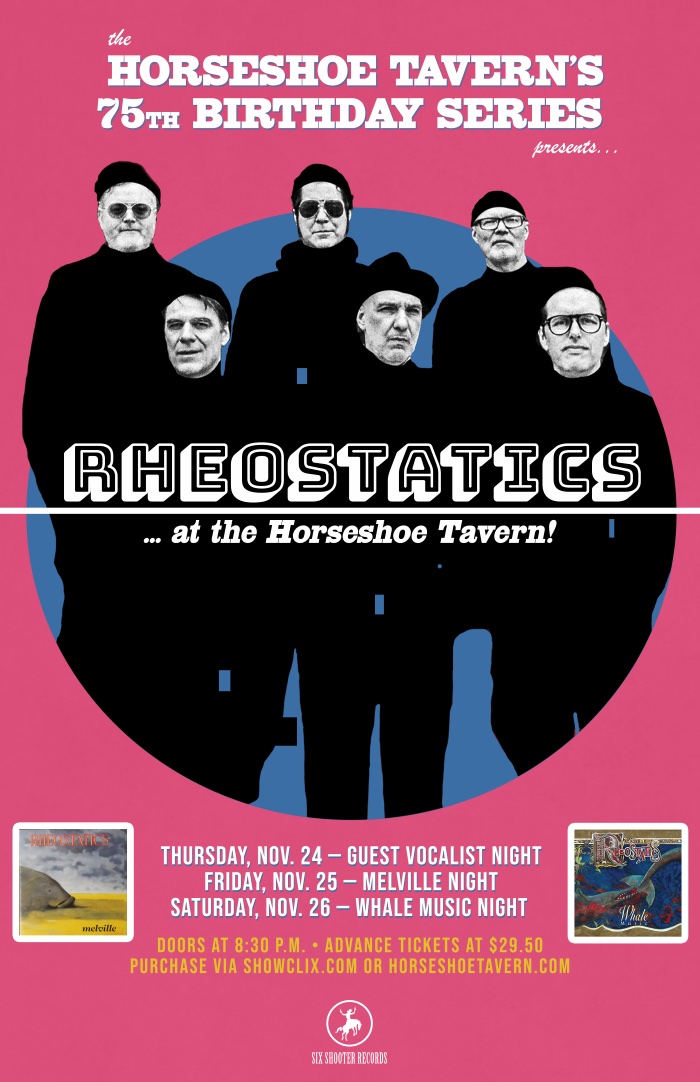 Canadian indie rock band the Rheostatics will be playing a series of 3 shows next week at Toronto's Horseshoe Tavern as part of the venue's 75th anniversary celebration. Rheostatics frontman Dave Bidini announced via this Facebook post last night that Rush's Alex Lifeson will be sitting in with the band for the Thursday, November 24th show. The announcement shows a photo of Alex with the caption, "This guy joining Rheos next Thursday at Horseshoe. Some tickets still left." Lifeson is a longtime friend of Bidini, and has performed with the Rheostatics on several occasions in recent years, with the most recent being back in 2019 as part of a fundraiser for Bidini's community newspaper the West End Phoenix. Tickets for next Thursday's show are still available, and you can get all the details via the Rheostatics website here.
This week's episode of the Something for Nothing podcast features an interview with music journalist Paul Beaulieu. Paul has been covering Canadian music for several years via his Canadian Music Scene website, and is a die-hard Rush fan. You can listen to the interview below or wherever you get your podcasts:
Neil Peart collaborated with DW Drums on a number of projects over the last 2 decades, and as part of their 50th anniversary celebration they commissioned a huge mural of Peart at Broadway & 5th in Santa Monica where he resided prior to his death in 2020. You can check out the mural below or on Rush's official Instagram page here.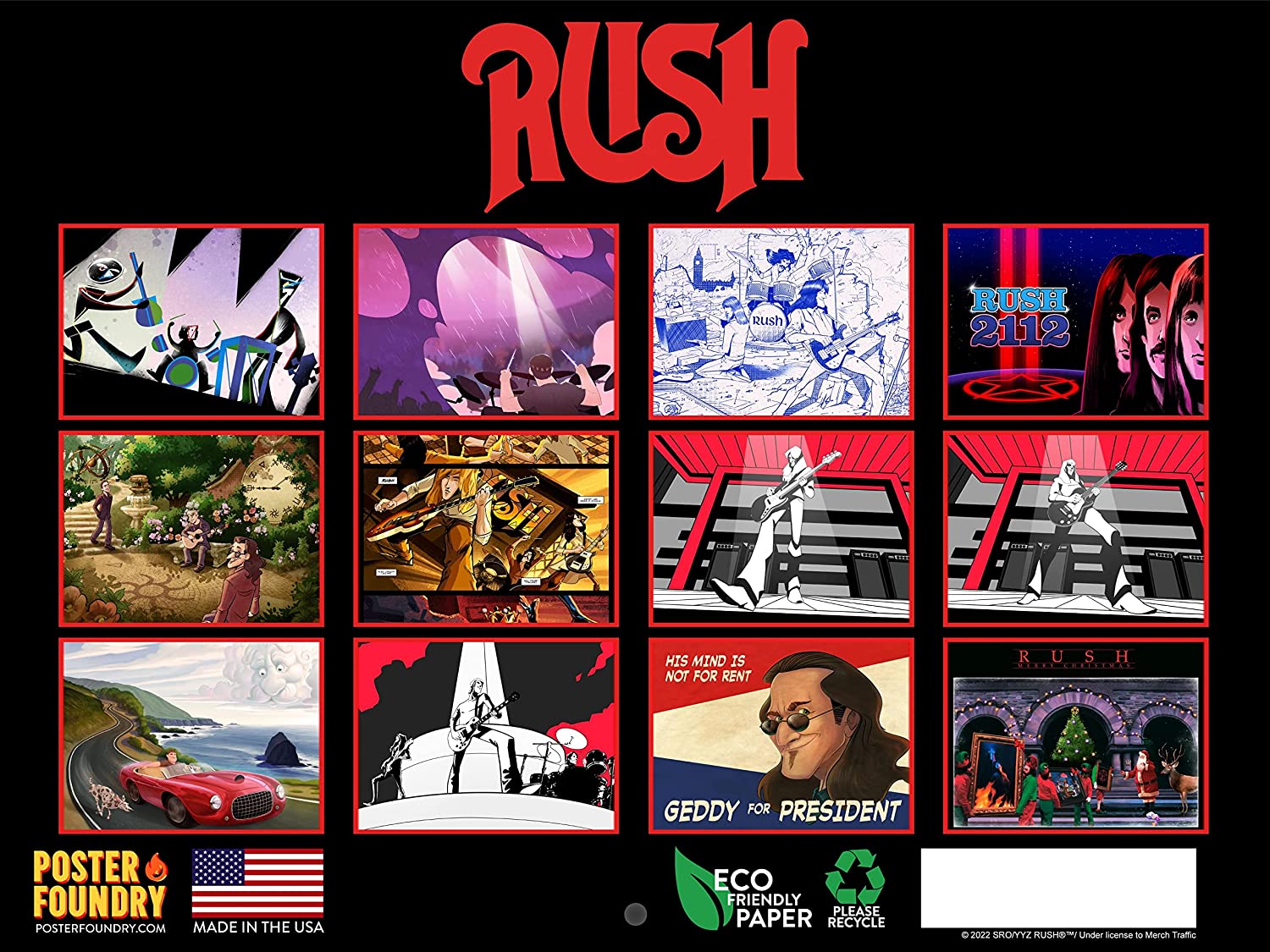 A couple of months ago Rush released a new, official 2023 wall calendar featuring artwork created by FANTOONS. The calendar was produced by Poster Foundry and can currently be ordered via Amazon and other online retailers. The 12"x18" calendar features a dozen pieces of Rush-inspired artwork from FANTOONS as seen here. It also includes a 6-month calendar of the latter half of 2022, and a 12-month preview of 2024, along with a write-on planner. John over at Cygnus-X1.net has scanned all the images contained in the calendar and made them available online here. You can purchase your calendar today at this location.
The December issue of Classic Rock magazine (Issue 308) includes a cover feature celebrating the legendary Jimi Hendrix on what would have been his 80th birthday. The feature contains an article where they highlight Hendrix's songwriting and arranging skills with the help of some famous musicians including Rush's Alex Lifeson. Alex is quoted in a blurb about the Hendrix hit All Along the Watchtower (thanks RushFanForever):
... "I always loved Manic Depression, but I think All Along The Watchtower is really special, even though, funnily enough, it's not one of Hendrix's songs. The arrangement is so striking and beautiful. Whenever I hear it on the radio or in passing, I'm instantly transported to a certain time in my life. When you listen to those acoustic guitars and the way it's recorded - and this goes for the whole album too - there's something that's so creamy and warm and enveloping. It's the sound of that song and the way all the parts cross over. It's just a fabulous example of Hendrix at his best." ...
The latest issue of Prog magazine (Prog #134) includes an interview with Hans Rutten of Dutch prog rock band The Gathering for their My Prog featue (thanks RushFanForever). Rutten brings up Rush several times during the interview, including this excerpt where he is asked about his earliest prog memory:
I saw a video clip of Rush around the Power Windows period, I was something like 16 years old, and they were great. I borrowed Caress Of Steel from the local library, then went through their catalogue from there.
He also mentions that his prog hero is Neil Peart and that Rush's Hemispheres (particularly La Villa Strangiato) is the most important piece of prog music.
Guitar World magazine recently chatted with Anthrax bassist Frank Bello about 5 bass players who influenced him, and Rush's Geddy Lee is mentioned:
"Geddy Lee is one of my biggest influences. The intricacy of his scales and the synching-up with the drums really add up to a celebration of the bass. The Moving Pictures album is so inspiring to me to this day, and when I listen to a song like 'YYZ' I have to pick up my bass and play. The bass is meant to be played like that and I just have to follow it. Synching the bass and drums like Rush do is not a thought process, it's just a natural talent. I was just listening to it the other day and it's beautiful."
This past week, a rare live audio recording of Rush performing I Think I'm Going Bald off of Caress of Steel surfaced on YouTube (thanks AnalogKidVideo). The recording is from a show at the now-defunct Randhurst Arena in Illinois on March 5th, 1976. It's notable because - despite some fans insistence - there had never been any evidence that Rush had ever played this song live up until now.
That's it for this week. Have a great weekend everybody!!