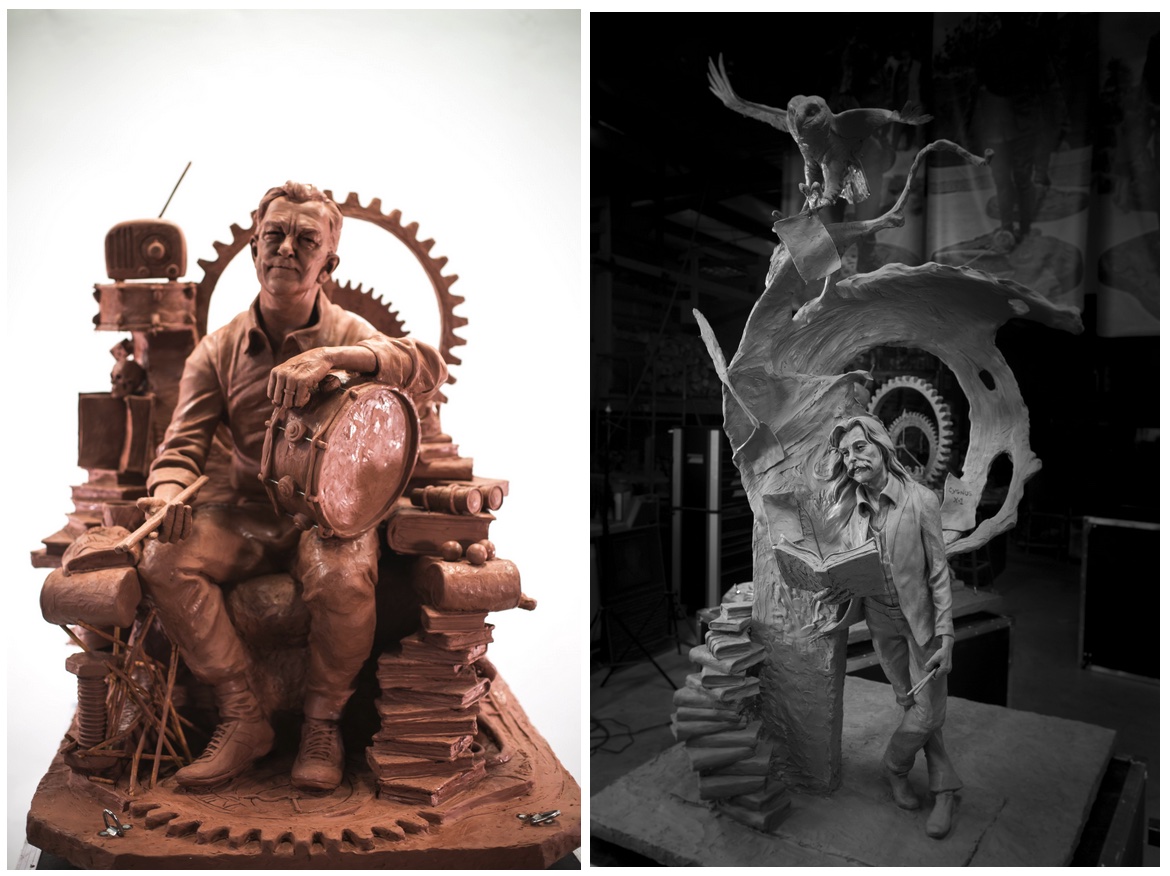 The late Neil Peart grew up in the St. Catharines, Ontario community of Port Dalhousie, the lakefront home of Lakeside Park which inspired the lyrics to the 1975 Rush song of the same name. Back in 2020 the St. Catharines City Council, with the full support of the community, voted to name the newly rebuilt pavilion at Lakeside Park the Neil Peart Pavilion at Lakeside Park in honor of the hometown icon who passed away in January of 2020. The Council also established the Neil Peart Commemorative Task Force, with the objective to commission a public work of art commemorating Peart's life and legacy. Back in January of last year the Task Force officially began welcoming artists to submit requests for pre-qualification via the city's website, and revealed the finalists back in September of last year along with the launch of a fundraising campaign for the Memorial. Earlier this week the Task Force finally revealed that the artist who will have the honor of creating the memorial is Morgan MacDonald of The Newfoundland Bronze Foundry. From the St. Catharines Standard:
... The City of St. Catharines' Neil Peart Commemorative Task Force has selected artist Morgan MacDonald of The Newfoundland Bronze Foundry (Morgan Sculpture Inc.) to create the memorial in Peart's honour alongside the Neil Peart Pavilion in Lakeside Park - a place that inspired the lyrics to the famous Rush single of the same name. The Newfoundland Bronze Foundry was selected as the highest-ranked proponent by an evaluation committee after a competitive process.

The concept from the creative team includes two larger-than-life-sized bronze sculptures of Neil Peart. The sculptures will be connected by a pathway offering experiential and interpretive features providing insight into Peart's personal and professional legacies, including his time with the band.

One sculpture, standing about 12 feet tall, will feature Peart as a young artist and poet circa the 1970s, holding a book and drumsticks, surrounded by sculptural elements bridging his entry to the band. The second will feature Peart in his later years, holding a small piece of his drum kit and offering his drumsticks to visitors.

The sculptures will be surrounded by elements representative of his life as a poet, novelist and lyricist. Sabian Cymbals will provide a few of Peart's old and damaged cymbals to be melted down and incorporated into the monument's features. The pathway connecting the sculptures will amplify the visitor experience with seating areas for reflection, interactions with light and sound, supporting landscape features, and a place to recognize those contributing to the legacy project. ...
The project and its timelines are contingent on the Task Force raising the $1 million required for completion, and donations of any size can be made online at stcatharines.ca/neilpeart. The sooner the Task Force can achieve its fundraising objectives, the sooner the community and fans will be able to see the results. So give if you can.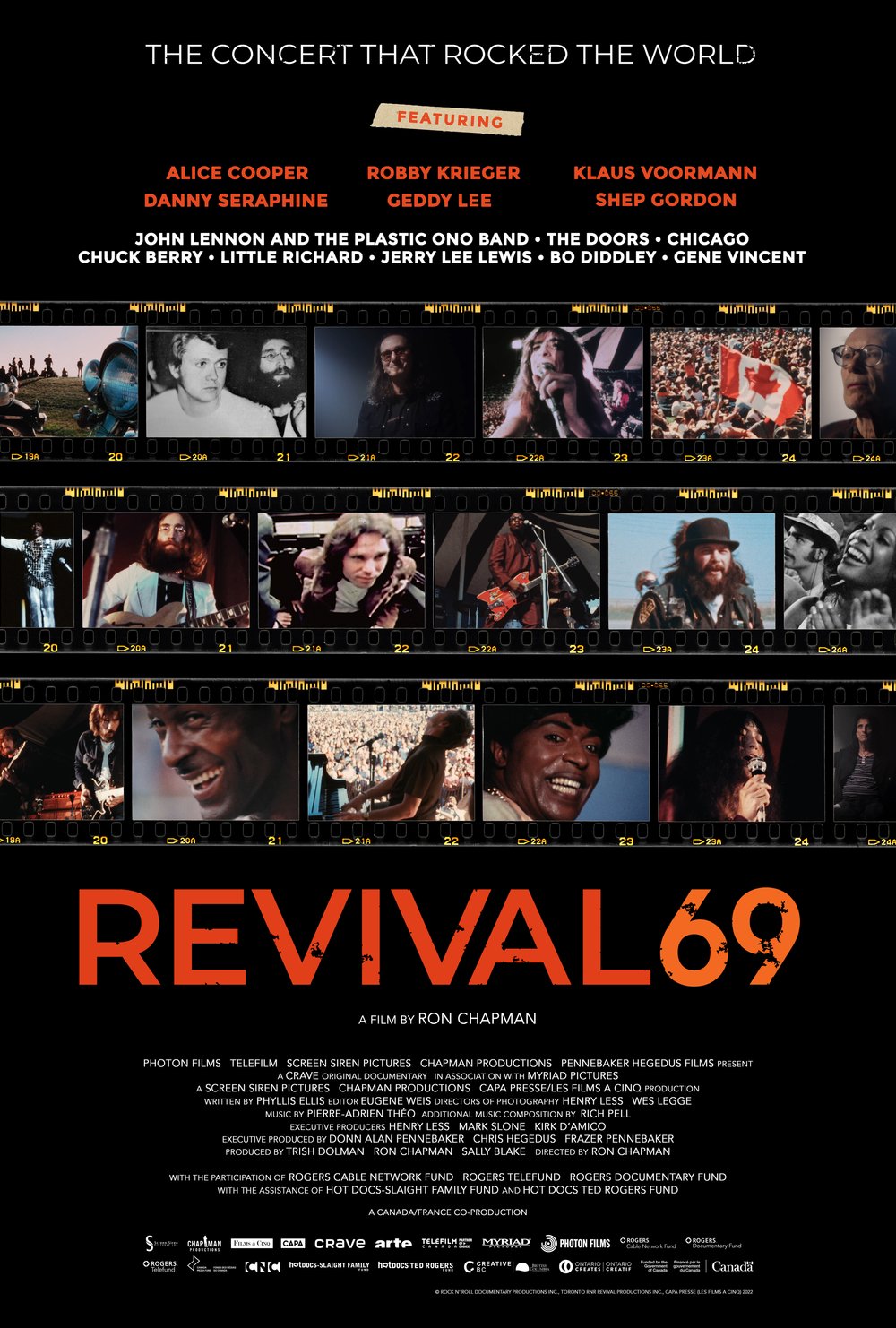 A new documentary from filmmaker Ron Chapman titled Revival 69: The Concert That Rocked the World was released in September and is currently making the film festival rounds. The film chronicles the events behind the Toronto Rock & Roll Revival - an iconic Toronto music festival that took place at the University of Toronto back in 1969. From the film's synopsis:
In 1969, there were three music festivals that changed the world. "The second most important event in rock & roll history" was a one-day event held at the University of Toronto's 20,000 seat Varsity Stadium called the Toronto Rock & Roll Revival. An incredible back-door story of how - against all odds - a life-changing concert came together. Director Ron Chapman reveals a series of colourful characters, murky deals and broken promises, culminating in John Brower, a young struggling promoter, putting his life on the line (literally) in order to achieve his goal. Included in the lineup were Chuck Berry, Little Richard, Jerry Lee Lewis, Bo Diddley, Gene Vincent, The Doors, Alice Cooper, and John Lennon with The Plastic Ono Band.
Rush's Geddy Lee was one of the many artists interviewed for the documentary, and you can learn more about the film at this location.
In this past week's episode of the Something for Nothing podcast, hosts Steve and Gerry bring in comic artist/illustrator Steve Otis to chat about their favorite Rush album covers. Otis has a working relationship with author Kevin J. Anderson and illustrated Drumbeats, Anderson's first collaboration with Neil Peart, as well as Peart and Anderson's latest work - Clockwork Destiny. You can listen to the show below or wherever you get your podcasts:
Classic Rock magazine posted an interview this past week with Red Rider bassist Jeff Jones, who had a short stint with Rush prior to Geddy Lee joining the band back in 1968. In the interview Jones talks about his brief history with Rush and his relationship with the band since that time. In this passage, Jones describes the true story behind how and why he left Rush:
.... "It's really funny when I see stories about Alex and me not getting along," scoffs Jones. "We never had an issue. But you have to remember; we were kids, man. We played parties and practiced every Saturday in Alex's mom's basement. She was like the original band mom; she was fantastic. But things between Alex and me were always cool. And I know the story that goes something like I didn't show up to a [battle of the bands] gig because I wanted to go to a party, and Alex kicked me out of Rush. I'm sure everyone has heard it, and it's pretty much the way I'm remembered within Rush's history. But it's not true."

"The truth is we played the battle of the bands, and I was there," Jones continues. "We played a few shows at the Community Center, a bunch of basement shows, and we played local coffee shops. As far as I remember, I was always there. So, the part that history always gets wrong - and this is important - is that we were kids. So, what happened was it got to a point where I had to take a long bus ride to get to Alex's house; it was taking me hours round trip.

"So, I just told Alex, 'Hey, this guy Geddy that you've been hanging around with plays bass. He lives right around the corner. Why don't you ask him to join?' And I guess Alex took that as me leaving, and that was it. Next thing I knew, Geddy was in Rush. There was never any formal conversation beyond that; we just drifted apart." ...
Jones then goes on to describe his post-Rush career and how he rekindled his relationship with Alex and the band:
... "People ask me if Alex and I stayed friends, and no, we didn't," Jones admits. "There was no animosity; I just left town. I was off touring and playing shows while they were still playing high schools, and we lost touch. Honestly, I didn't see Alex again until sometime around 1983, after I was coming down with Red Rider, and Rush was now huge. Neil Peart had asked us to open for them because they were playing a run of shows in Toronto, Quebec, and Buffalo, and Neil thought it would be cool to have us there.

"So, during that span of about 12 shows, I finally got to see Alex again and get to know him again. And more interestingly, I finally got to know Geddy and Neil. Because Rush was a different band than it was 15 years before when we were kids, it was this full-circle moment, and there was no animosity. There never was, and there still isn't." ...
Metal Hammer posted their list of The 20 greatest prog metal bands of all time this past week, and Rush was included at #3 (thanks RushFanForever):
Although not a metal band in the traditional sense, Canada's greatest ever prog band are fundamentally important to the evolution of the genre's progressive wing. Truly hitting their stride in 1975, upon the arrival of drummer Neil Peart and the subsequent release of second album Fly By Night, Rush's take on adventurous but resolutely heavy rock hit harder than the majority of their prog peers. A three-man blueprint for the prog metal scene that would follow in their wake, Peart, guitarist Alex Lifeson and singer/bassist Geddy Lee went through many disparate phases but they were always at their most effective when jamming at full blast, and singing about deep philosophical conundrums. Their influence can be heard in any forward-thinking band with some fire in their bellies. Pleasingly, Rush's final album, Clockwork Angels (2012), was the heaviest of their long career, and a fitting conclusion to a 40-year reign of excellence. DL
Greatest prog metal moment: The Anarchist (2012)
Alter Bridge posted some photos from their Katowice, Poland show earlier this week, and bassist Brian Marshall is wearing a Rush t-shirt as seen here (thanks RushFanForever).
Music Grotto posted their list of 27 Best Canadian Bands Of All Time this past week and Rush came out on top at #1:
No list of the best Canadian bands can be complete without Rush. This prog trio from Toronto never allowed themselves to be defined by just one sound. These guys were constantly evolving from the hard rock classic Tom Sawyer to more laid-back songs such as Time Stand Still. We love the energy they bring to their songs and their ability to take you on a ride with each one. For us, Rush is fully deserving of its place on our list and in the Rock and Roll Hall of Fame.
They also published a list of the 31 Best Drum Solos Of All Time, and Neil Peart's Tom Sawyer solo made the cut at #7:
Have you ever heard loud roaring thunder during a storm and felt it shake you from the inside out? Well, that is what the drum solo in Tom Sawyer does, and it remains one of the best drum solos of all time thanks to the incredible talent of Neil Peart. We love this song because it's not only groovy from start to finish, but the signatures and fills that he puts into this track make it powerful and loud from start to finish. The cymbals and snare also add to the artistic masterpiece that is Tom Sawyer.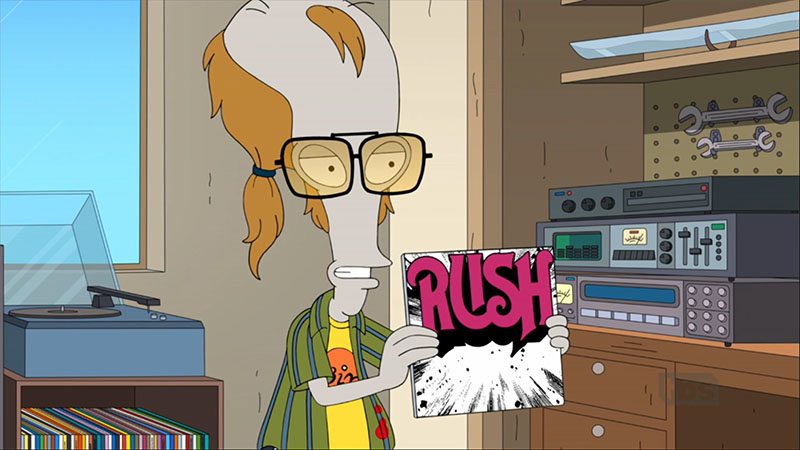 Seth MacFarlane's American Dad! is an animated sitcom that originally aired on FOX, but has called TBS home since 2014. The show is currently in its 19th season, and the latest episode (Season 19, Episode 16 - I Heard You Wanna Buy Some Speakers) included a lengthy Rush reference. In the episode, Barry blows out his dad's speakers and asks Snot for help. Snot then takes Barry to see Roger (as his audiophile persona Wally) who proceeds to show off his own killer speaker system. When the pair arrive, Roger asks Barry what album he brought to listen to. Barry didn't bring anything so Roger takes matters into his own hands and pulls out a copy of Rush's debut album and says, "I feel stupid for even asking, but you guys are huge Rush fans, yes?". He then drops the needle on Working Man to start things off, listens for a while and then insists they also listen to the song on cassette, CD, and 8-track. The clip lasts about a minute-and-a-half and you can check it out below or on YouTube at this location. This is not the first major Rush reference to be seen on the show; an episode back in Season 8 included a Rush reference where Steve and Snot play air-guitar to 2112. Thanks to John at Cygnus-X1.net for the heads up and screenshot. John also has a higher-quality version of the scene available for viewing here.
That's all for this week. Happy Veterans Day to all who have served, and have a wonderful weekend everyone!