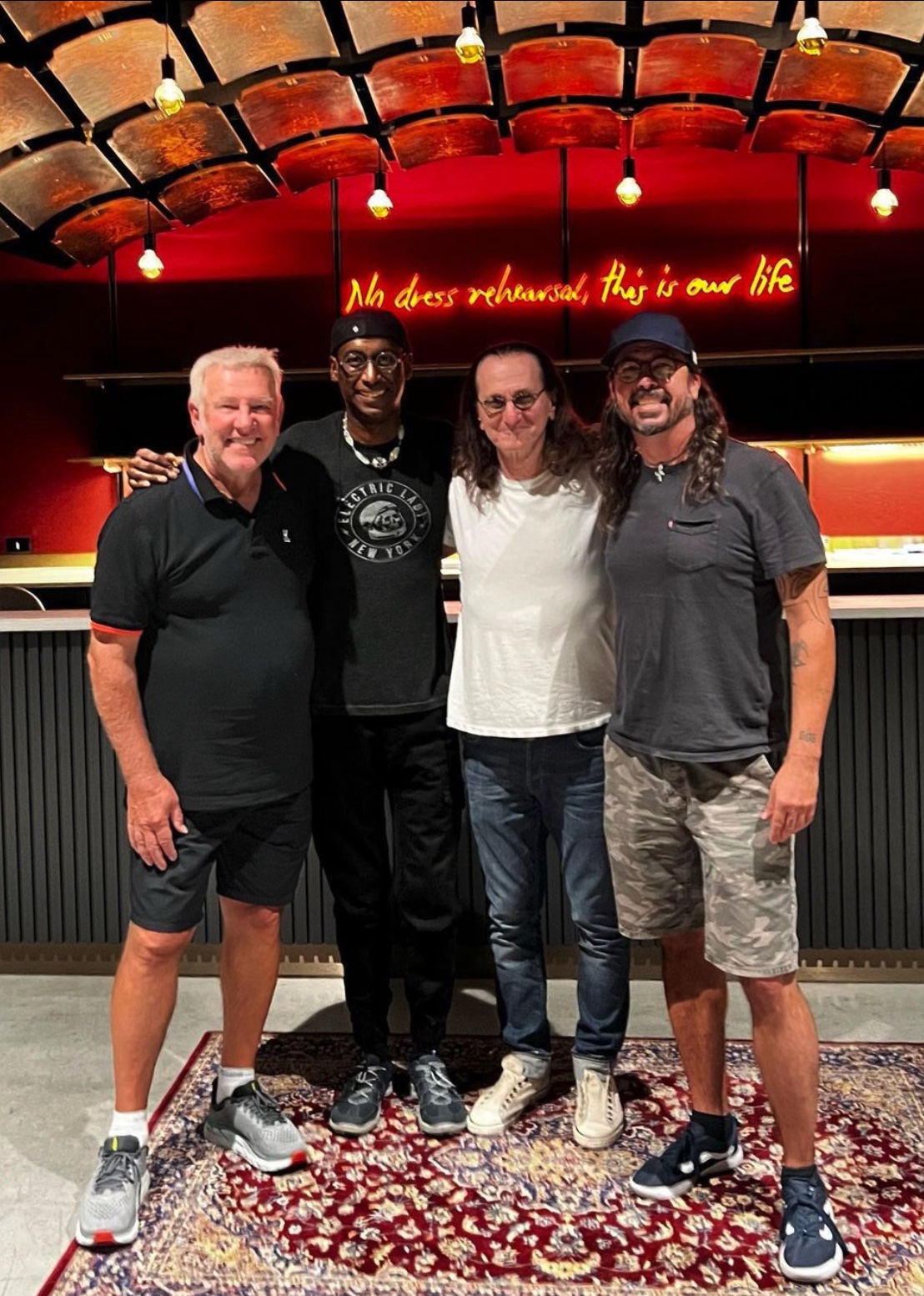 The Foo Fighters will be hosting a second tribute concert for their late drummer Taylor Hawkins this coming Tuesday, September 27th at the Kia Forum in Los Angeles. They will have quite the challenge in attempting to top the epic, 6-hour London-based event that took place earlier this month at Wembley Stadium. That concert included reunions of the James Gang, The Pretenders, and Them Crooked Vultures, along with performances from members of Van Halen, AC/DC, Queen, Oasis, The Police and - most importantly for Rush fans - Rush's Geddy Lee and Alex Lifeson. Alex and Geddy took the stage about half-way into the show, and played 2112: Overture and Working Man with Dave Grohl on drums, then finished off with YYZ with Omar Hakim on the sticks. The entire show was streamed live worldwide on Paramount+ (US only), MTV YouTube channels (Globally), and Pluto TV internationally, and a heavily truncated, 1-hour TV special edit of the show aired on CBS the evening after the show, but Rush's performance was not included. Although the official video links have been removed, the entire show can currently be found on the Internet Archive here, and John over at Cygnus-X1.net posted a bunch of screenshots of Rush's performance and made them available online at this location. Both Geddy and Alex posted some reflections on the concert to their Instagram pages last week, with Geddy saying the following:
What a week it was in London. An incredible gathering of diverse and brilliant musicians from so many branches of the tree of rock and roll. Bonded by a single goal, to honour Taylor Hawkins. Led by the immeasurable talents and generous soul of "Super" Dave Grohl, who wrapped us all in the welcoming warmth of the Foo's and Hawkins' family, despite the obvious pain that they are understandably still enduring.

And for Alex and myself, it was also an important moment to reflect on the loss of our own brother Neil.

Truly an experience I shall never forget.

Looking forward to the LA tribute on Sept 27.
And here's what Alex had to say:
The London tribute to Taylor Hawkins was such a beautiful celebration of the power of music. Performing onstage with Dave Grohl, Omar Hakim, Greg Kurstin and especially my brother, Geddy, lightened the burden of our losses. Facing off with Dave on the opening note and knowing how much he loved Neil as well as Taylor was such a joy for us both, as you can see. Looking forward to the LA tribute show on Sept 27.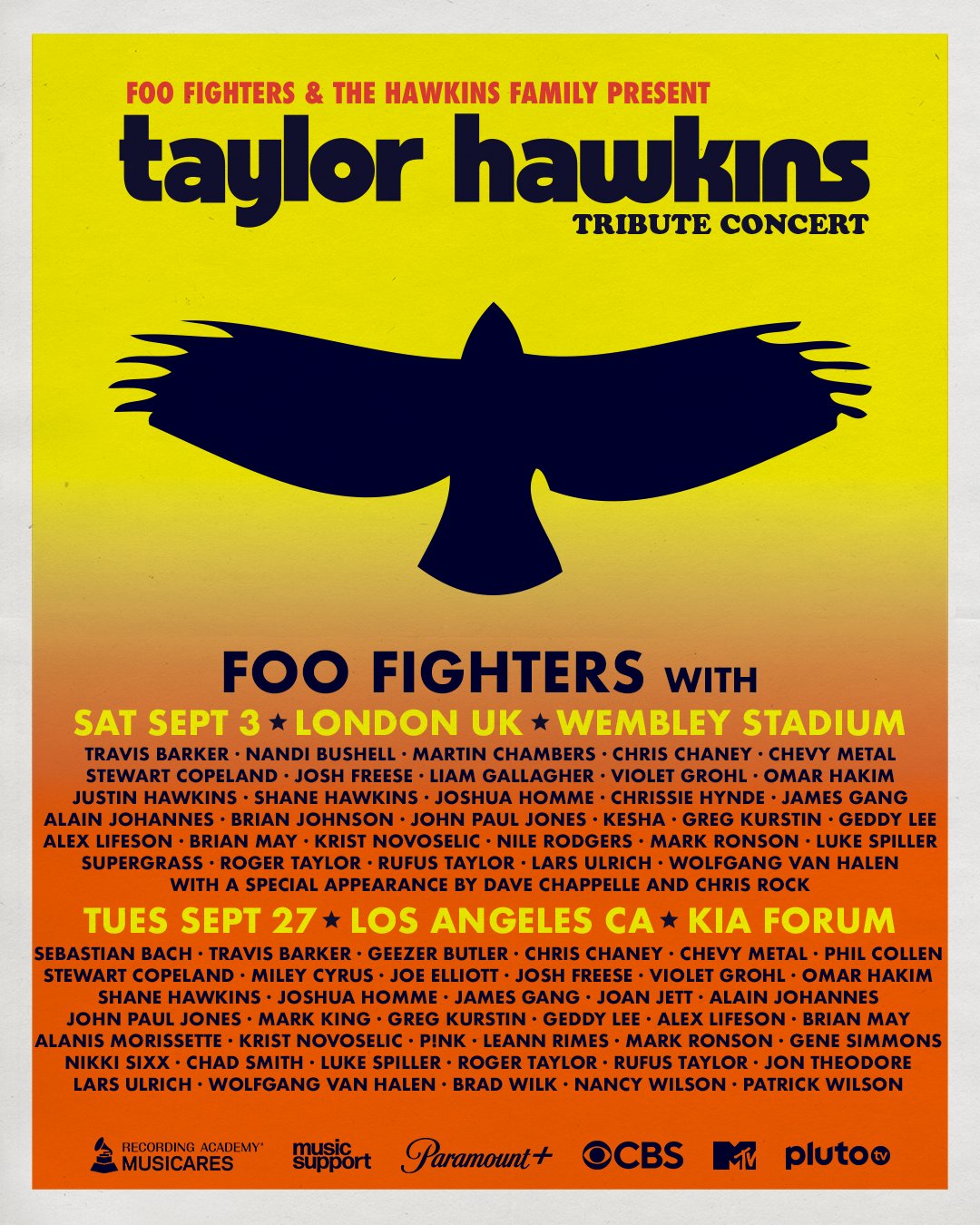 As is apparent from their comments above, both Geddy and Alex will also be participating in Tuesday's show, and were spotted rehearsing for the event with Dave Grohl and drummer Omar Hakim at 80A Studios in Toronto this past week (thanks RushFanForever). This makes it seem likely that they'll be reprising their 3-song set from the London show, but we'll just have to wait and see. Also returning for the second show will be Queen's Brian May and Roger Taylor, the reunited James Gang, Josh Homme, John Paul Jones, Stewart Copeland, Travis Barker, Chris Chaney, Chevy Metal, Josh Freese, Omar Hakim, Shane Hawkins, Greg Kurstin, Mark Ronson, Luke Spiller, Rufus Taylor, Lars Ulrich and Wolfgang Van Halen. We'll also be seeing many new faces, such as Sebastian Bach, Geezer Butler, Miley Cyrus, Joe Elliott, Joan Jett, Alanis Morrisette, Pink, Leann Rimes, Gene Simmons, Nikki Sixx, Chad Smith, Brad Wilk, Nancy Wilson and many others. No streaming information has been provided yet, but it's assumed that all the same options that were available for the first show will apply. There is also supposed to be a 2-hour TV edit airing later next week on MTV globally, which will likely just be a combination of highlights from both shows.
Metallica guitarist Kirk Hammett posted a photo of himself, Metallica bassist Robert Trujillo and Geddy Lee to his Instagram last night. It's unclear where the photo was taken or what the context was, but Hammett and Trujillo are in New York City this morning for Metallica's concert in Central Park tomorrow as part of the Global Citizen Festival. So is Ged in NYC for some reason? Perhaps just attending the Festival, or maybe he's there for a pitstop before flying out to LA for the Taylor Hawkins tribute show? No idea at this point, but we'll let you know if we learn anything.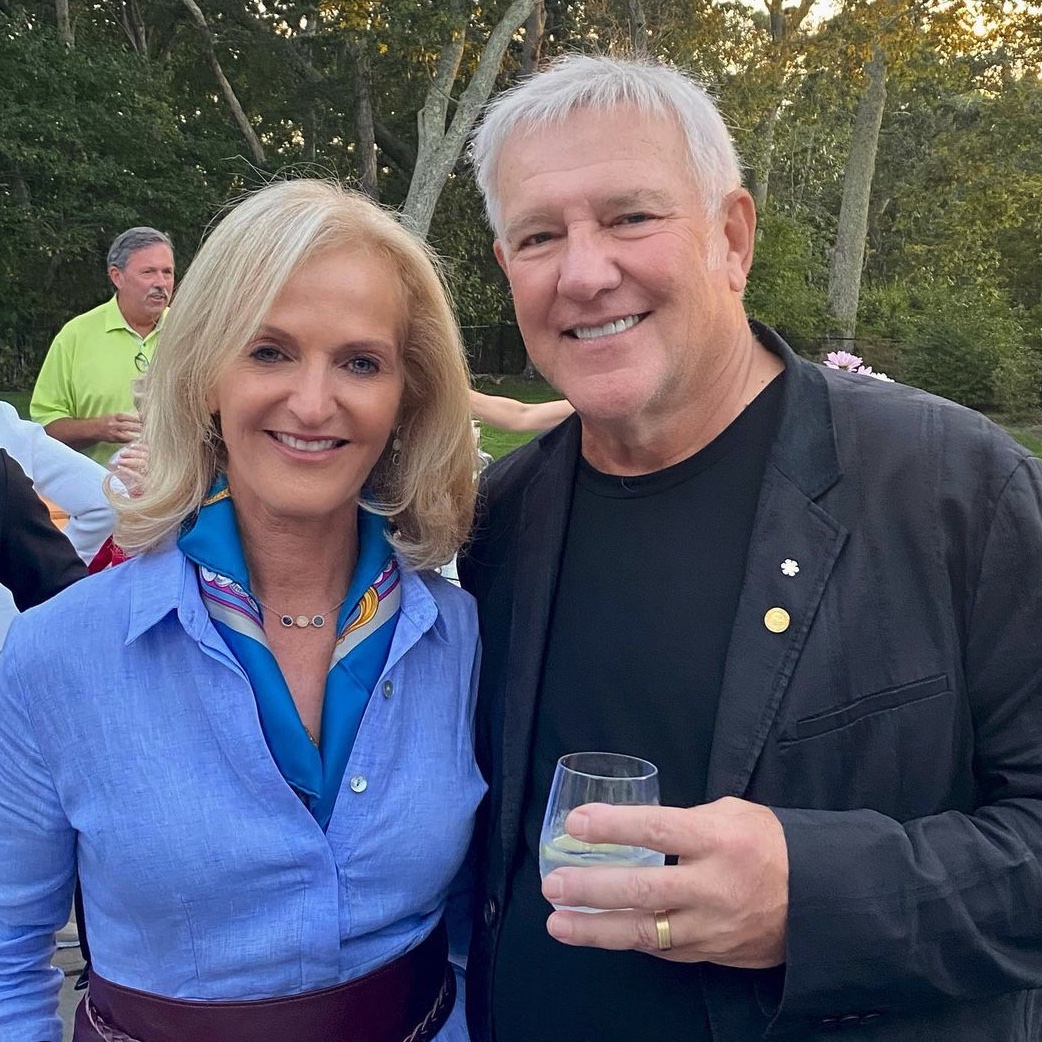 Sports Broadcaster and award-winning talk show host Ann Liguori hosted her 24th Annual Ann Liguori Foundation (ALF) Charity Golf Classic yesterday at the Maidstone Club in East Hampton, NY, and Rush's Alex Lifeson was in attendance. The annual charity outing benefits not-for-profits that work in the field of cancer research and care including the Samuel Waxman Cancer Research Foundation, St. Jude Children's Research Hospital and East End Hospice. In addition to participating in the event, Lifeson received the 2022 ALF Music Honoree Award at the Award's Dinner last night. Alex also donated a signed Gibson guitar to the event's charity auction as seen here:
Can't tell you how excited we are that #AlexLifeson @rushtheband will be joining us for the '24th Annual Ann Liguori Foundation Charity Golf Classic' at Maidstone next wk, benefiting cancer research. We'll be auctioning off this new @gibsonguitar & Alex will sign it! @StJude pic.twitter.com/z5nJIs7FsO

- Ann Liguori (@AnnLiguori) September 13, 2022
The tournament itself took place yesterday afternoon and Alex can be seen pictured in this Instagram post with Liguori, comedian Dave Hemstad, Scott Vallary and Jean Liguori Skidgel,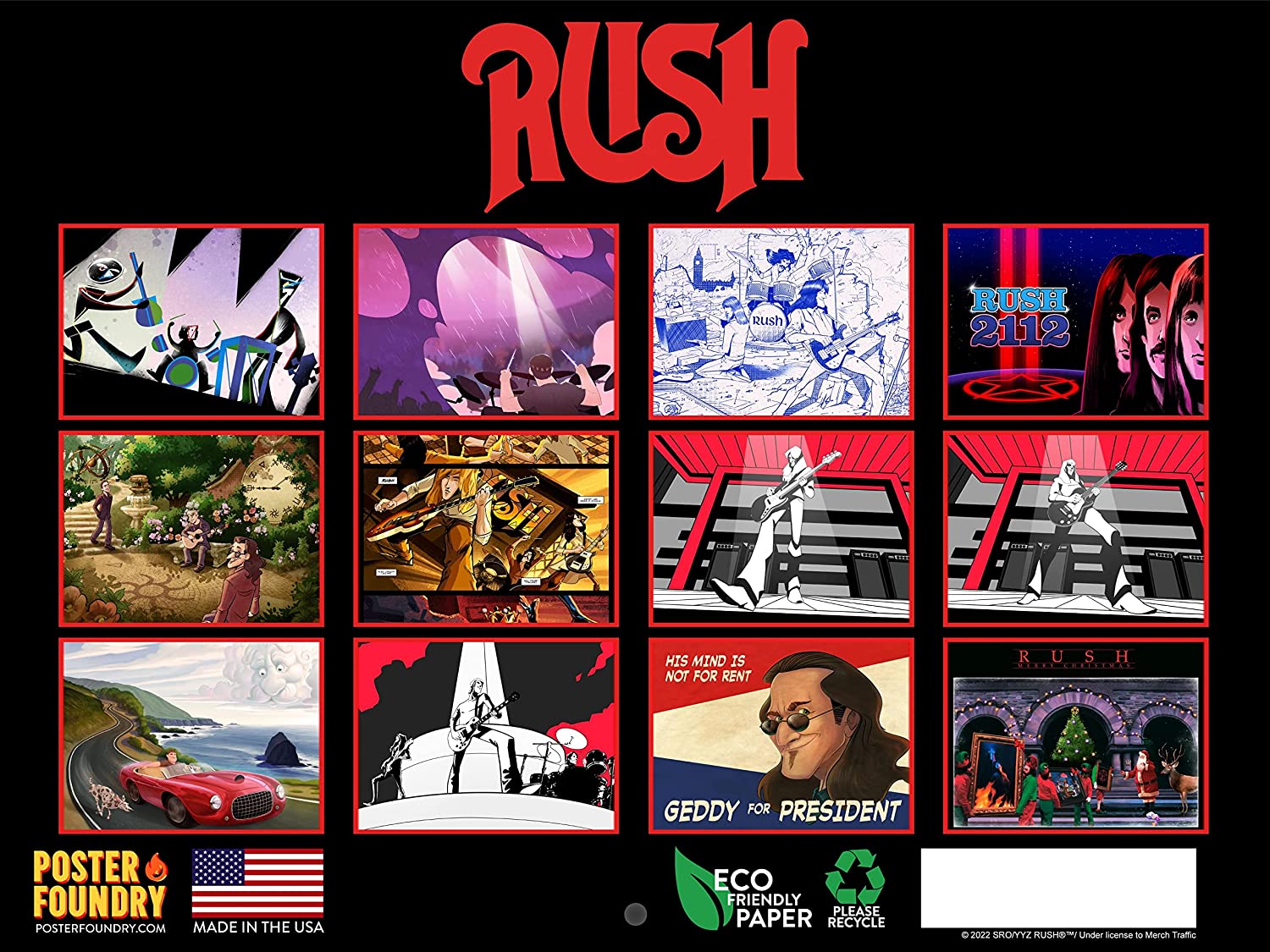 Rush has released a new, official 2023 wall calendar featuring artwork created by FANTOONS. The calendar was produced by Poster Foundry and can currently be ordered via Amazon and other online retailers. The 12"x18" calendar features a dozen pieces of Rush-inspired artwork from FANTOONS as seen here. It also includes a 6-month preview calendar of 2022, and 12-month preview of 2024, along with a write-on planner. You can purchase your calendar today at this location.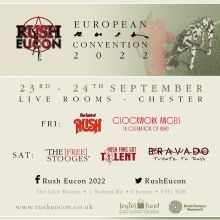 The annual European Rush fan convention Rush Eucon will take place this weekend starting tonight at The Live Rooms, Chester. Proceeds from ticket sales will go to Jessie's fund and Brain Tumor Research in honor of Neil Peart. For more information, follow Rush Eucon on Facebook and Twitter, and get tickets via seetickets.com.
This past week's episode of the Something for Nothing podcast, hosts Steve and Gerry bring on author and history professor Bradley J. Birzer to discuss his book Neil Peart: Cultural Repercussions. You can listen to the interview below or wherever you get your podcasts:
Classic Rock History posted an article on the Greatest Rock Bass Lines Of The 70s a couple weeks ago, and Geddy Lee's bassline from Rush's Closer to the Heart was included at #6:
When it comes to great bass lines in rock and roll, you can pretty much put Geddy Lee in a whole list by himself. Although he treats his bass more like a lead guitar some of the time, the way he locks in on Closer to the Heart is difficult to even comprehend some of the time, like during the breakdown where he matches Alex Lifeson's picking part note for note. Rush may have been out there even by prog standards, but it takes a certain level of genius to cram this much music into just 3 minutes.
CNN posted an article earlier this week on How Holiday Inn revolutionized 20th century travel, and it features a photo of Rush pictured outside a Holiday Inn hotel in Birmingham, England February 12, 1978 (thanks RushFanForever).
Ultimate Classic Rock posted their list of the Top 30 Work Songs this past week and Rush's Working Man made the cut at #13:
Rush's salute to the working-class spirit helped them break out beyond their native Canada. When Donna Halper, music director for Cleveland radio station WMMS, first heard this speaker-rattling rocker, she knew it would resonate with the city's blue-collar demographic: "Back then it was a factory town," she recalled in the 2010 Rush documentary Beyond the Lighted Stage. "The song 'Working Man' - every listener in the audience felt like that." Even though singer and bassist Geddy Lee had just barely entered his 20s, he sang every line with the wisdom of a weathered factory lifer, one whose only reward after punching out is the buzz from an "ice cold beer." (Reed)
Styx vocalist/keyboardist Lawrence Gowan was a recent guest on Chris Cohen's Bands to Fans podcast, and spoke a bit about his in-concert cover of Rush's Limelight, which he performed shortly after Peart's passing back in early 2020 as a tribute. The fan-shot video of the performance has garnered nearly 800K views since it was posted. Gowan was originally a member of the '70s-era, Toronto-based, progressive rock band Rhinegold and has been with Styx since 1999. You can listen to the episode on YouTube here with the Peart discussion coming in at around the 36-minute mark (thanks RushFanForever).
That's all for this week. Have a great weekend everyone!!