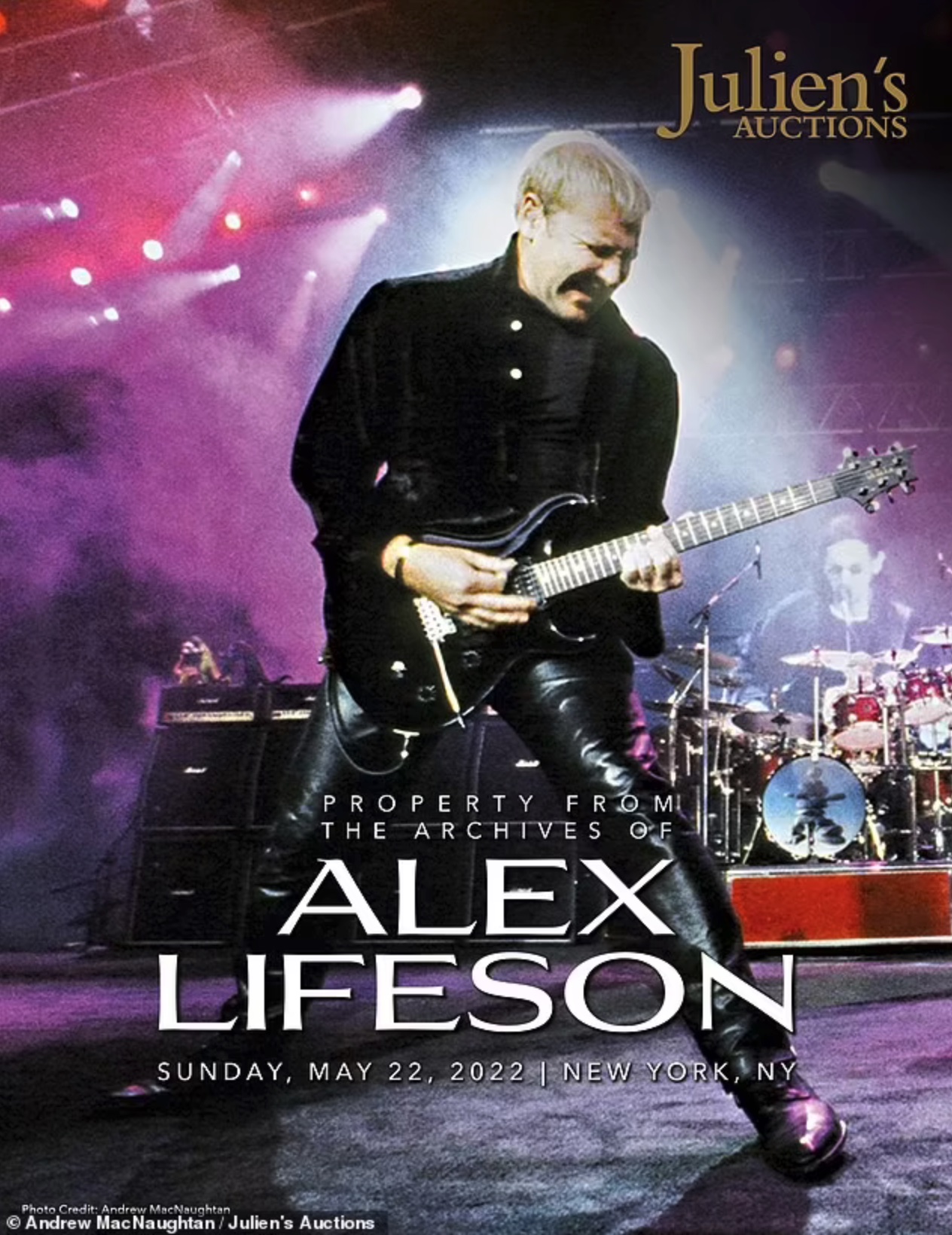 Julien's Music Icons auction took place this past weekend at New York City's Hard Rock Cafe and online at JuliensAuctions.com. One of the auction's centerpieces was a collection of over 60 vintage guitars and other career memorabilia from Rush's Alex Lifeson - Property From the Archives of Alex Lifeson - which ended up raising over $3 million! You can check out all the items and their winning bids at the Julien's website here. Lifeson plans on donating the funds to various charities as he outlined in a recent interview with Guitar magazine's Darran Charles:
... my wife and I, we're at a stage in our life where we just feel like we have too much stuff and we're trying to get a little leaner. I'm auctioning off the bulk of my guitar collection for charity. I'm looking forward to that. It was probably one of the most difficult things I've ever done in my life; it was so emotionally difficult packing those guitars up. I cleaned them, polished them, did string changes. I made sure every single one was in tune when it went back in the case, and then I kissed it goodbye. ... [the 1976 Gibson ES-355] was the last one that was left. I was sitting in our mudroom, just off our garage, while the removal truck was waiting. I sat there with that case in between my legs and, maybe it sounds a little corny, but I was talking to it. I was reminiscing about gigs that we did together and kissing the bubble wrap. But I know that, with the funds I'm hoping to raise, it gives it all another life and helps other people, and in some cases gives people another chance at life. Why wouldn't you do that? ...
As expected, the biggest ticket item was Lifeson's 1976 custom-built Gibson ES-355TD, better known as Whitey, which sold for $384K (including the auction house's 25% fee and 3% processing fee, so actually $300K). Lifeson was recently interviewed for Guitar World and spoke about the emotional process of packing up his guitars, specifically the ES-355:
... Amongst the cull [for auction] was a prized white ES-355 he'd picked up from Gibson's then Kalamazoo-based factory in 1976, along with a Dove acoustic and a double-necked 1275. Lifeson refers to the semi-hollow ES-355 as the "quintessential Alex Lifeson guitar" - Gibson had reproduced the gold-plated character piece as a Lifeson signature in 2008, though the guitarist notes that the neck was a bit fatter on the repro than his Norlin-period original - and it was featured on every Rush album from 1977's A Farewell to Kings through 1996's Test for Echo. While he was ready to let go of the guitar, downsizing his collection ended up affecting him more than he'd expected. "My god, that was one of the most emotional, difficult things I've ever done in my life. I thought it would be easy. I worked it all out in my head, but I was a mess when I did that. "The 355 was the last one to go. The case was wrapped in bubble wrap, and I sat in the mudroom in my house just holding it, talking to it and kissing the bubble wrap - it was pretty pathetic. Then I carried it out to the truck and said goodbye to it." ...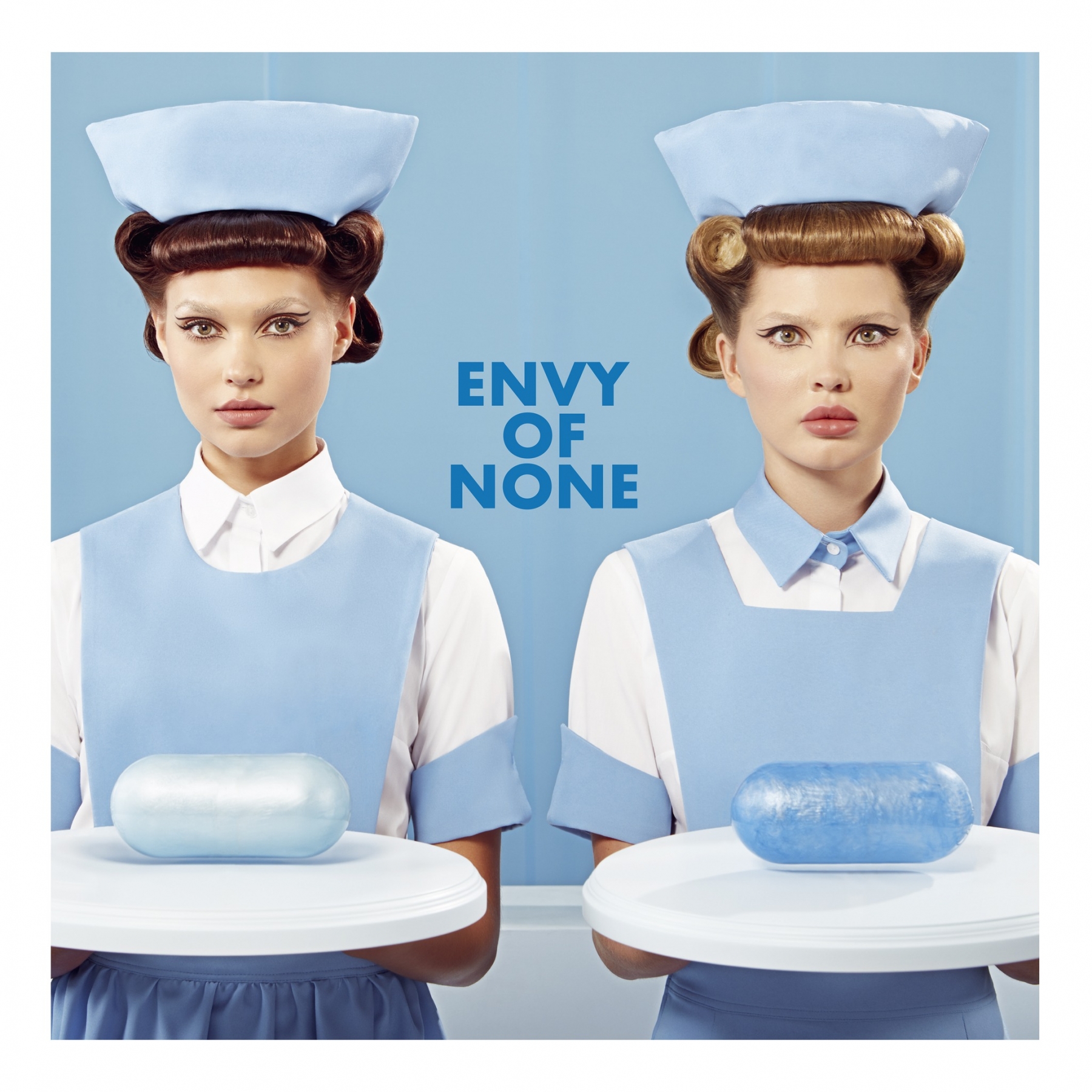 Alex Lifeson's Envy of None project with Andy Curran, guitarist Alfio Annibalini and vocalist Maiah Wynne released their self-titled, debut album last month, and it's currently available for purchase and streaming worldwide via several different online retailers and services, including Amazon and the official Envy of None merch store. In his above-mentioned Guitar World interview, Alex had the following to say about what he was trying to achieve with his guitar work on Envy of None:
... "I feel like I've fully explored the whole area of soloing," Lifeson tells Guitar World. "I think I have a particular style and character to my solos, [and] there's lots of variation in my soloing, but I think at this point in my life it's more about servicing the song. Not being too distracting, or shining a light on any particular thing. It's just getting into the groove, tapping your foot and feeling connected with the song itself." ...
The album is available on CD, and black, white and blue vinyl (the latter is exclusive to North America), along with a limited-edition deluxe version featuring a five-track bonus CD and a 28-page booklet with exclusive content. John over at Cygnus-X1.net has scanned the album artwork and made the images available online here, along with the expanded liner notes and lyrics here. They are also offering a LE 7-inch single for $50 ($100 for an autographed copy) with the funds going to UNHCR's Ukraine emergency response.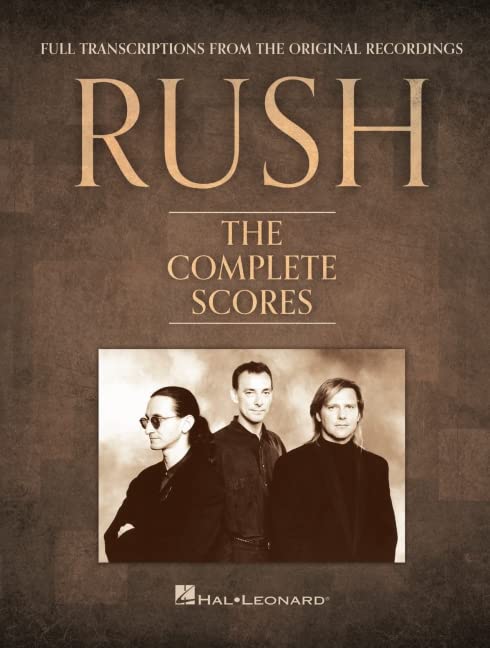 A new book titled Rush - The Complete Scores was released a few weeks ago via Hal Leonard publishing and is now available to purchase. The massive, 782-page hardcover book weighs in at 5 pounds and comes in a sturdy, protective slip case. It includes the full music and lyric transcriptions of forty classic Rush songs. You can see the complete list of included songs along with some sample pages here, and purchase your copy via Amazon at this location.
On the latest episode of the Something for Nothing podcast, hosts Steve and Gerry continue their multi-episode deep dive into Rush's Hold Your Fire album. For part 2, they bring in musician Katie Cole and DJ Daniel Paulus to chat about Open Secrets and Second Nature. You can listen to the episode below or via your favorite podcast service.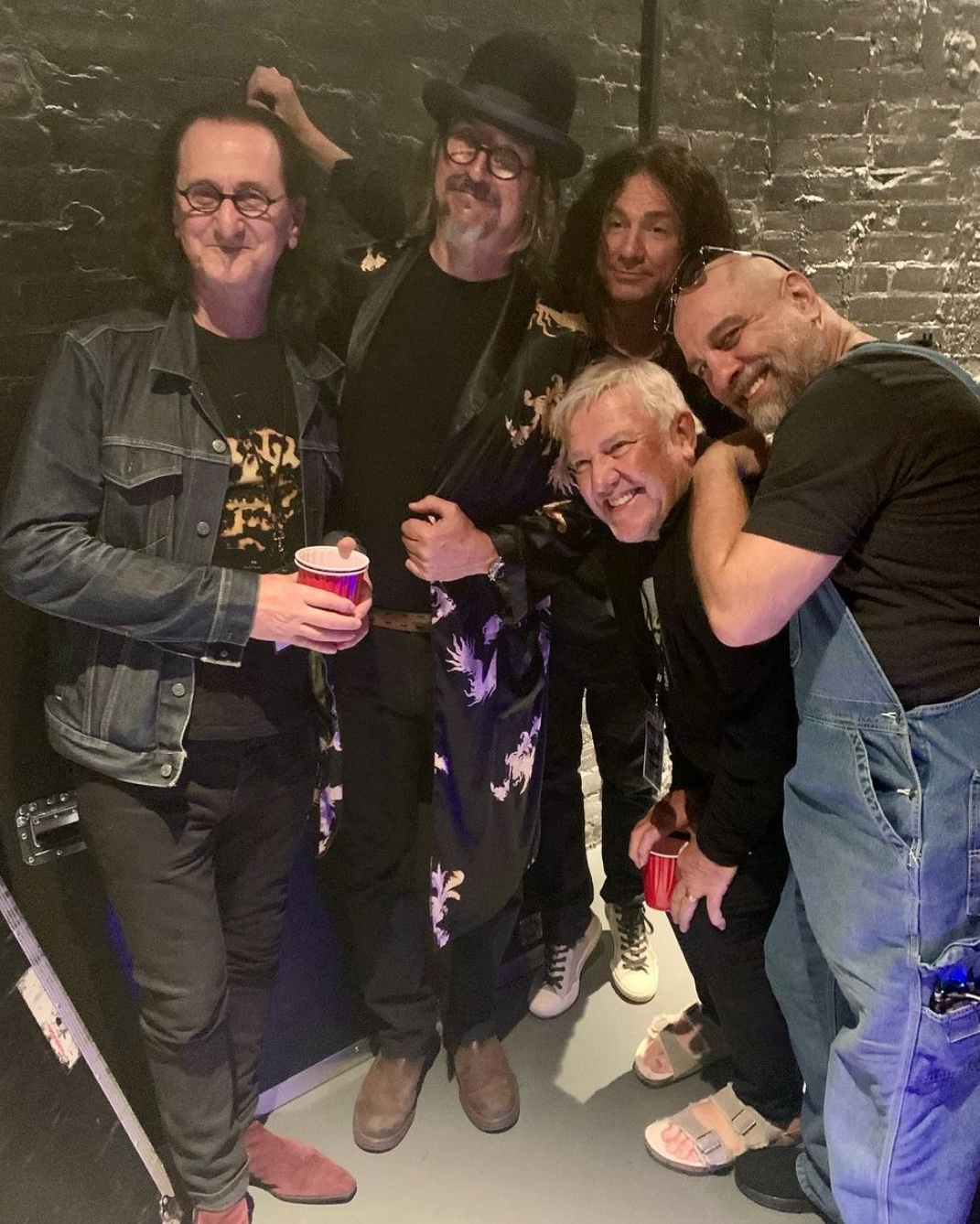 The 2022 leg of Primus' A Tribute to Kings Rush tribute tour made its way to the Great White North last week, starting off with 2 shows at the newly-renovated Massey Hall in Toronto 2 weekends ago. Rush's Geddy Lee and Alex Lifeson attended the Friday night show and Geddy shared a photo of the 2 bands hanging out backstage to his Instagram account, along with the following caption:
On Friday night we had the joyful experience of reuniting with our grand pals from Primus... Les, Ler, Herb and their gang... We sat side stage as they immaculately worked through a cool selection of classic Primus tunes which brought back fond memories of our touring together back in the early 90's and then we were treated to the weird and wonderful experience of watching them perform our music: A Farewell to Kings in it's entirety. Totally nailed it! They did us proud and we thank them deeply for the tribute and the lasting friendship.
Primus also posted this photo to their Twitter/IG. A recent review of the show mentioned Ged/Al, saying the following:
... It was hard to spot them, but Lee and Lifeson were in the venue tucked away side-stage for the album's entire performance. The biggest smile I saw all night was on Alex's face, perched upon a stool tapping his hands in front of him in rhythm to every song. ...
The tour features the band paying tribute to their musical heroes Rush by covering the A Farewell to Kings album in full, mixed in with a couple sets of Primus classics. The tour will continue across North America through August before heading across the pond for 16 shows in Europe, beginning in Sweden on September 9th, and making its way across the mainland before finishing off with 3 shows in the UK and one final show in Dublin on October 1st. For all the details and to purchase tickets visit primusville.com.
Ultimate Classic Rock posted their list of Rock's 40 Best Long Songs this morning, and three Rush tracks made the cut; The Camera Eye at #36, Xanadu at #33, and 2112 was #17:
For many Rush fans, "2112" is the pinnacle of progressive rock - a philosophical, hard-hitting, dystopian concept suite envisioning a future where music is banned by the evil "Solar Federation." For others, it's a charming stepping stone. Peart would later grow into a much more subtle and affecting lyricist, and some of the connective tissue is flimsy. But the 20-minute "2112" is still geeky fun from start to finish, particularly on the echo-heavy stomp of "Overture" and the dreamy-to-thundering "Presentation," which peaks with a wah-smothered Lifeson guitar solo.
Baseball season is in full swing, and that means that Rush fans can find their favorite bassist and baseball fan Geddy Lee in his regular perch behind home plate at Toronto Blue Jays home games for the next few months. Ged was in attendance for Reds pitcher Graham Ashcraft's MLB debut this past weekend as described in this Cincinnati Inquirer article:
... Rush lead singer Geddy Lee attended Reds right-handed pitcher Graham Ashcraft's first big-league start. "A pretty significant Blue Jays fan here today if you love rock and roll music - Geddy Lee of Rush - native of Ontario is here behind the plate," Bally Sports Ohio play-by-play announcer John Sadak said during the 2nd inning of the broadcast of the Reds' 3-2 win Sunday. "Wonder if he considers Joey Votto to be today's Tom Sawyer?" Votto, of course, hit the 8th-inning home run that eventually won the game for Cincinnati. ...
Ultimate Classic Rock posted their list of The 10 Heaviest Rush Songs this past week, and Working Man took the top spot:
Lee was roughly 20 years old when Rush recorded "Working Man" - barely a grown man himself - so it's kinda hilarious to picture him writing this tribute to working-class life, with its 9-5 schedule and evenings of "ice-cold beer." Nonetheless, he delivered the song with a perfect swagger, and his instrumental communion with Lifeson had already crystallized at this early stage. As if the bruising main riff wasn't enough, their bouncing, two-note chorus phrases elevate the song to classic status.
Comics culture podcast Robots From Tomorrow recently posted part 2 of their lengthy interview with RushCon creative director Jillian Maryonovich (part 1 was posted last year). Host Greg Matiasevich talks Rush and Rush fandom with Jillian for over an hour, and you can listen to the discussion here or wherever you get your podcasts.
WhatCulture.com posted a list of 10 Legendary Concept Records Of The 2010's earlier this week, and Rush's Clockwork Angels made the cut at #10:
... Even after years of delivering quality progressive rock, Rush still knew how to mix it up on this album, bringing in string sections on the road for the title track, going back to the more aggressive side of their sound on Headlong Flight, and tying things up beautifully at the end with the subtle sounds of the song The Garden. As if the album wasn't enough, Neil Peart even made a graphic novel detailing the story of the album in book form. Considering the multi media experience of this whole thing, this might be the one prog rock album that might actually lend itself well to a movie adaptation.
Ultimate-guitar.com posted their list of the 10 Albums With Worst Guitar Tone earlier today, and Rush's Grace Under Pressure was included at #9:
It might feel a bit controversial to have Rush and Alex Lifeson on a list as negative as this one. But the guitar tone on "Grace Under Pressure" does give out some weird vibes. Words like "watery" and "distant" come to mind.
YES drummer Alan White passed away yesterday at the age of 72 after a brief illness. YES was a huge influence on Rush, and Rush's Geddy Lee and Alex Lifeson had the honor of inducting White and his other YES bandmates into the Rock and Roll Hall of Fame back in 2017. RIP Alan.
Myself and John from Cygnus-X1.net teamed up as part of the Rushfans YouTube channel's Ultimate Rush Playlist Challenge this past week, where we competed against 3 other teams of 2 to compile the Ultimate Rush Playlist. We polled Rush fans across multiple platforms to find out which playlist everyone liked the most, and John and I ended up winning! Many thanks to all the other participants - Ryan and Jim from Rushfans, Juliann & Adam from The Rush Discush, and Melanie (@rush.girls.rock) & Gerry (SFN: A Rush Fancast). We had a blast (and not just because we won)! You can watch the full discussion explaining how we all compiled our playlists below:
That's all for this weekend. For my fellow American readers, have a safe and happy Memorial Day weekend!