UPDATE - 5/21@10:36AM: Here's a review of the show where Ged/Al were in attendance:
... It was hard to spot them, but Lee and Lifeson were in the venue tucked away side-stage for the albumís entire performance. The biggest smile I saw all night was on Alexís face, perched upon a stool tapping his hands in front of him in rhythm to every song. ...
----- snip -----
UPDATE - 5/15@4:02PM: Here's another photo that Primus posted to Twitter/IG:
Kings pic.twitter.com/nQDUxYzWUf

- Les, Ler and Tim (@primus) May 15, 2022
----- snip -----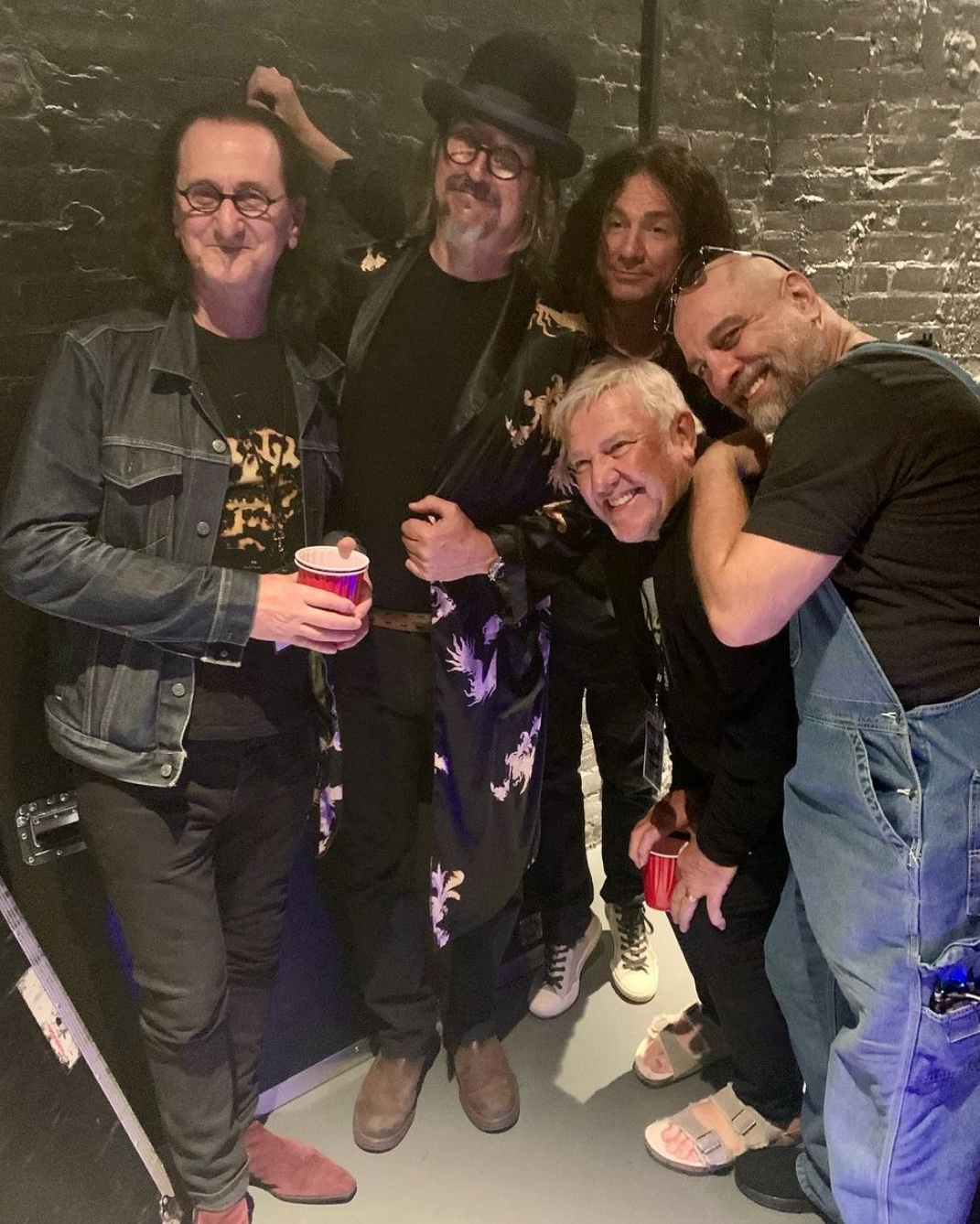 The 2022 leg of Primus' A Tribute to Kings Rush tribute tour made its way to the Great White North this weekend, playing 2 shows at the newly-renovated Massey Hall in Toronto on Friday and Saturday night. Rush's Geddy Lee and Alex Lifeson attended Friday night's show and Geddy shared a photo of the 2 bands hanging out backstage to his Instagram account this morning, along with the following caption:
On Friday night we had the joyful experience of reuniting with our grand pals from Primus... Les, Ler, Herb and their gang... We sat side stage as they immaculately worked through a cool selection of classic Primus tunes which brought back fond memories of our touring together back in the early 90's and then we were treated to the weird and wonderful experience of watching them perform our music: A Farewell to Kings in it's entirety. Totally nailed it! They did us proud and we thank them deeply for the tribute and the lasting friendship.
The tour features the band paying tribute to their musical heroes Rush by covering the A Farewell to Kings album in full, mixed in with a couple sets of Primus classics. The tour will continue across North America through August before heading across the pond for 16 shows in Europe, beginning in Sweden on September 9th, and making its way across the mainland before finishing off with 3 shows in the UK and one final show in Dublin on October 1st. For all the details and to purchase tickets visit primusville.com.