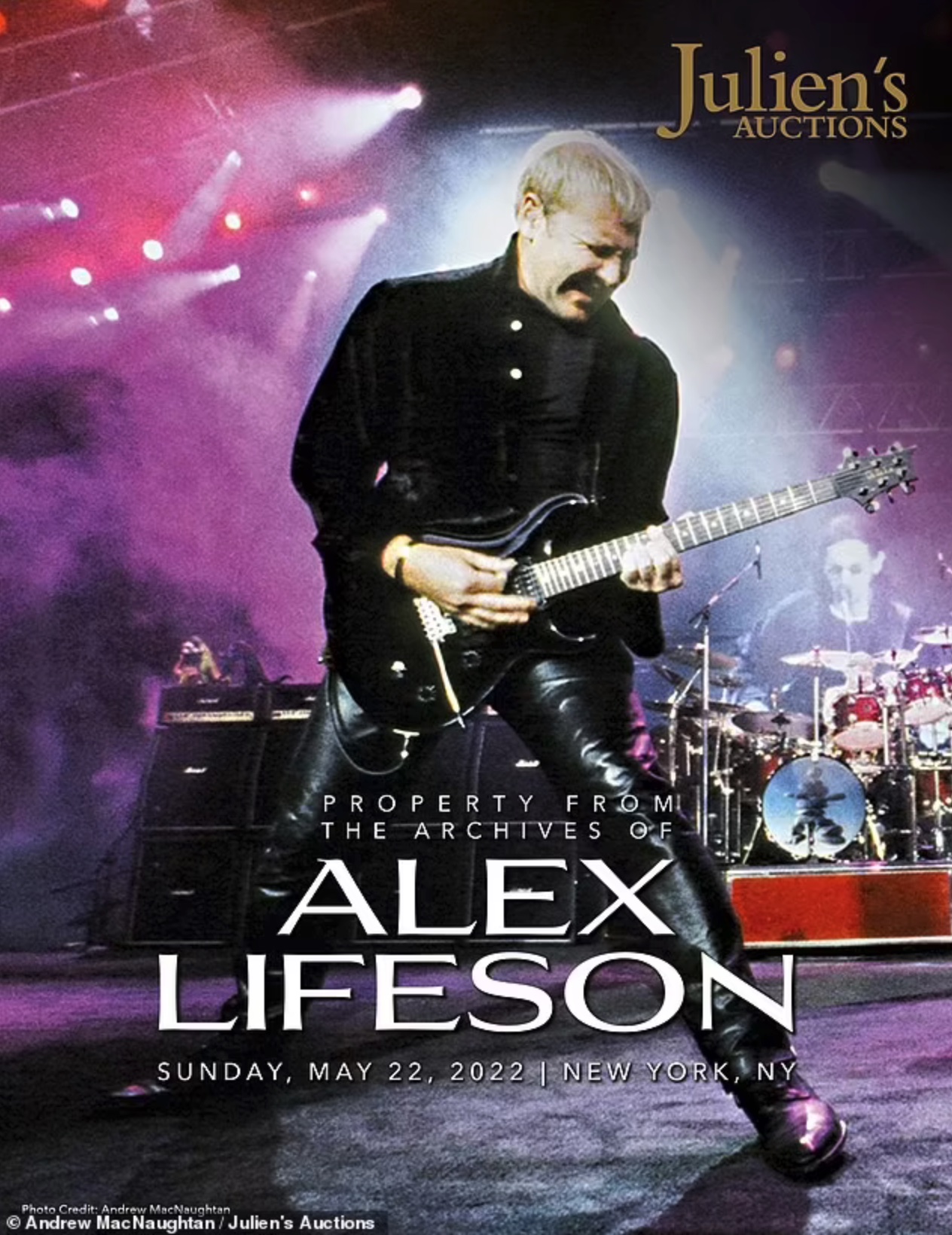 Alex Lifeson recently sat down with Guitar magazine's Darran Charles for a new interview to discuss his Envy of None project, why he's auctioning off his guitar collection, and more. We learned back in March that Lifeson would be auctioning off a large portion of his legendary guitar collection via Julien's this month. Property From the Archives of Alex Lifeson will be the centerpiece of Julien's Music Icons event next weekend. Lifeson's collection features over 60 vintage guitars and other career memorabilia, and will be auctioned off live from New York City's Hard Rock Cafe and online at JuliensAuctions.com next Sunday, May 22nd. Here's what Alex had to say about why he decided to part with his collection:
... my wife and I, we're at a stage in our life where we just feel like we have too much stuff and we're trying to get a little leaner. I'm auctioning off the bulk of my guitar collection for charity. I'm looking forward to that. It was probably one of the most difficult things I've ever done in my life; it was so emotionally difficult packing those guitars up. I cleaned them, polished them, did string changes. I made sure every single one was in tune when it went back in the case, and then I kissed it goodbye. ... [the 1976 Gibson ES-355] was the last one that was left. I was sitting in our mudroom, just off our garage, while the removal truck was waiting. I sat there with that case in between my legs and, maybe it sounds a little corny, but I was talking to it. I was reminiscing about gigs that we did together and kissing the bubble wrap. But I know that, with the funds I'm hoping to raise, it gives it all another life and helps other people, and in some cases gives people another chance at life. Why wouldn't you do that? ...
A couple of weeks ago Juliens posted several videos to their Vimeo channel which offer up a 3-D look at the guitars along with voice-overs of Alex Lifeson giving some background on each one, including his aforementioned 1976 custom-built Gibson ES-355TD, better known as Whitey. You can watch that video along with several others of Alex discussing the guitars on Juliens' Vimeo channel here (you'll have to scroll down on the page to find Alex's guitar videos). The auction will also include concert and tour ephemera, passes, and photographs as well as original lyric sheets. You can get all the details and learn how you can be a part of the auction via the Julien's website here. Additional photos can also be seen in this Daily Mail article.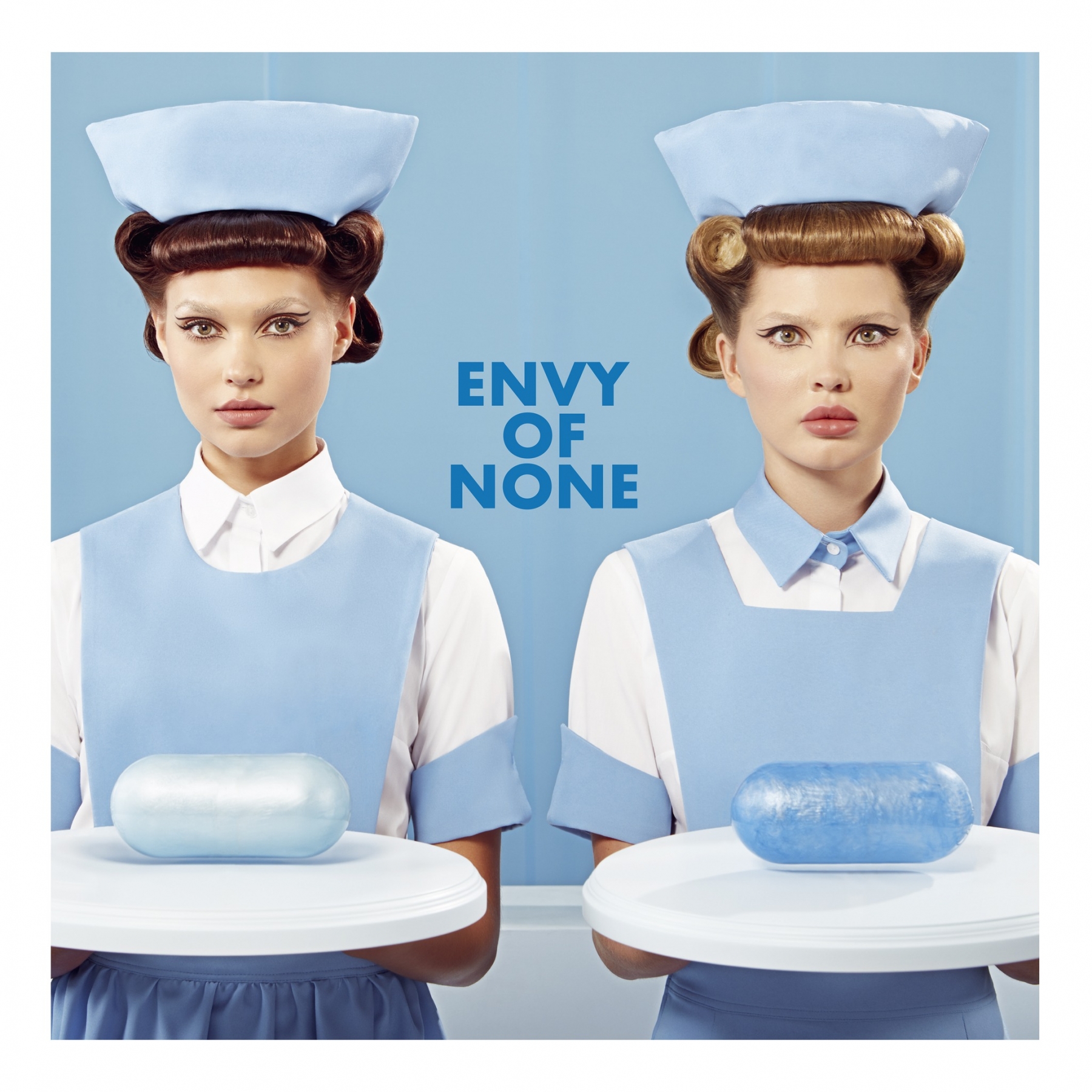 Alex Lifeson's Envy of None project with Andy Curran, guitarist Alfio Annibalini and vocalist Maiah Wynne released their self-titled, debut album a month ago, and it's currently available for purchase and streaming worldwide via several different online retailers and services, including Amazon and the official Envy of None merch store. A couple of weeks ago the project released the official music video for the album's latest single Never Said I Love You, and you can watch it on YouTube. The album is available on CD, and black, white and blue vinyl (the latter is exclusive to North America), along with a limited-edition deluxe version featuring a five-track bonus CD and a 28-page booklet with exclusive content. John over at Cygnus-X1.net has scanned the album artwork and made the images available online here, along with the expanded liner notes and lyrics here. They are also offering a LE 7-inch single for $50 ($100 for an autographed copy) with the funds going to UNHCR's Ukraine emergency response. In addition to the Guitar magazine Alex Lifeson interview mentioned above, a few more band interviews popped up over the past week including a couple of Maiah Wynne podcast interviews; one from the Rock n Roll Grad School podcast podcast, and another with All Access Live with Kevin Rankin. There's also a new Andy Curran interview with Bass Gear Magazine, and this video review of the album from Pete Pardo at Sea of Tranquility. You can check out all the available purchase options here, and follow the Project via their website, on Facebook, Twitter and Instagram for all the latest news.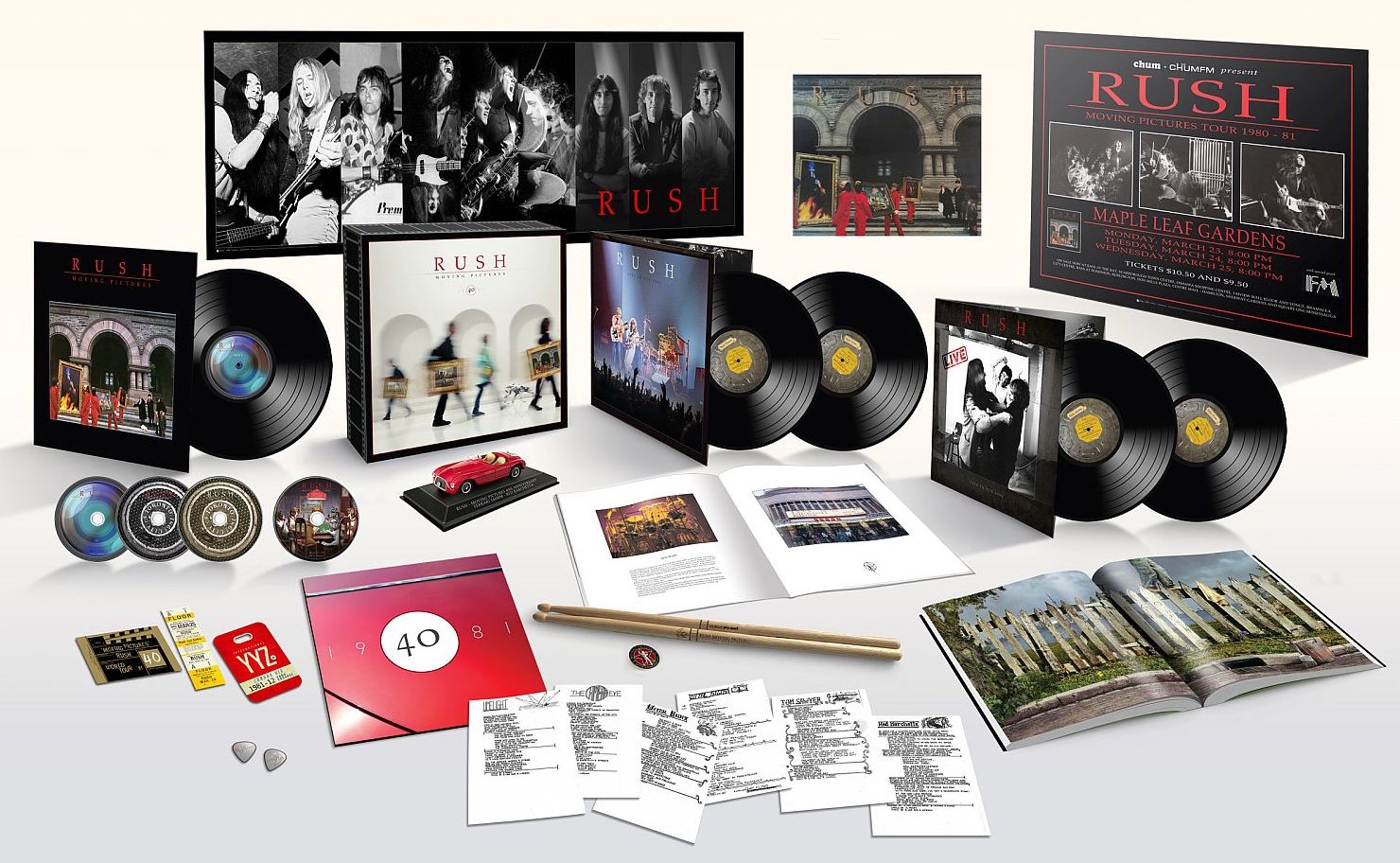 Rush's long-anticipated Moving Pictures 40th anniversary box set officially released last month, and is currently available for purchase as a 3-CD set, a Deluxe vinyl edition, and a Super Deluxe Edition. Initial sales from the 40th anniversary edition propelled the album back to a #11 position on The Billboard 200, but it has since dropped off the charts completely. John at Cygnus-X1.net has transcribed the liner notes and scanned all the images from the set and made them available online here. You can get all the details regarding the box set via the press release at Rush.com and order your copy today via Amazon (Super Deluxe, Deluxe vinyl edition, 3-CD edition) and other retailers. The Knoxville Courier-Gazette posted a review of the set this past week, giving the album itself and the bonus live album an A+, and the other bonus items a B+.
The 2022 leg of Primus' A Tribute to Kings Rush tribute tour made its way across the US this past month, and will head to the Great White North this coming week, playing 2 shows at the newly-renovated Massey Hall in Toronto over the weekend before hitting up Montreal and Quebec City next week. The tour features the band paying tribute to their musical heroes Rush by covering the A Farewell to Kings album in full, mixed in with a couple sets of Primus classics. The tour will continue across North America through August before heading across the pond for 16 shows in Europe, beginning in Sweden on September 9th, and making its way across the mainland before finishing off with 3 shows in the UK and one final show in Dublin on October 1st. For all the details and to purchase tickets visit primusville.com. Primus frontman Les Claypool was interviewed for The Toronto Star ahead of this weekend's shows in Toronto, and is really looking forward to playing the legendary Massey Hall:
... "I'm anxious to see it," he said. "I definitely looked at the stage hundreds and hundreds of times as a kid, looking at the cover of 'All the World's a Stage.'" ...
Assuming they are in town, it's quite possible that Geddy Lee and/or Alex Lifeson will be in attendance at one of the shows. Might they consider sitting in with the band for a song or two? I doubt it, but we'll keep our fingers crossed.
On the latest episode of the Something for Nothing podcast, hosts Steve and Gerry kick off a multi-episode deep dive into Rush's Hold Your Fire album. For part 1, they bring in Nathan Santos to chat about Force Ten, and US Army Band director and arranger Tim Whalen to help them tackle Time Stand Still. You can listen to the episode below or via your favorite podcast service.
Ultimate-Guitar.com posted their list of the 15 Best Songs to Get You Through a Hard-working Day last Friday and Rush's Working Man took the top spot:
The winning spot is no surprise. Aside from all of us being huge fans, or at least admirers, of Rush, their classic "Working Man" is just an all-around rock masterpiece. That guitar riff is just huge, perfectly complementing the super-depressing lyrics and Geddy Lee's wailing high-pitched vocals.
Guitar World posted their list of The 50 best rhythm guitarists of all time this past week, and Rush's Alex Lifeson made the cut at #13:
Any guitar player with designs on writing prog-rock would do well to borrow Alex Lifeson's chord charts. With an extensive library of suspended chords to draw open, Lifeson widened Rush's sound and populated it with color and life. That's the thing with progressive rock: sometimes it is not enough to extend the composition and make it rhythmically challenging. You need those colors, melodies, intrigue. Sure, Rush could get clever with their time-keeping, audacious with their ideas, but Lifeson's chord choices - the add11, #11, sus2 et al - were of a piece with the Canadian trio's esprit de corps, which is to say there is something deeply humane about them.
Tomorrow marks the 20th anniversary of the release of Rush's 2002 comeback album - Vapor Trails - which marked the end of the band's 5-year hiatus after the personal tragedies suffered by Neil Peart in the late '90s. The album was Rush's 17th studio album and peaked at #6 on the Billboard album charts. Here's One Little Victory from the band's Rush in Rio live concert video:
That's it for this week. Have a great weekend!!